If you're looking for a brownies that pleases coconut lovers, these "Coco-Loco Brownies" from Rachel Ray Every Day are wroth a try. I'm not a huge coconut fan, but the recipe exceeded my expectations in every possible way. First, the brownie batter is made in a big saucepan and doesn't require the use of any small appliances. The coconut mixture, which gets dropped on the top, gets mixed in a separate bowl, but that takes 2 seconds to do and the bowl was pretty easy to rinse out. In short, putting these together was a cinch.
But let's get to the important part. Appearance was quite striking. For such a simple recipe, these are muy impressivo! Muy bonita, que? Si! And while they do contain coconut, the coconut is mixed with a bit of condensed milk so it has a flavorful burnt milk macaroon quality to it which makes the brownies taste like fudge brownies with soft macaroons dropped on top. Delicioso! They are dense, fudgy, sturdy, and loaded with almonds and chocolate – definitely worthy of your next fiesta. Of course, I'll probably just send mine to work with Todd.
If you don't have an upcoming fiesta either, you can cut the recipe in half. Follow RR's directions as written, but cut everything in half and bake the brownies in an 8 inch square metal pan for about 28-30 minutos.
Since I didn't make any real changes to the recipe (aside from halving it), here's a link to the original Coco Loco Brownies recipe.
Coco Loco Brownies Recipe Here. This is Where To Click.
Update: I've also put the adapted version below in case the link stops working. I don't want to lose this recipe!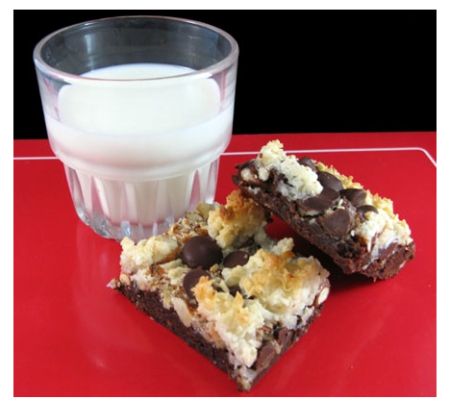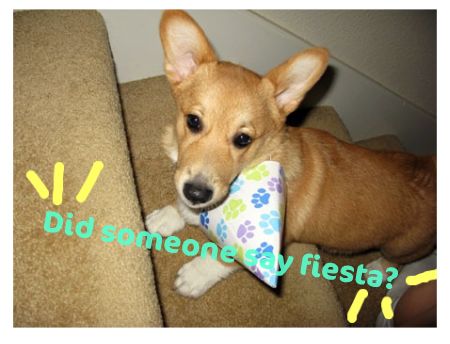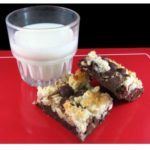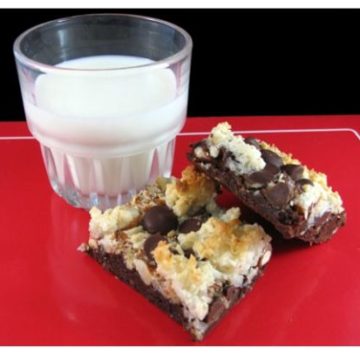 Print Recipe
Coco-Loco Brownies
Coco-Loco Brownies are fudge brownies topped with almonds, chocolate chips and gobs of coconut.
Ingredients
1 2/3

cups

sugar

1

stick

4 ounces unsalted butter, at room temperature

1

cup

unsweetened cocoa powder

3/4

teaspoon

salt

2

teaspoons

pure vanilla extract

3

large eggs

1

cup

flour

1 1/2

cups

natural almonds

toasted and chopped

3/4

cup

semisweet chocolate chips

2

cups

shredded sweetened coconut

1/2

cup

sweetened condensed milk
Instructions
Preheat the oven to 325 degrees. Line a 9x13 inch metal pan with foil, preferably the nonstick type.

Combine the sugar and butter in a large (3 quart) saucepan and cook over medium heat, stirring often, until hot and bubbly.

Remove from the heat. Add cocoa powder and 1/2 teaspoon of the salt; let cool for 10 minutes. Stir in the vanilla, then add the eggs one at a time, stirring well after each addition.

Add the flour and stir until fully blended, the stir in 1 cup of almonds.

Pour the batter into pan and spread evenly with a spatula.

Top with the remaining 1/2 cup almonds and the chocolate chips.

In a medium bowl, combine the coconut, sweetened condensed milk and remaining 1/4 teaspoon salt. Spoon the coconut mixture in dollops over the surface of the batter and bake until the coconut is golden-brown and the brownie layer is just set in the center, about 35 minutes.

Let cool completely (chill if you have time) before cutting into 16 bars.