According to the authors of my newest cookbook, Baked, New Frontiers in Baking, this is Oprah's favorite brownie. Naturally, I had to give the brownies from Baked a try.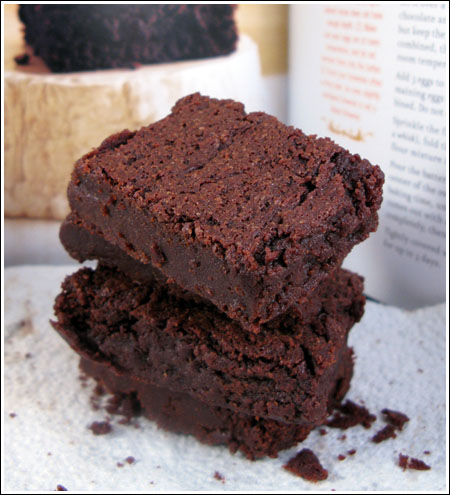 Nothing on the ingredient list seemed out of the ordinary, but "Baked" is meticulous in their technique, so rather than adapt the recipe or make changes, I'm linking to someone who posted it almost verbatim on the Internet. The version I'm linking to includes cardamom, cinnamon and chipotle. Remove those spices and you will have the same recipe that's in the book.
And how is it? Out-freaking-standing! These are very good brownies and definitely go in the "in between" category. They're not too fudgy, not too cakey.
Some notes:
-- I personally would not use a glass pan the first time.  Actually, glass pan works better!
-- Try to use something with above 60% cacao
-- Don't over or underbake
-- Follow directions carefully
-- If you make a half batch, do it in an 8 inch metal pan and bake for 27 minutes. But don't go just by bake times. Use the toothpick test and take the brownies out when moist crumbs appear on the pick/wooden skewer.
Update:  Since this recipe was first posted I've made it a couple of times.  The version I first tried had spices added to it.  The version below is the one from Baked which does not have the extra spices.
You can buy Baked, New Frontiers in Baking from Amazon #ad.
Recipe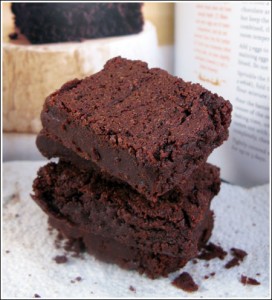 Brownies from Baked
Brownies similar to the ones served at Baked in Brooklyn, NYC.
Ingredients 
11/4

cups

all-purpose flour

1

teaspoon

salt

2

tablespoons

dark or Dutch process unsweetened cocoa powder

11

ounces

dark chocolate

coarsely chopped

1

cup

8 ounces unsalted butter, cut into chunks

1

teaspoon

instant espresso powder

1 ½

cups

granulated sugar

½

cup

packed light brown sugar

5

large eggs

at room temperature

2

teaspoons

vanilla extract
Instructions 
Preheat the oven to 350 degrees F. Grease sides and bottom of a 9x13-inch glass or light-colored baking pan. Line the pan with parchment paper.

In a medium bowl, whisk the flour, salt, and cocoa powder together.

Combine the chocolate, butter and instant espresso powder in the top of a double boiler and melt gently, stirring often, until smooth. Turn off the heat, but keep the bowl over the water and add the sugars. Whisk until blended, then remove the bowl from the pan and let cool (if needed) to room temperature.

Whisk 3 eggs into the chocolate mixture. Add the remaining eggs and whisk until combined. Stir in the vanilla. Do not overbeat the batter at this stage or your brownies will be cakey.

Sprinkle the flour mixture over the chocolate mixture, and using a rubber spatula or scraper (not a whisk), fold the flour mixture into the chocolate until blended.

Pour the batter into the pan and smooth the top. Bake in the center of the oven for 30 minutes, rotating the pan halfway through the baking time, until a toothpick inserted into the center of the brownies comes out with a few moist crumbs sticking to it.

Let the brownies cool completely, then lift from pan. Cut into squares and serve at room temperature, or chill before cutting and bring back to room temperature before serving.

Store at room temperature in an airtight container or wrap with plastic wrap for up to 3 days or wrap tightly and freeze.

(Recipe adapted from Baked: New Frontiers in Baking)