I tested a lot of cranberry oatmeal cookies but kept coming back to these Cranberry-Pecan Cookies. The recipe is from Greg, aka "Oatmeal Cookie Guy" who devoted his whole blog to oatmeal cookies. These cookies are an Oatmeal Cookie Guy original and they're always a hit. I took them to a party and while there were several other similar spice cookies set about, these were the ones that got raves – so much so that I almost felt sorry for the other cookies. Ground graham crackers give these cookies an interesting texture and flavor. I also think the dark brown sugar really adds more than just a nice dark hue.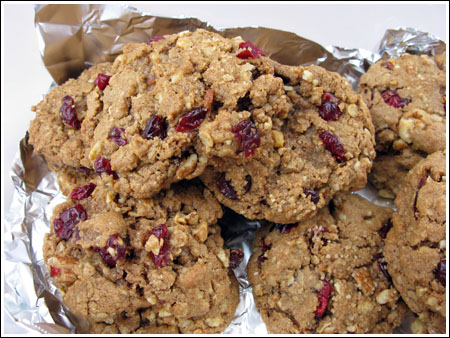 Cranberry-Pecan Cookies
A unique oatmeal cookie with ground graham crackers in the dough.
Ingredients
8

tablespoons

unsalted butter

cool room temperature

1 1/4

cups

dark brown sugar

10 oz/280 grams

1

large egg

1 1/2

teaspoons

vanilla

1 1/2

teaspoons

orange zest

1 1/1

teaspoons

orange juice

3/4

cup

flour

3.4 oz/95 grams

3/4

teaspoon

cinnamon

1/2

teaspoon

baking soda

1/2

scant teaspoon salt

1

cup

finely ground graham crackers

1

cup

oats

old fashioned

1

cup

pecans

chopped and toasted

1 1/4

cups

dried cranberries

craisins

Optional Topping: Turbinado Sugar
Instructions
Preheat oven to 350 degrees F. Line two cookie sheets with parchment paper.

Cream butter and brown sugar in a mixing bowl using high speed of an electric mixer; Beat in the egg, vanilla, orange zest and orange juice.

In another bowl, thoroughly stir together the flour, cinnamon, baking soda and salt. Stir in the oatmeal, graham cracker crumbs and chopped pecans. Stir that mixture into the butter mixture. Stir in the cranberries.

Shape dough into large balls--about 2 tablespoons each. Dip tops in turbinado sugar if desired.

Bake for 10-12 minutes (up to 15 minutes if you use very generous tablespoons!) or until golden brown. Remove the cookie sheets from the oven and let stand for 2 minutes. Then place cookies on wire racks to cool.