Today I wanted to use up some leftover ingredients – half a can of condensed milk and a handful or caramels leftover from the holidays. This recipe from Eagle brand was the perfect choice. The title is Streusel Caramel Bars, but the condensed milk filling tastes more like dulce de leche; so you could tell all your friends they're called Dulce de Leche Bars….unless you live in Argentina, in which case your friends might notice the filling wasn't really dulce de leche. But the filling doesn't really taste like caramel.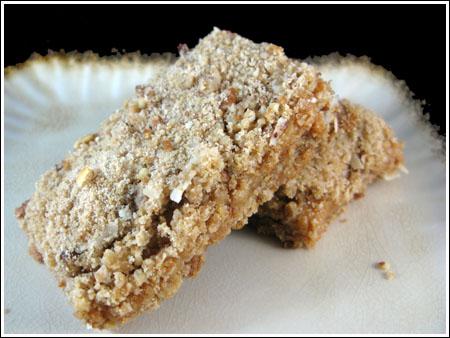 The only improvement I can think of is a little cinnamon added to the topping. I tried adding a few chocolate chips and coconut, and that was overkill (oddly enough).
For a full batch, just double. Below is the half batch recipe using 7 oz of condensed milk (half a can). Incidentally, when I was in London a few years ago I noticed they sold condensed milk in 7 oz containers. I wish they would sell smaller containers here.
Streusel Caramel Bars -- 8 Inch Pan
1 cup all-purpose flour (127 grams)
¼ teaspoon salt
6 tablespoons firmly packed brown sugar (75 grams)
2 tablespoons lightly beaten egg (25 grams)
4 tablespoons plus 2 tablespoons cold, unsalted butter, divided use (84 grams)
⅓ cup chopped nuts (pecans)
12-15 caramels, unwrapped
½ of a (14-ounce) can sweetened condensed milk
Preheat oven to 350ºF. Line an 8 inch metal pan with foil and spray foil with cooking spray.
Combine flour, salt, brown sugar in bowl of food processor; pulse to mix. Add 4 tablespoons of the butter and pulse until mixture is coarse. Add the egg and pulse until mixed throughout. Add the nuts and pulse to mix.
Reserve 1 cups crumb mixture and press remainder firmly into pan. Bake 15 minutes.
In heavy saucepan, over low heat, melt caramels with sweetened condensed milk and remaining 2 tablespoons of butter. Pour over prepared crust. Top with reserved crumb mixture. Bake 20 minutes or until bubbly. Cool. Cut into bars. Store loosely covered at room temperature.