When I first made homemade cannoli from scratch I didn't really know what I was doing, nor did I have access to very good ricotta cheese. That's changed a bit over the years. Now I sort of know what I'm doing, and I can definitely find good ricotta cheese here in Chicago.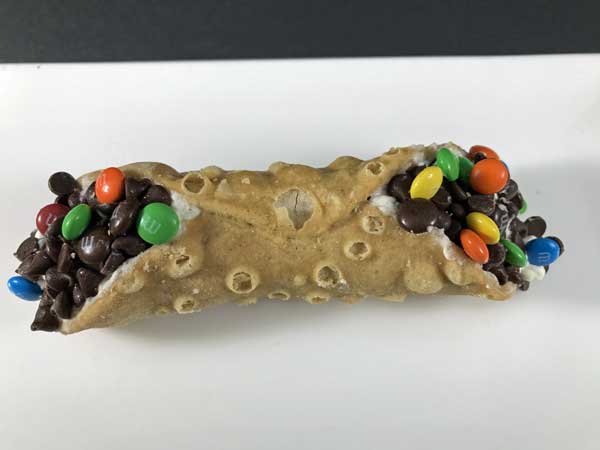 Homemade Cannoli Filling
For the filling I used to always use a combination of ricotta cheese, cream cheese and whipped cream.  To make the cannoli filling extra smooth, I press out any extra liquid and process it in the food processor.  With good quality ricotta cheese you may be able to skip that step, but since you are going to have the food processor out for the shells anyway, processing it a bit doesn't hurt.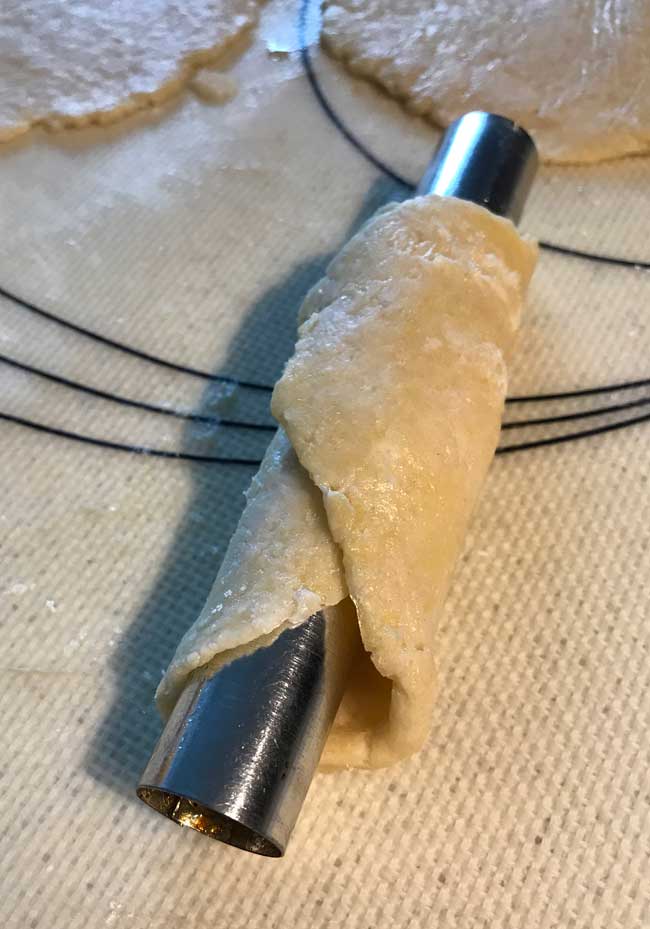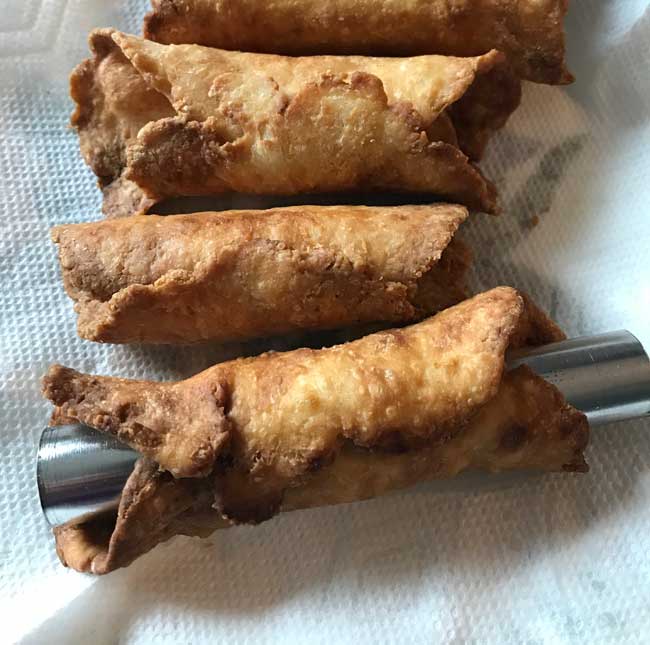 Frying Pastry Shells
As for the shells, the method for making them is similar to making pie dough, but instead of making one big crust you make 10 little 5 inch rounds, shape them on cannoli forms, then deep fry. Deep frying is the part I don't like, but using peanut oil makes the process more pleasant.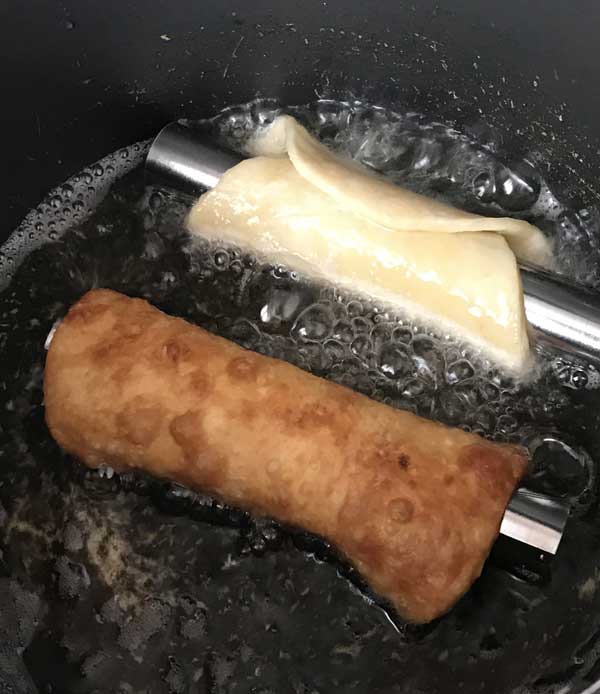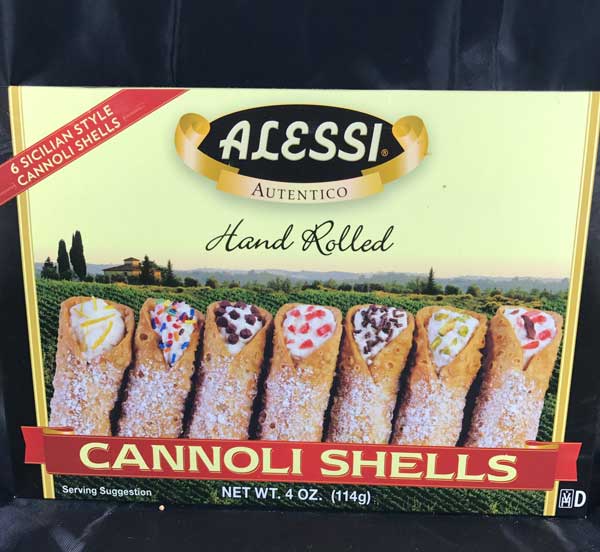 If you don't want to go to the trouble of making the shells, you can usually find Alessi brand in big grocery stores.
Recipe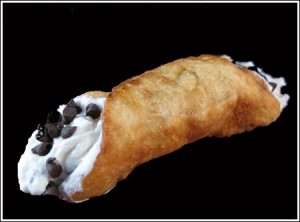 Cannoli
Small Batch Cannoli Recipe using homemade shells. Feel free to skip the more time consuming method and use store-bought! I've made these more than a few times since posting and have added a few notes.
Ingredients 
Filling:
1

cup

whole milk ricotta cheese — I like a brand called BelGioso

2

oz

cream cheese

softened (or mascaprone)

1/3

cup

confectioners' sugar

use more if desired

1 1/2

teaspoon

vanilla extract

1

teaspoon

lemon juice

optional

1/4

cup

heavy whipping cream or 1/2 cup whipped topping**

1/3

cup

semi-sweet chocolate mini morsels
Cannoli Shells — Use Store Bought or This Recipe
2

cups

minus 2 T flour

230 grams (weigh the flour for best results)

1

tablespoon

plus 1 teaspoon granulated sugar

1/4

teaspoon

salt

1 1/2

tablespoons

unsalted butter

softened

1

egg yolk

1/2

cup

dry white wine plus water if needed

can also use brewed coffee

1/4

teaspoon

vanilla

Oil for frying
Instructions 
Place ricotta cheese on a stack of paper towels and blot out any excess moisture. If you use good ricotta, you probably won't get much drainage. Transfer to food processor. Add cream cheese and process until smooth and creamy. Scrape sides of bowl. Process a little more, then add confectioners' sugar, vanilla and lemon juice; process for another 30 seconds.

Whip the cream with a handheld mixer and fold into the cheese.

To make shells, mix flour, sugar and salt in bowl of food processor. Add butter and pulse until mixture is coarse. Combine egg yolk, wine and vanilla and add to processor. Pulse until mixer comes together. If mixture still seems too dry, add water 1 tablespoon at a time until it comes together when pinched. Empty onto a sheet of waxed paper and shape into a ball. Let stand for at least 30 minutes or until ready to use.

Divide dough into 10 equal pieces and shape each into a ball. Press and then roll each ball into a very thin circle.

Roll each circle of dough around a metal cannoli tube, overlapping the ends and press to seal. Try not to press the dough on too tight or the cannoli shell will be more difficult to remove.

Fry two at a time in about a 1 inch of peanut oil for approximately 1-3 minutes, turning to brown all side. Remove from oil and set on paper towels to drain. Let cool for a few minutes, then carefully slide from tubes.
Notes
I sometimes cheat and use whipped topping instead of whipped heavy cream. Even though the whipped topping is sweetened, it doesn't make the cannoli filling overly sweet (in my opinion).