I was organizing some old church cookbooks and this recipe for Graham Cracker Surprise Pie fell out of one. It would be impossible for me to make this today, but I've typed up the recipe in case you want to try it first. Considering the source, it's "bake at your own risk" but if I were anywhere near an oven, I would try it. It sounds a lot like Luby's Butternut Pie which was (is) delicious.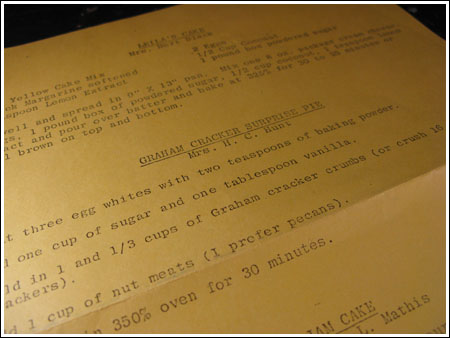 Graham Cracker Surprise Pie
3 large egg whites
2 teaspoons of baking powder (seems like a lot)
1 cup of granulated sugar
1 tablespoon of vanilla extract
1 ⅓ cup of graham cracker crumbs
1 cup of nuts, chopped (author prefers pecans)
Buttered pie dish
Preheat oven to 350 degrees F.
Beat the 3 egg whites until soft peaks form. Beat in the baking powder. Gradually add the cup of sugar while beating, then beat in the vanilla. Fold in the graham crackers and nuts. Pour into a buttered pie plate and bake for 30 minutes at 350 degrees F.
Note:  I think this might be good baked in a regular crust, but I'm not sure what the bake time would be to get the crust to match the filling.  It might need to be par-baked.  In the past, I've made recipes like this without a crust.