This is my favorite cookie recipe at the moment. It's for Bouchon Bakery style chocolate chip cookies, and it's absolutely perfect. The cookies are less sweet than some, have a hint of blackstrap molasses flavor and loads of dark and bittersweet chocolate. They're about medium thickness, soft, dense and with crispy edges. I really love Thomas Keller's chocolate chip cookies from Ad Hoc at Home, but these are even better!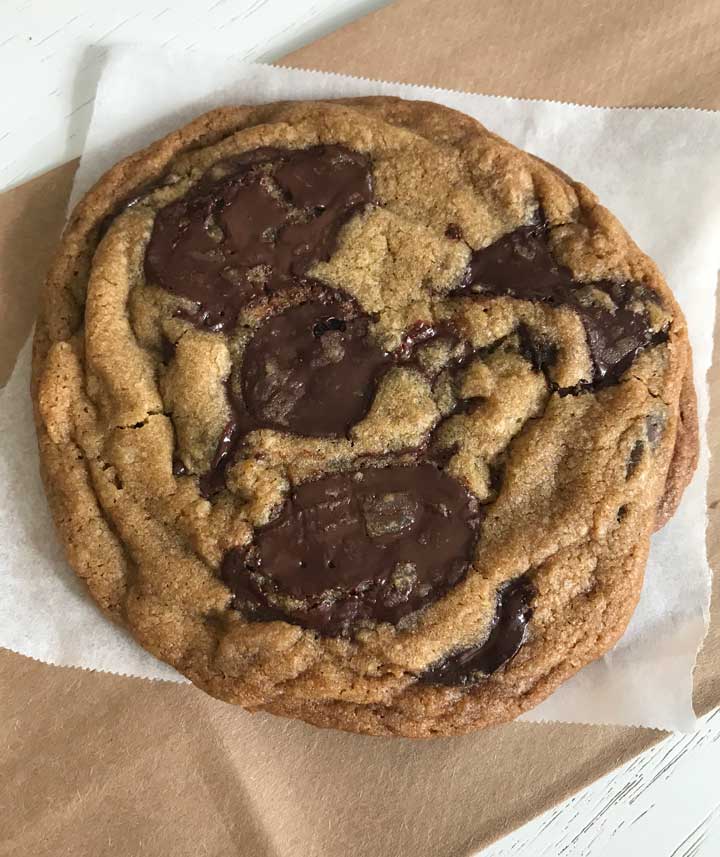 Bouchon Bakery Cookbook
The recipe is adapted from one in the Bouchon Bakery cookbook by Thomas Keller and Sebastien Rouxel. It's basically a master class on baking, so well worth the price. Of all the recipes in the book, the cookie recipes are the most approachable, and I think I've tried them all. Chocolate chip is the favorite, while the oatmeal cookies are a close second.
Chocolate and Vanilla
For the chocolate, I've been using Guittard Bittersweet Onyx Wafers and Valrhona, but the cookies are also good with bittersweet chocolate chips. And for the vanilla, well -- there is none! I had to force myself not to add any, but the cookies truly don't need it. There's plenty of flavor with the blackstrap, butter and chocolate.
Best With a Scale
The technique is as simple as any chocolate chip cookie recipe, but you do need to use a scale to get the proper measurements. The volume measurements are a little unusual, which is probably why the cookies are so good. I've never attempted these with the volume measurements.
The Most Difficult Part
The difficult thing about Bouchon Bakery style chocolate chip cookies is waiting for the dough to age. You can bake the cookies right away, but the cookies are so much better after 12, 24 or even 36 hours in the refrigerator. The yield is six giant cookies, so I usually bake one cookie right away and refrigerate the other rounds of dough.
Recipe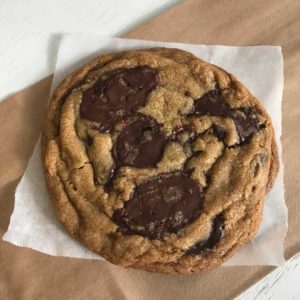 Bouchon Bakery Style Chocolate Chip Cookies
Giant, flat, bakery style cookies.
Ingredients 
238

grams

all-purpose flour or bread flour (both work)

(1 ½ cups plus 3 tablespoons)

½

tsp

baking soda

½

tsp

salt (Morton Kosher)

3 grams (1 teaspoon for Diamond)

168

grams

unsalted butter, softened

(12 tablespoons)

134

grams

dark brown sugar, lightly packed

(½ cup plus 2 tablespoons)

104

grams

granulated sugar

(½ cup plus 1 teaspoon)

12

grams

unsulfured blackstrap molasses

1 ¾ teaspoon

60

grams

of beaten egg

1 jumbo

107

grams

chocolate chunks or disks

(⅔ cup)

107

grams

bittersweet chocolate chips

(⅔ cup)
Instructions 
In a medium bowl, stir or whisk together the flour, baking soda, and salt. Set aside.

In a stand mixer fitted with the paddle attachment, beat butter on medium speed until creamy. Add both sugars and molasses and cream until light and fluffy, scraping the bowl as needed.

Using lowest speed of mixer or just stirring by hand, stir in the egg until it is blended.

Scrape the bowl and add the flour mixture in two parts, mixing until just combined. Scrape the bowl once more to ensure that all of the flour is incorporated from the bottom. Don't add the chocolate quite yet.

Empty the dough onto a sheet of wax or parchment paper and press down into a slab about ¼ inch thick. Lay chocolate disks (or whatever type chocolate you are using) across half of the slab, then fold the other half of the dough over the chocolate. Press down again and repeat, layering half of the slab with chocolate and folding over. Do this one more time or until you've incorporated all of the chocolate evenly. Cut into 6 portions and press into rounds.

Put the rounds in the refrigerator, cover and chill overnight or until ready to bake. Or bake right away!

Preheat oven to 325 degrees.

Arrange cookie dough disks on parchment lined baking sheet leaving plenty of room for them to spread (at least 4 inches). Bake for 15 to 20 minutes at 325 or until cookies are set. If they are very cold, they may take up to 23 minutes. You can check earlier or later. I don't like underbaked cookies so I tend to bake longer.

Let the cookies cool directly on the baking sheet for about 10 minutes (or on a brown paper sack), then transfer to a wire rack.