Here's a handy tip:  Start recycling empty peanut butter jars now so that in December, you can take them out, fill them with treats and give as little gifts. Unlike pickle jars, peanut butter jars are odor free after a couple of washes. This jar is full of the latest, greatest granola — Tropical Granola.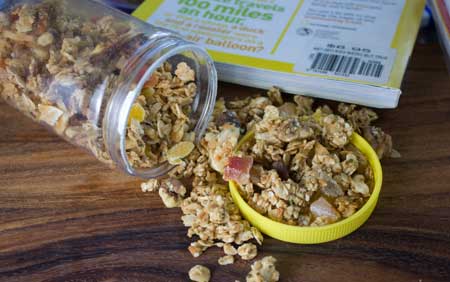 As mentioned, I wanted to try a recipe that used flour and non-fat dry milk. After several experiments with various small batch versions, I liked this one the best because it's crispier than other granola, and loose but with big clumps. You can eat it with your fingers or in a bowl with milk or yogurt.
For the flour, I used Ultragrain (I bought a whole bag of it, so I have to keep putting it in things!) but you can use whatever flour you have. I think barley flour might be really interesting….or if you want to keep it gluten free, oat or rice flour.
And finally —
If you're putting gift granola in a peanut butter jar, you might want to let the recipient know.  My guess is if you wash a peanut butter jar multiple times you'll remove any traces of peanut, but you can never be too careful.  And letting people know can't hurt.

That probably goes without saying, but I have a friend with a peanut allergy so I said it anyway.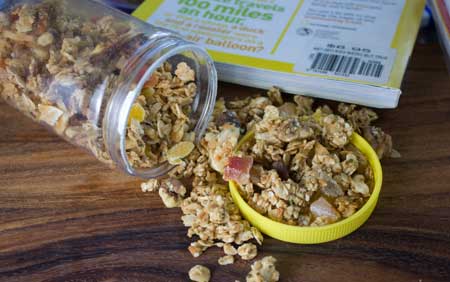 Tropical Granola
Granola with a tropical theme.
Ingredients 
1 2/3

cups

old fashioned oats

1/3

cup

flour

all-purpose, whole wheat or Ultragrain

1/4

cup

hemp seeds

or try quinoa or sunflower seeds

3

tablespoons

golden flax

1/4

cup

non-fat dry milk powder

1/4

cup

flaked sweetened or unsweetened coconut

1/4

teaspoon

salt plus an extra pinch

3/4

cup

roughly chopped walnuts or your favorite nut

1/4

cup

coconut oil

2

tablespoons

honey

1/3

cup

light brown sugar

2

tablespoons

water

1

teaspoon

vanilla

2/3

cup

dried banana chips

3/4

cup

chopped dried tropical fruit

from bulk bin
Instructions 
Preheat oven to 250 degrees F. Line a large rimmed baking sheet with nonstick foil.

In a large mixing bowl, combine the oats, flour, hemp seeds, flax, dry milk, coconut, and salt. Stir well, and then add the walnuts.

In a microwave-safe glass measuring cup or bowl, mix the coconut oil, honey, brown sugar and water. Heat for about 30 seconds or just until mixture boils. Keep an eye on it so it doesn't boil over. Stir well, then stir in vanilla. Pour over oat mixture and stir until very well mixed. Stir in the banana chips. Empty onto baking sheet and spread it evenly across.

Bake at 250 degrees for 45 to 53 minutes, stirring every 15 minutes. Remove from the oven and let cool completely. It will crisp as it cools. Add chopped dried fruit. Makes about 4 cups.
Notes
For the dried fruit, I buy pre-mixed combinations of mango, pineapple, papaya and dates, then chop the fruit.