This is one of my older recipes for Raspberry Icebox Cake. I posted it back before Nabisco Famous Wafers were discontinued, but even back then I used a substitute Homemade chocolate wafers are a good stand-in. I've heard Oreo Thins will work too, so if you stumbled across this post and don't want to make your own chocolate wafers, you can look for Oreo Things.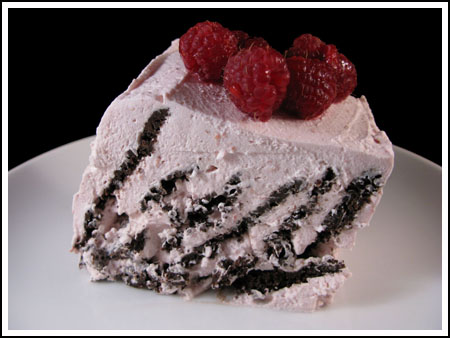 I'm still working my way through all the homemade chocolate wafers, and last night's dessert was a raspberry icebox cake. The recipe below is for a full cake, but you can scale it down (which is what I did) and make the cake any size you like. This one is from Good Housekeeping, but I altered it a bit by adding raspberry extract to amp up the raspberry flavor a bit. If you have some, raspberry liquor would be good too.
The recipe is a little different than the picture because a) I used misshapen homemade chocolate wafers and b) I put raspberry cream all over the cookies and down the sides of the cake rather than just in the middle. The recipe says to put raspberry cream between the cookies and frost the rest of the cake with plain whipped cream.  Yours is almost guaranteed to look better than mine.
Raspberry Icebox Cake
2 cups heavy whipping cream (16 oz)
2 tablespoons granulated sugar
1 teaspoon vanilla extract
2 tablespoons raspberry preserves, seedless
¼ teaspoon raspberry extract (optional)
2 cups (2 half pint containers) fresh raspberries) – or 12 oz frozen thawed
8 ½ oz chocolate wafer cookies (35)
Whip the cream until stiff peaks start to form, then beat in the sugar and vanilla.
Mash 1 cup of the raspberries or puree them in the food processor. Strain if you like. I strained mine because I don't like seeds. Mix the mashed/puree raspberries with the preserves and raspberry extract.
Fold HALF of the whipped cream into the raspberry mixture. If you want to make the cake completely pink, double the raspberry mixture and fold in all of the whipped cream.
Spread about 2 teaspoons raspberry whipped cream on top of each of 6 wafers and stack. Stack another wafer on top of each stack to make 5 stacks of 7 wafers each.
Turn stacks on their sides and place stacks side by side in a long roll on a rectangular platter. If you're making a small roll, you can use whatever size platter your want. Spread reserved whipped cream all over top and down sides. Cover and refrigerate 5 hours, or until wafers have softened.
Before serving, use the remaining fresh raspberries to garnish the cake.
More Icebox Desserts