Pineapple Icebox Cake — My Grandmother's Specialty
One of the best things my grandmother made was a dessert called banana split cake. It wasn't really a cake at all, but a layer of cookie crumbs topped with a creamy custard of some sort, whipped cream, pineapple and bananas. Over the years I've tried several versions of the recipe trying to get it like my grandmother's, but most contained cream cheese and just didn't taste quite right. But now I've found the version — or at least perfect in my opinion because it's the closest to the one Bessie made. Plus it doesn't call for bananas, which is a huge plus since Todd can't stand them.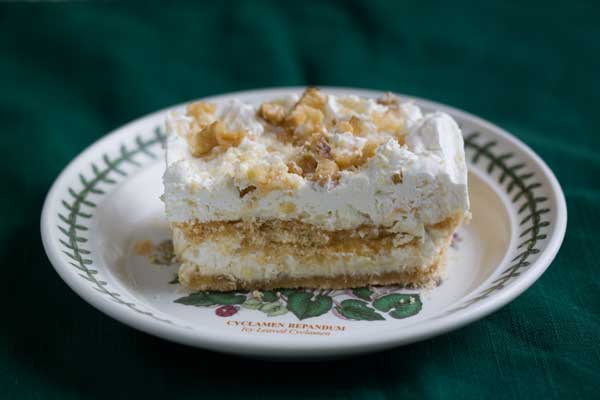 This very simple icebox cake is made with Nilla wafers, eggs, butter, cream and pineapple. It's best made a full day ahead, and can be made in either a loaf pan, square dish or casserole. I make mine in a loaf pan, but for a crowd I would multiply it times 3 and make it in a 9×13 inch dish (hint: great Memorial Day dessert!).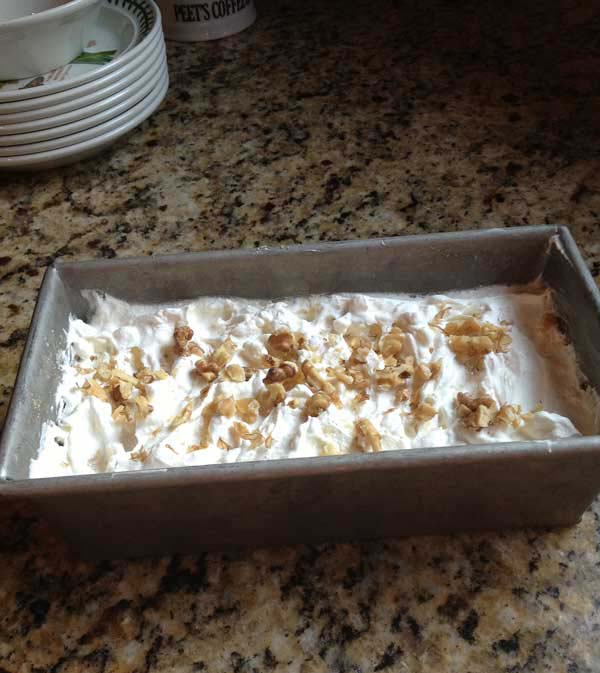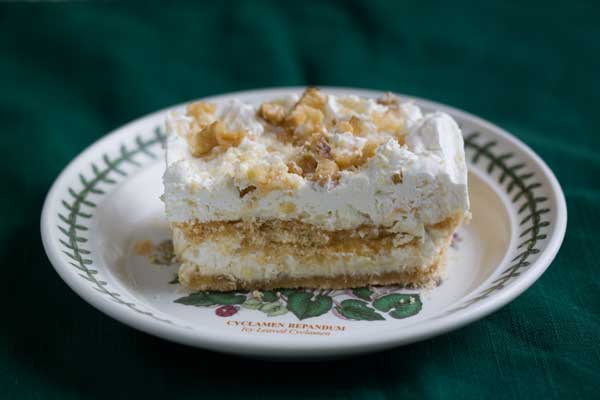 Pineapple Icebox Cake
Pineapple dessert made with vanilla wafers, egg, butter and whipped cream. This version is a little different than the others.
Ingredients 
Butter for greasing baking pan

5

ounces

about 35 vanilla wafers, crushed to make about 1 1/4 cups crumbs

3/4

cup

heavy whipping cream

1

teaspoon

of vanilla extract

3/4

cup

plus 1 tablespoon confectioners' sugar

1

small can

8 oz crushed pineapple, drained dry

4

tablespoons

butter

softened (I used salted)

1

large egg

pasteurized type if possible

Toasted and chopped walnuts or pecans

optional
Instructions 
Rub an 8 1/2 by 4 1/2 inch or 9x5 inch loaf pan generously with butter.

Sprinkle half of the crumbs over the bottom of the pan and press down tightly.

In a mixing bowl, using a handheld electric mixer, beat the cream until stiff peaks form. Beat in half of the vanilla and 1 tablespoon of the confectioners' sugar. Fold in the drained pineapple and set aside.

In a second mixing bowl, beat the softened butter and remaining 3/4 cup confectioners' sugar until creamy. Beat in egg and remaining vanilla.

Pour half of the egg mixture over the crumbs (you don't have to cover them completely), then carefully spread half of the whipped cream/pineapple mixture over the egg mixture.

Make a second layer by sprinkling on remaining crumbs, pouring on remaining egg mixture, and carefully spreading a top layer of whipped cream/pineapple mixture.

Chill for about 8 hours or overnight.

Before serving, sprinkle top with toasted and crushed walnuts. Cut into squares and serve.