Indoor S'mores is a recipe I found 30 years ago on the back of a Golden Grahams box. At the time I didn't think a dry breakfast cereal could never come close to the real thing; because If you think about it, S'mores are the perfect dessert –- gooey, chocolaty, multi-textured & flavored and almost always served in happy circumstances. For instance, you never find s'mores at business meetings or funerals. They're for campouts or cozy happy nights at home with the family. Plus, you get to set things on fire while you eat and if that's not fun, I don't know what is. So the idea of indoor s'mores made with cereal was just kind of "meh".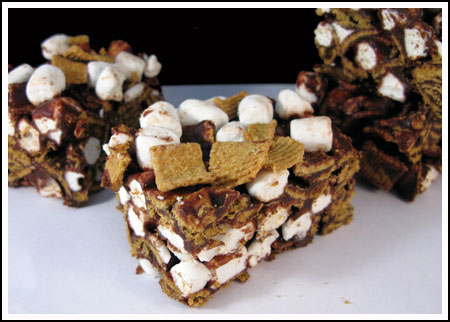 Indoor S'mores
Well, today I'm feeling kind of "meh". The rest of the family went to a water park and I can't get my ears wet and have to stay home. Staying home isn't a bad thing because there's lots to do here, but I'd rather be going down a water slide just like I'd rather be burning marshmallows than melting them in a pan and dumping them on cereal. But life is not perfect and sometimes you have to make the best of it so Indoor S'mores, the one recipe for which I had all the ingredients on hand, were perfect for the day. They don't taste like real s'mores, but they're pretty good in their own right and have an interesting look. I thought they tasted much better cold, so I'm keeping this batch in the refrigerator to see how long it will take for them to become soggy.
UPDATE: Kept these in the refrigerator and they were still great the next day! I definitely liked them better cold and sogginess wasn't an issue.
Recipe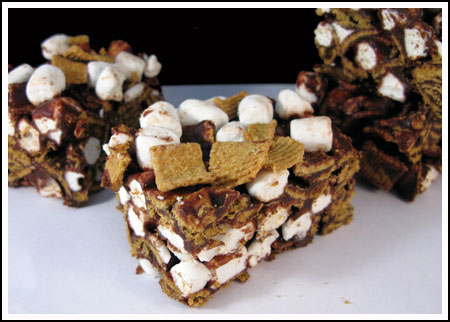 Indoor S'mores
Indoor S'mores are a no-bake cookie made with Golden Grahams cereal.
Ingredients 
8

cups

Golden Grahams cereal

(280 grams)

⅔

cup

light corn syrup

2

tablespoons

butter

2

cups

12 oz milk or semi-sweet chocolate morsels

2

teaspoons

vanilla extract

3

cups

mini marshmallows

Extra cereal and marshmallows for sprinkling on top
Instructions 
Line a 9x13 inch pan with nonstick foil or line with foil and spray with cooking spray.

Pour cereal in a large mixing bowl so that it's ready to go.

Heat corn syrup and butter together in a saucepan set over medium. When mixture begins to boil, add chocolate chips, reduce heat to low or turn off completely, stir until melted. Stir in vanilla.

Pour chocolate mixture over cereal, coating it thoroughly, then fold in the marshmallows, 1 cup at a time. Press mixture evenly into a pan, sprinkling extra cereal and marshmallows on top for contrast, and then let stand until firm – about 1 hour or stick them in refrigerator so they'll firm up quickly. I did that because I was impatient, and it worked out well. In fact, I liked the bars better cold.

Slice the bars into big squares. Makes 18 to 24

You can also halve this recipe and make it in a square pan.