This week I've been practicing my pie crust making technique. Even though I know the basic rules of tender crust (use cold ingredients and don't over-work the dough), I still run into problems. My dough usually sticks because I don't use enough flour for dusting surfaces, I'm not good at crimping, and I always make a mess. I also jump from recipe to recipe, but maybe that is a good thing because it's led me to some of the most perfect pie crust recipes.  Too bad there's not just one!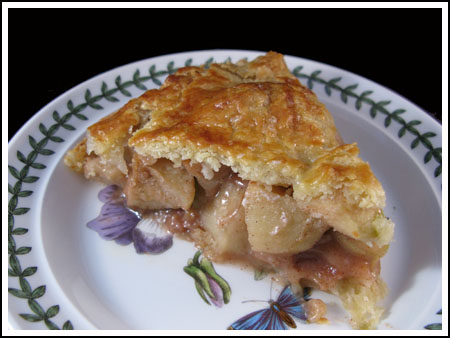 One of my (many) favorite recipes is Dawn Viola's. The crust that goes with her apple pie is incredibly buttery and tastes almost like a pie surrounded by crispy croissant dough.  Unfortunately, it only really works well for fruit pies because when you blind bake it the butter pools and it's overly buttery.
This pie crust is similar to Dawn's, but with a little less fat in the dough.  This crust uses a combination of butter and shortening, so you can use regular butter rather than European style and still get a very flaky crust. So this my favorite pie crust at the moment. I still need more practice on crimping, lattice work and even rolling the dough out just right, but I do like how this crusts tastes.
Also, if you're new to crust making I highly recommend watching some videos before proceeding.I usually use my food processor, but doing it by hand will give you a good idea of how the dough is supposed to look and feel if you're just starting out.
Recipe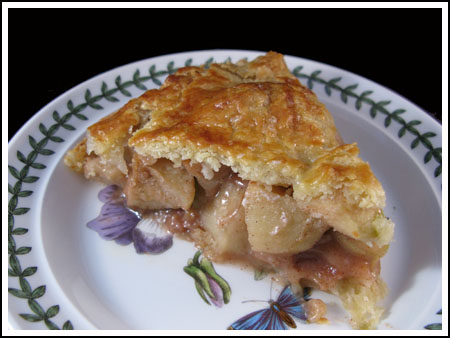 Pie Crust Recipe
Favorite Pie Crust recipe for a double crust pie or two small single crust pies.
Ingredients 
2 ½

cups

all purpose flour plus extra for dusting

11. 5 oz plus extra

1

teaspoon

salt

1

tablespoon

granulated sugar

12

tablespoons

unsalted butter

cold, cut up

4

tablespoons

shortening

1

tablespoon

vinegar

chilled plus 1 teaspoon vanilla

6

tablespoons

ice water

plus more if needed
Instructions 
Combine flour, salt and sugar in a bowl and put them in the freezer for about 20 minutes. Put food processor bowl and blade in freezer as well.

Assemble food processor as usual and dump in the flour mixture. Pulse a few times to mix. Add cold butter and shortening and pulse 10-15 times or until mixture is coarse. Add the vinegar/vanilla mixture and pulse to mix. Add water two tablespoons at a time, pulsing until mixture is moist enough so that when you pinch it together. It should still look pretty dry at this point, but should hold together when pinched.

Turn the dough onto a work surface and shape into two portions. It should go from a raggedy mess to two raggedy disks – they should hold together, though. If they don't, you didn't add enough water. Wrap in plastic wrap and chill for at least one hour to rest the dough. This is an important step. Don't skip the resting.

When ready to use, sprinkle some flour over a big sheet of nonstick foil or parchment. Set the disk of dough on the foil and let it sit at room temperature for about 15 minutes. Sprinkle top with more flour, then lay another big sheet of nonstick foil or parchment over the dough and roll out from the center to the edge one stroke at a time, going around clockwise, to make about a 13 inch round. Now it's time to put it in the pie dish. I like to invert the 9 inch pie plate or tin over round and flip, but you can also fold the circle in half, lift it up, then press it into the pie dish. Press pie dough into pan, fold edges inward and crimp.