Cranberry Spice Golden Raisin Bars are a variation on traditional raisin bars, but with different spices, golden raisins and dried cranberries. They have cakey texture and are very moist and sweet.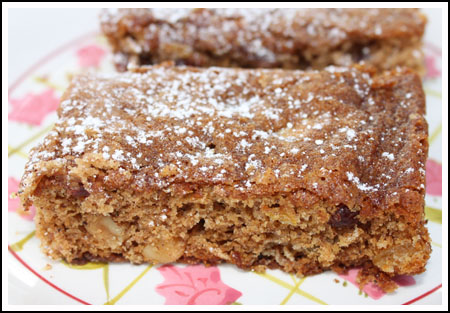 Cranberry Spice Golden Raisin Bars
1 cup mixed golden raisins and cranberries
1 cup water
½ cup vegetable oil
1 scant cup granulated sugar
1 large egg
1 ¾ cup all purpose flour
¼ teaspoon salt
1 teaspoon baking soda
1 teaspoon cinnamon
½ teaspoon freshly ground nutmeg
½ teaspoon ground allspice
¼ teaspoon ground cloves
½ cup walnut or pecans, toasted and chopped
Preheat oven to 375 degrees f. Grease a 13x9 inch metal pan or line with foil and spray the foil with cooking spray.
Combine the dried fruit and water in a saucepan and bring to a boil over
medium-high heat. Remove from heat and let cool for 10 minutes. Pour into a large bowl and add the oil, sugar and egg. Mix well with an
electric mixer.
In a separate bowl, sift or mix together the flour, salt, baking soda and spices.
Add to dried fruit mixture and mix well. Stir in the nuts. Spread into pan and bake for 20 minutes. Let cool before cutting.
Cut into 24 bars