I'd planned on taking a break from making Rocky Road type candy, then Monday my friend Amy sent me a recipe with a note saying
"When I was teaching, a parent brought this to me at Christmas time. Now I have to make it every Christmas. It is so good. It was created by another school mom and won an award in the Statesman in 1993."
This is the best kind of recipe, one sent by a friend and with a history to match. It even has an Austin themed name, "Lake Travis Mud".
This morning I made a half batch of the Lake Travis Mud and molded it into an 8 inch pan. I melted the chips in a pan set over boiling water, but if you have one you could use a double boiler. I'm sure the microwave would work too, just make sure you stir often or use a low heat so that the butterscotch chips melt properly. As expected, it was terrific and probably my favorite Rocky Road type candy yet.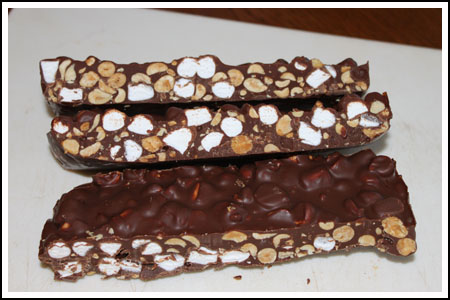 Lake Travis Mud
An easy rocky road fudge recipe made with baking chips, peanut butter and marshmallows.
Ingredients
12 oz semi-sweet chocolate chips -- I used Ghirardelli 58% chocolate pieces for this
12 oz butterscotch chips
1 cup chunky peanut butter, creamy okay too
12-oz jar dry roasted peanuts
2 cups miniature marshmallows
Instructions
In a large double boiler or in a heat-proof bowl set over simmering water, melt the chips over low heat. Stir in peanut butter until melted. Add peanuts. Let cool slightly and add marshmallows.
Spread mixture in a 9x13 pan lined with parchment or nonstick foil. Refrigerate for at least two hours. Lift from pan by grasping foil, set on a cutting board and cut into desired size squares/bars. The mud should remain store in the refrigerator and will keep for a couple of months in an airtight container. Makes 60 pieces.