Thanks to Cheri for this recipe! Cheri is a reader I've had the pleasure to chat with for many years, and her Butterscotch Ranger Cookies recipe is an all-time favorite. I've used it many times "in real life" and people always ask for the recipe. 
Cheri's Butterscotch Ranger Cookies are made with all-butter (no shortening) and in place of the coconut and chocolate chips are butterscotch chips.   The cookies are delicious and have a lot of flavor, though they are on the sweet side so I recommend using the nuts to offset the sweetness.
Other Ranger Cookies Recipes
This is my fourth Ranger cookie in the collection. Looking back on the other three and reading notes, it seems City School Rangers were excellent and might still be my favorite (I need to make them again). King Arthur's Rangers had an amazing texture, but I missed the butter. And Bonnie Donaldson's Rangers were kind of disappointing. Maybe I was having an off-day, but I didn't love the flavor. The recipe missing from this list is Nancy Baggett's Rangers which are made with both butter and shortening and which will probably be the best of the bunch.  I made them a long time ago but didn't take any notes and have forgotten what I thought about them.
Recipe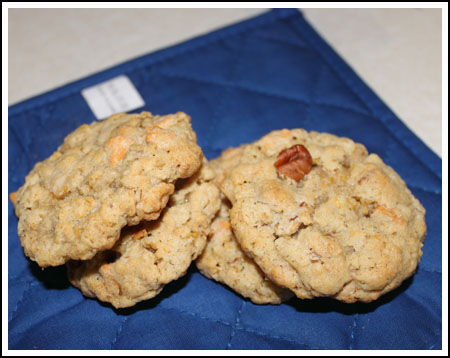 Cheri's Butterscotch Rangers
Cheri's Butterscotch Rangers
Ingredients 
1

cup

8 oz unsalted butter, at room temperature (230 grams)

1

cup

granulated sugar

200 grams

1

cup

brown sugar

firmly packed (200 grams)

2

large eggs

2

teaspoons

vanilla extract

1

tablespoon

water

2

cups

all-purpose flour

9 oz/250 grams

1

teaspoon

baking soda

½

teaspoon

baking powder

½

teaspoon

salt

2

cups

regular or quick-cooking oatmeal

I used quick cooking, not instant

2

cups

butterscotch morsels

2

cups

Corn Flakes

Grapenuts Flakes or 2 oz crushed Corn Chex

1

cup

chopped nuts

toasted pecans, optional
Instructions 
Preheat oven to 350 degrees F. Grease two cookie sheets or line with parchment.

Beat the butter until creamy. Add the granulated and brown sugars and continue beating for about -5 minutes. Beat in the eggs, one at a time and beat for another minute, then beat in the vanilla and the water.

Thoroughly mix together the flour, baking soda, baking powder, and salt in a second bowl. Add the flour mixture to the butter mixture and well. Add the oatmeal, butterscotch morsels, cornflakes and nuts and mix until well combined.

Place heaping teaspoons of batter about 2 inches apart on the prepared baking sheets or shape the dough into 1 inch balls. With moistened fingertips, gently press each cookie to flatten it slightly. Bake the cookies until lightly browned, about 12 minutes. Transfer to racks to cool completely.

Makes about 80 cookies.