I baked a half batch of cinnamon cream scones for Fuzz this morning, and I must say this is one of the easiest recipes I've ever made. You just mix the dry ingredients, pour in the cream, shape, cut and bake.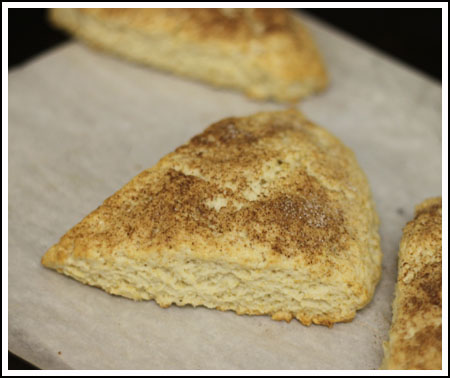 Cream Scones From Marion Cunningham
I have Katrina to thank for recommending this recipe, and her friend Chef Paige to thank for posting it. If you have a chance, check out Chef Paige's blog, A Cooking Life. What I like about it is that she gives the history behind each recipe. For instance, she made these scones for Mother's Day and went on to say how the recipe originated from an old cream biscuit recipe from Marion Cunningham's Breakfast Book. The scones are a spin-off of the biscuit and both recipes are just about the easiest most foolproof versions out there.
Fuzz, Katrina, and Paige all loved these scones. I thought they were pretty good, but I have to admit that I did miss the butter. For a quick and easy recipe, this can't be beat.
A Few More Options...
Recipe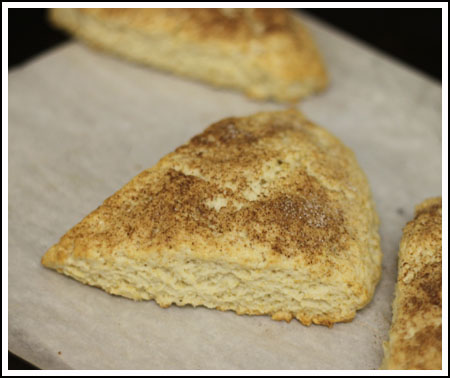 Cinnamon Topped Cream Scones
An easy scone recipe made with cream
Ingredients 
2

cups

all purpose flour

9 oz

1

tablespoons

baking powder

½

teaspoon

salt

¼

cup

granulated sugar

1 ¼

cups

heavy cream

plus more for brushing

Topping: ½ tablespoon granulated sugar mixed with ½ teaspoon cinnamon
Instructions 
Combine the flour, baking powder, salt and sugar in a bowl and mix well.

Gradually add the cream, stirring to make a soft dough.

Turn dough out onto a parchment lined surface and shape into an 8 ½ inch round. Cut round into 8 triangles.

Set the triangles on a parchment lined cookie sheet, brush with a little extra cream, sprinkle with cinnamon sugar.

Bake at 425 F. for 15 minutes or until done.