I first made Vegan Banana Bread out of necessity. My mother was coming to visit. She loves banana bread, but I was completely out of eggs and needed to improvise. So I did a little research on vegan banana bread and after looking at several recipes, I made this one. It was a hit, and no one missed the eggs or butter. I've been making it ever since using various size loaf pans. I recently tested it as gluten-free vegan banana bread using a 1:1 gluten-free flour blend, and it worked well.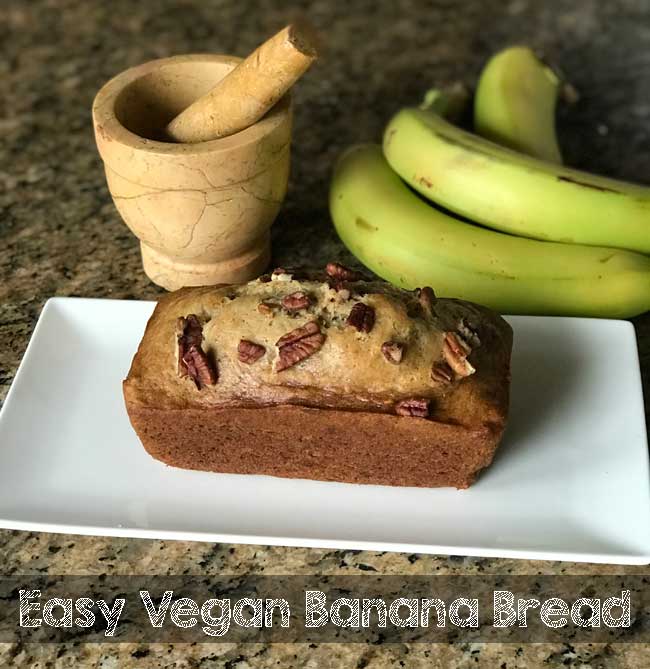 Loaf Pan Sizes
Vegan Banana Bread can be made in a regular loaf pan or divided among three 3x5 inch small loaf pans. For a tall, stately loaf, bake the vegan banana bread in an 8 ½ by 4 ½ inch loaf pan rather than a 9x5. You can also use three 3x5 or 3x6 loaves. I have not yet tested this recipe as muffins, but I suppose dividing it between muffin cups would work too.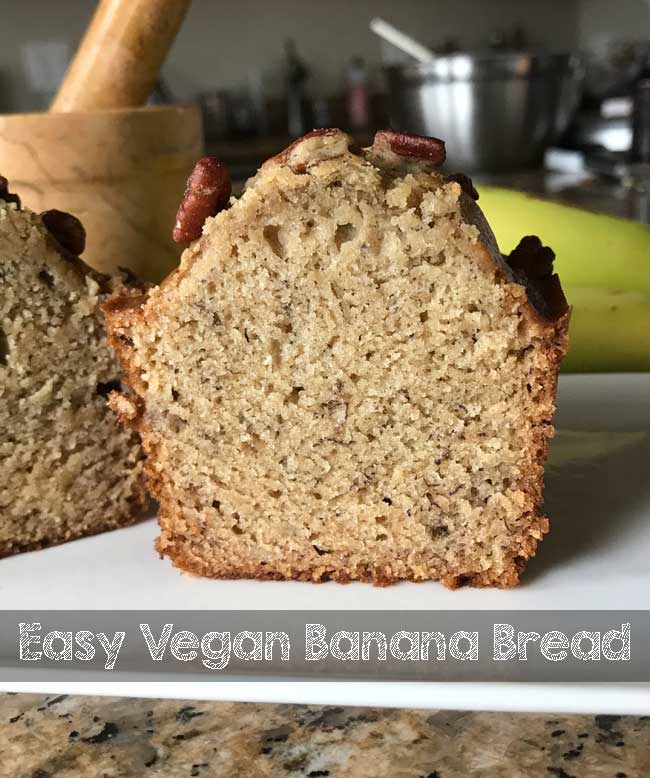 One Banana Vegan Banana Bread Mini
If you find yourself with one over-ripe banana, you can use it up by making one 3x5 or 3x6 inch Mini Vegan Banana Bread loaf. Here are the measurements.
1 ½ tablespoons almond milk (or any other non-dairy milk)
⅓ of a teaspoon (just eyeball it) of apple cider vinegar
⅔ cup (85 grams) all-purpose flour (sometimes I mix in a little whole wheat)
⅓ of a half teaspoon (again, just eyeball it) baking soda
⅛ teaspoon salt
Pinch of cinnamon (optional)
2 tablespoons plus 2 teaspoons light olive oil or melted coconut oil
2 tablespoons plus 2 teaspoons brown sugar (33 grams)
2 tablespoons plus 2 teaspoons granulated sugar (33 grams)
1 ripe banana, mashed (100 to 114 grams)
½ teaspoon vanilla
Mix the vinegar and almond milk and let sit for about 5 minutes. Stir together dry ingredients in one bowl, then mix together oil, sugars, banana and vanilla in another. Combine flour mixture with banana mixture and almond milk and stir well. Put in a well greased 3x5 or 3x6 inch loaf pan and bake at 350 for about 35 minutes or until bread tests done (no batter on tester).
Gluten-Free Vegan Banana Bread
I recently tested this recipe with Bob's 1:1 gluten-free blend. It worked perfectly. Just use the equivalent amount in weight (260 grams) of Bob's 1:1 gluten free blend. I'll update when I test with other gluten-free flours.
Recipe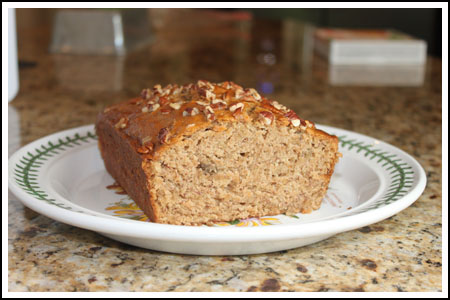 Easy Vegan Banana Bread
Vegan banana bread made with soy milk and oil instead of sour cream and butter. You can make this as one large loaf or three small (3x5 inch) loaves.
Ingredients 
¼

cup

soy milk

or any non-dairy milk

1

teaspoon

apple cider vinegar

2

cups

all purpose flour

260 grams, aerate well before measuring or weigh

½

teaspoon

baking soda

¼

teaspoon

salt plus a little pinch

¼

teaspoon

cinnamon

½

cup

vegetable oil or melted coconut oil

½

cup

brown sugar

firmly packed (100 grams)

½

cup

granulated sugar or organic sugar**

95 grams

3

ripe bananas

340 grams, peeled and mashed

1 ½

teaspoons

vanilla

Some nuts for sprinkling on top

optional
Instructions 
Preheat oven to 350 F. Rub a loaf pan with oil and line with a rectangle of parchment. Alternatively, you can use 3 small (3x5 inch) loaf pans.

Mix together the soy milk and vinegar; set aside for about 2 minutes.

Stir together flour, baking soda, salt and cinnamon.

Beat together the oil, brown sugar and granulated sugar, then beat in the bananas. Continue beating on high until very light. Reduce speed to low and add milk/vinegar mixture.

By hand, stir the flour mixture into the banana mixture, being careful not to overbeat. I like stirring flour mixture in with a heavy duty scraper. Sprinkle some nuts on top if using.

Bake for 1 hour or until a toothpick inserted in center comes out clean. Let cool on a rack for about 15 minutes then flip from pan. Makes 1 awesome loaf.

If using small loaf pan, check at 35 minutes.
Notes
**Every so often I get a comment from someone saying that most refined sugar is processed with bone-char and that it's better to use a non-refined sugar. Most vegans already know this and are aware of the alternatives, but the subject is worthy of some research for anyone interested in that kind of diet. I found this information from Vegan Action very sensible. If I were serving this to a group of vegans I didn't know very well, I'd definitely go with some sort of unrefined sugar instead of granulated. One of my favorites is evaporated cane juice crystals which measure like regular sugar and have a great flavor all their own.