This is my oldest and best recipe for whole wheat brownies. It's originally from The King Arthur Whole Grain Baking Book, but I've made a few modifications to it including halving the recipe and baking in an 8 inch square pan.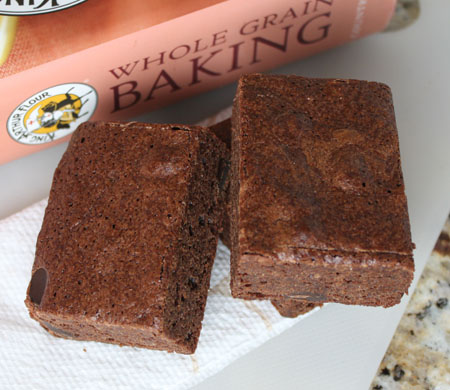 12-Hour Brownies
The only catch to this recipe is that the brownies need to sit for at least 12 hours before you cut them. This is important because the standing time softens the bran in the wheat. Maybe instead of Whole Wheat Brownies they should be called 12-Hour Brownies. Or maybe 24-Hour Brownies. I don't know.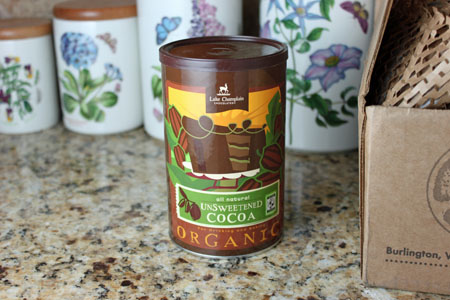 Brownie Flavor
The first time I baked these I used an 8 inch square pan, chilled brownies overnight and cut them late morning. After cooling and cutting, I found the flavor of the cocoa powder I used, Lake Champlain, very fruity and distinct and barely noticed the flavor of the wheat at all.
Whole Wheat Brownies Texture
The texture was just how I'd hoped it would be. The brownies were solid enough so that you could cut them neatly and wrap them up for a lunch box or bake sale, but fudgy enough so that when you squished them together with your fingertips, the texture smoothed out. In short, another great use for good cocoa powder and whole wheat flour.
The recipe may be on the King Arthur site, but last time I checked they moved it so you may have to search if you want to see the original. Here's my version below.
Whole Wheat Flour Brownies
4 oz (1 stick) unsalted butter, softened
1 cup light brown sugar, tightly packed 7 oz/210 grams)
6 tablespoons Dutch-process cocoa (36 grams)
Scant ½ teaspoon salt
½ teaspoon baking powder
¼ to ½ teaspoon espresso powder, optional
½ tablespoon vanilla extract
2 large eggs
¾ cup whole wheat flour** (3.1 oz) -- KA uses white whole wheat
1 cup semisweet chocolate chips
Method
Preheat the oven to 350°F. Line an 8-inch square metal pan with foil and spray the bottom with cooking spray.
In a medium size microwave-safe bowl, or in a saucepan set over low heat, melt the butter, then add the sugar and stir to combine.
Return the mixture to the heat briefly and heat just till it's hot (about 110°F to 120°F) but not bubbling. Don't worry if it separates; just stir it briefly to recombine a bit. Heating this mixture a second time will dissolve more of the sugar, which will yield a shiny top crust on your brownies.   Transfer the mixture to a bowl (or just let it cool slightly and do everything in the saucepan), and stir in the cocoa, salt, baking powder, espresso powder if using, and vanilla.
Add the eggs, stirring till smooth. Then add the flour and chips, again stirring till smooth. Spoon the batter into the prepared pan.
Bake the brownies for 27-30 minutes, until a cake tester or sharp knife poked into the center reveals wet crumbs, but not raw batter. The brownies should feel set on the edges and in the center. Remove them from the oven, and cool completely on a rack.  Cover and let sit overnight (I kept mine in the refrigerator, but served at room temp) before cutting and serving.
Yield: 1 dozen
Recipe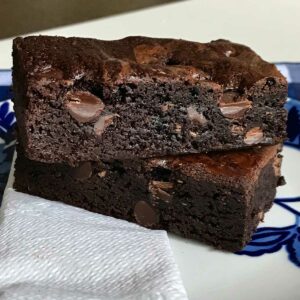 Whole Wheat Flour Brownies
A great recipe for brownies made with whole wheat flour and cocoa powder. You can use regular whole wheat flour or white whole wheat. For the cocoa powder, try to use a good brand, as it is a prominent flavor.
Ingredients 
4

oz

unsalted butter, softened

(114 grams)

1

cup

light brown sugar

tightly packed 7 oz/210 grams)

6

tablespoons

Dutch-process cocoa

(36 grams)

½

teaspoon

salt

½

teaspoon

baking powder

½

teaspoon

espresso powder

optional but recommended

½

tablespoon

vanilla extract

2

large eggs

¾

cup

whole wheat flour or white whole wheat

(3.1 oz)

1

cup

semisweet chocolate chips
Instructions 
Preheat the oven to 350°F. Line an 8-inch square metal pan with foil and spray the bottom with cooking spray.

In a medium size microwave-safe bowl, or in a saucepan set over low heat, melt the butter, then add the sugar and stir to combine.

Return the mixture to the heat briefly and heat just till it's hot (about 110°F to 120°F) but not bubbling. Don't worry if it separates; just stir it briefly to recombine a bit. Heating this mixture a second time will dissolve more of the sugar, which will yield a shiny top crust on your brownies.   Transfer the mixture to a bowl (or just let it cool slightly and do everything in the saucepan), and stir in the cocoa, salt, baking powder, espresso powder if using, and vanilla.

Add the eggs, stirring till smooth. Then add the flour and chips, again stirring till smooth. Spoon the batter into the prepared pan.

Bake the brownies for 27-30 minutes, until a cake tester or sharp knife poked into the center reveals wet crumbs, but not raw batter. The brownies should feel set on the edges and in the center. Remove them from the oven, and cool completely on a rack.  Cover and let sit overnight (I kept mine in the refrigerator, but served at room temp) before cutting and serving.

Yield: 1 dozen