It's been a while since I posted a red velvet cake, so here's the recipe for one I made yesterday. It's similar to the original Waldorf Astoria Red Velvet Cake, but uses butter instead of shortening and cake flour instead of all-purpose or White Lily. If you compare this recipe with a few others, you can see it has less fat. It's not quite as heavy textured, and if made right, it still comes out moist enough. What I like best about this one is that it's got the traditional red velvet flavor with very little chocolate and lots of whatever it is that comes together and makes red velvet that taste like red velvet.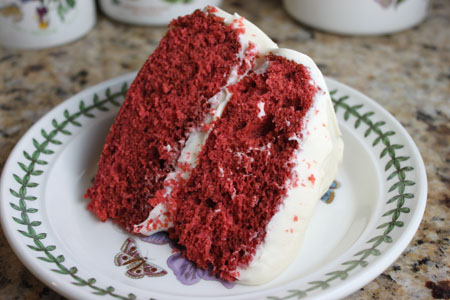 I adapted this recipe from Aunt Mildred's Red Velvet Cake which I'd been wanting to try for a while. What's funny is after I made the cake, I went back and looked at other red velvet cakes and saw that this one was very similar to King Arthur's Red Velvet Cake. So there's some validation for you in case you're still on the fence. They used a regular buttercream icing, though. I still love red velvet with cream cheese.

Red Velvet Cake with Cream Cheese Frosting
Our family's favorite tried and true red velvet cake
Ingredients
4 oz unsalted butter, room temperature
1 1/2 cups granulated sugar
1/2 teaspoon salt
1 teaspoon vanilla
2 whole eggs, room temperature
2 slightly heaping tablespoons cocoa powder (natural)
2 ounces (1/4 c) red food coloring
2 1/4 c of cake flour (9 oz)
1 cup buttermilk
1 teaspoon baking soda
1 tablespoon white vinegar
Frosting for Red Velvet Cake
1 (8 ounce) package cream cheese
1 stick (4 ounces) butter, softened
1 1/4 teaspoons vanilla extract
3 1/4 cups confectioners' sugar
1 teaspoon fresh lemon juice (optional)
Instructions
Preheat oven to 350 degrees F. Spray two 8 inch round cake pans with baking spray.
In bowl of a stand mixer or in a large mixing bowl using an electric mixer, cream butter, sugar and salt until light. Add the vanilla and the eggs beating 30 seconds after each egg is added. Make a paste of food coloring and cocoa and add to the creamed mixture. Add buttermilk and flour alternately, beating at low speed until mixed.
In a small cup, combine the soda and the vinegar and let it foam up. Pour the foaming mixture into the batter and stir until it's mixed in. Immediately pour into the two 8 inch pans and bake for 27-30 minutes.
Let cool for 10 minutes in pans set on a rack. Flip from pans and let cool completely. Make icing.
Beat the butter and cream cheese until smooth. Beat in vanilla. Add confectioner's sugar slowly, beating until smooth. For a little tartness, beat in some lemon juice.