Last week I discovered a great recipe for frosted fudge brownies. The flavor was good, but what I really liked was the texture.  It reminded me of the  Plantation Brownies we used to buy for my sister at the gas station, but moister and with more frosting.
Not wanting to settle on just one frosted fudge brownie recipe, I tried a second – a recipe with similar ratios, but actual melted chocolate instead of cocoa powder and a frosting with more butter and sugar. It also had the interesting step of beating the egg whites and folding them into the brownie batter at the end.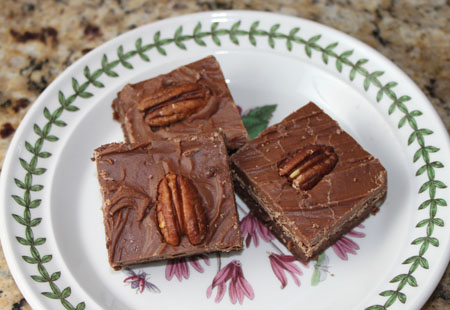 I'm not exactly sure what the beaten egg white did for this recipe, but they were slightly softer and more truffle-like than the others.  However, in my opinion they were a bit too rich. Not that brownies aren't supposed to be rich, but these just seemed like too much. Then again I sometimes find Texas Sheet Cake too rich, so maybe it's just me. The recipe is supposed to be Southern and rumor has it that people down south like a little more sugar.  No one at Todd's office complained, but I wasn't there to get a real critique.  If you know this recipe or make these, I'm really interested in hearing what you think.
This is from About.com and I didn't make any changes.