In light of some very exciting travel plans next week which I hope will bring lots of fun things to write about, today's recipe is called Hollywood Cheesecake.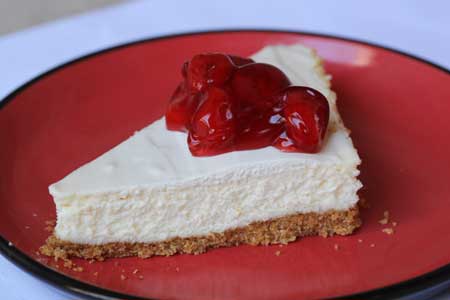 It's actually a very old recipe, but I'd never tried it;  and with its simple proportions, it was the perfect recipe for experimentation.   Rather than make a full 9 inch cheesecake, I wanted to try cutting a recipe in half and just baking it in a loaf pan. As you can see from the picture above, the experiment worked. It was just a matter of lining the pan with graham cracker crumbs...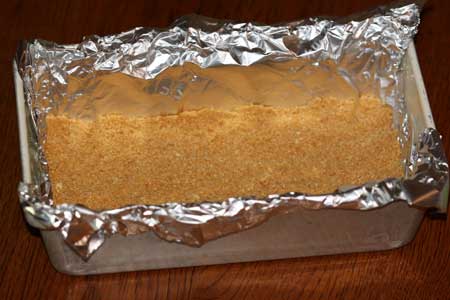 ...then baking and trimming.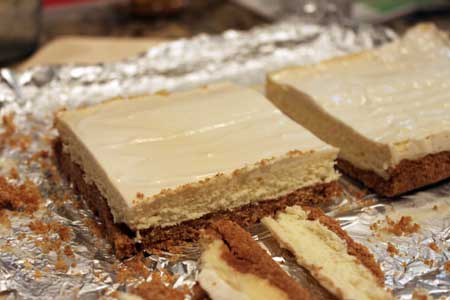 And cutting into triangles.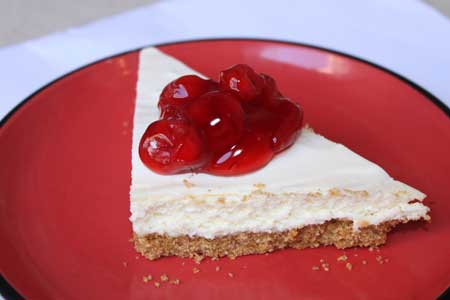 Based on the Hollywood Cheesecake experiment, I think you could take just about any cheesecake recipe, cut it in half and bake it in a loaf pan. A bonus is that a loaf pan won't leak should you need to use a water bath.
Recipe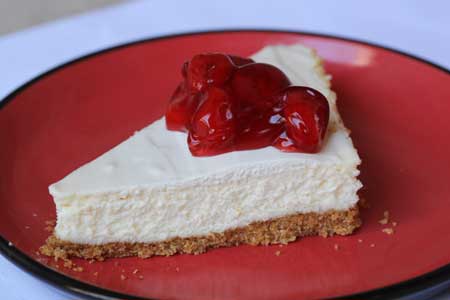 Hollywood Cheesecake -- Small Batch
I think almost any 9 inch cheesecake can be halved and baked in a loaf pan. Try it!
Ingredients 
Crust
½

cup

graham crumbs or about 10 graham squares

1 ½

tablespoons

melted butter

1 ½

tablespoons

granulated sugar
Filling
1

8 oz pack cream cheese, softened

¼

cup

sugar

½

tablespoon

lemon juice

½

teaspoon

lemon zest

½

tsp.

vanilla

1

large egg

separated

Topping

½

cup

sour cream

½

teaspoon

vanilla

1

tablespoon

sugar
Instructions 
Preheat the oven to 325F. Line a 9x5 inch metal loaf pan with non-stick foil or line with regular foil and spray foil with cooking spray.

In a food processor, process the graham crackers to make about ½ cup of crumbs. Add the butter and sugar and process until mixed. Press mixture into bottom of loaf pan and bake for 10 minutes.

Reduce oven heat to 300F.

Clean out the food processor with some water. Add the cream cheese and sugar and process until smooth, stopping to scrape bowl if necessary. Add the lemon juice, lemon zest and vanilla and process to blend, then add the egg yolk and process. In a separate bowl, whip the egg white until stiff. Fold the cheesecake batter into the egg white (or vice versa) and then transfer it to the loaf pan.

Bake for about 40 minutes at 300F. Mix topping ingredients and spread over top. Bake for another 10 minutes. Let cool completely, then chill for 4 hours or preferably, overnight.

Before serving, grasp foil and lift from the pan. Cut into two large squares and then cut diagonally to make triangles. If you want, you can trim the edges before doing this, but it's not necessary.