This Thanksgiving I'll be playing sommelier/bartender to our extended family and friends. That means picking out a few great bottles of wine and buying all the ingredients for pumpkin cheesecake martinis, banana pudding martinis and these orange creamsicle martinis.  I cannot wait to roll out these new recipes.
For now, and because I couldn't resist making something sweet for the party, here's a recipe for caramel corn. I used to make it all the time for my grandma, but after she passed away I stopped making it and eating it. It wasn't until a few months ago when I tried some of my friend Kristina's, that I felt motivated to make caramel corn again.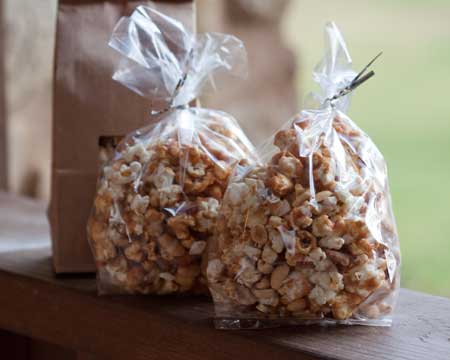 My usual recipe is a little bit less buttery and rich than, but since it's Thanksgiving and I'm cooking for a butter-loving crowd, I looked at a bunch of caramel corn recipes and came up with this one. To get a crispy, crunchy shell, I used my friend Kristina's method of cooking the sugar coating to soft crack stage. It took a little longer, but I think it helped make the corn a little crunchier and less sticky.  I also like how she mixed in the nuts in the middle of the cook-period.  In my version, there's a little less of a sauce to popcorn ratio, so you can use candied nuts, plain nuts, salted nuts or whatever nuts you think are best.  They won't be completely coated in buttery caramel but rather "touched" with it and therefore nice contrast to the sweet corn. Or at least that's what this squirrel would say, right?
Sorry, I've been looking for an excuse to post that photo. There's this park in town where the squirrels come ridiculously close to people. I'm pretty sure I could have put this guy in my bag and brought him home.
Recipe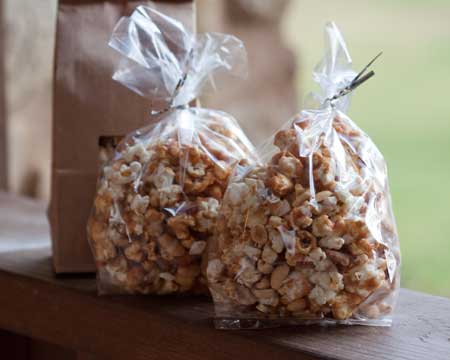 Holiday Caramel Corn
Caramel corn recipe with lots of nuts.
Ingredients 
8

cups

regular or butter flavored popped microwave popcorn

1

stick

4 oz unsalted butter

1

cup

packed light brown sugar

½

teaspoon

salt

3 ½

tablespoons

corn syrup and ½ tablespoon molasses

¼

teaspoon

baking soda

¾

teaspoon

vanilla extract

1

cup

cashews

unsalted or lightly salted

½

cup

walnuts or any other nut you like

⅓

cup

peanuts

optional
Instructions 
Preheat the oven to 250 degrees F. Put the 8 cups of popcorn in a buttered roasting pan.

Melt the stick of butter in a saucepan over low heat. Stir in the sugar, salt, corn syrup and molasses. Bring to a boil, stirring constantly. Insert a candy thermometer into pan (I use a deep fry thermometer that can be rested on its metal base) and boil mixture slowly on low heat, without stirring, until the temperature reaches the soft crack stage, about 285 degrees. Kristina mentioned this could take up to 45 minutes, but with a smaller batch I found it took much less time.

When the thermometer hits 285, immediately remove from heat and stir in the soda and vanilla. Stir the mixture, then immediately pour evenly over the popped corn in the pan. Quickly mix to coat all the popcorn and spread evenly on pan. Bake for 15 minutes and stir well. Bake for 30 minutes, stirring halfway through. Remove pan from oven and stir in nuts, coating well. Return to oven and bake for 30 minutes more, stirring every 10 minutes. Turn caramel corn out onto nonstick foil or parchment-lined baking sheets in a single layer. Cool completely, then break apart into desired sized pieces. Keep stored in airtight bags or tins.