I hope everyone had a happy holiday!  Ours was fun, but different.  I didn't cook and that felt weird, but playing bartender was fun and I'm proud to have introduced the family to "Whipped Cream Vodka" and Fulton's Pumpkin Cream Liqueur. Speaking of which, there was no pumpkin pie — just buttermilk pie, and my sister-in-laws were having a little showdown over it.  One buys it from a lady in Llano and the other keeps trying to make it as good as the lady in Llano, but can't quite nail it.  I didn't like either, but I also didn't care much for the buttermilk pie I made a few years ago.
Anyway, that was our Thanksgiving.  Happy Black Friday. Blech. Hope you got some deals without having to camp out in front of the Best Buy. If not, there's always Black Saturday and Black Sunday to catch up. Until then, I hope these Gingerbread Scones keep you going.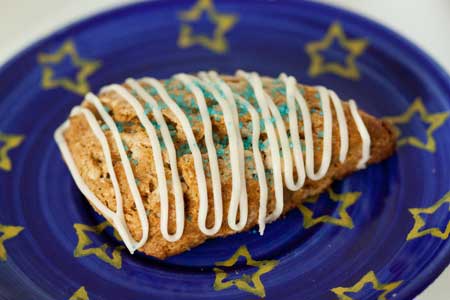 Fuzz has been requesting scones for the past few days, so I've fulfilled that request by making a very small batch recipe (4 scones) and baking the scones fresh as needed. What I found was a) the dough freezes well and b) if you want, you can make the dough, put it in the refrigerator and bake the scones the next day. I do this all the time with cookie dough, but wasn't sure it would work with scones. They were fine.

Small Batch Gingerbread Scones
An easy small batch scone recipe for scones that taste like gingerbread.
Ingredients
1 cup (4.5 oz) all-purpose flour
1 teaspoon baking powder, double acting
1/4 teaspoon baking soda
1/4 scant teaspoon salt
1/4 teaspoon ground cinnamon
1/2 teaspoon ground ginger
2 tablespoons cold unsalted butter, cut up
2 tablespoons very tightly packed light brown sugar
3 tablespoons mild molasses
2 tablespoons sour cream
2 tablespoons milk
1/4 teaspoon vanilla extract
1 whole egg, lightly beaten in a separate bowl
Icing (optional)
2 teaspoons butter
2/3 cup powdered sugar
1-3 tablespoons milk (or as needed) to make drizzling consistency
1/8 teaspoon vanilla extract
Instructions
Preheat oven to 400 degrees F. Have ready an ungreased baking sheet.
In a large bowl, combine flour, baking powder, baking soda, salt, cinnamon and ginger. Mix very well, then cut in butter until mixture resembles coarse crumbs. You can do this with a pastry cutter or your fingers. Add the sugar and stir well.
In a small bowl, combine the molasses, sour cream, milk, vanilla and 2 tablespoons of the egg. Whisk until smooth, then add to the flour mixture and stir just until mixed and you have a soft dough – don't over work it. Turn out onto a lightly floured surface and shape into a rectangle about 6x3 inches. Cut that rectangle into two squares, and then cut squares diagonally to make 4 rectangles. Arrange a few inches apart on an ungreased baking sheet. Brush tops with remaining egg.
Bake at 400F for 12-15 minutes.
Meanwhile, prepare icing. Mix the butter and powdered sugar together until well blended, then add milk ½ tablespoons at a time, stirring well, until icing is thick enough to drizzle. Add the vanilla. Spoon the icing over the scones.
Notes
Dough can be made a day ahead and baked the next morning.