Chocolate Crumb Cream Pie is from a Costco cookbook acquired on a Black Friday at Costco. Not by me, because you'd never find me at Costco on Black Friday, but by a kind friend who let me have it when she saw me looking wistfully at it in her kitchen.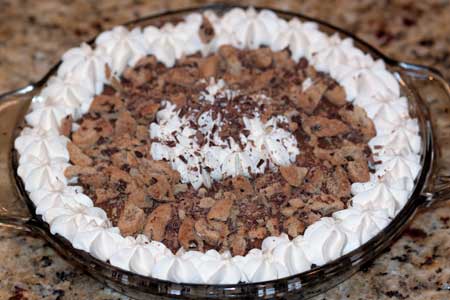 The Costco cookbooks (she actually gave me two) feature something the store sells and include little profiles of the people behind the product. In this case, that's Callebaut chocolate and the pie is by Barry Callebaut.
What makes this pie special is that a) it doesn't take very long to set and b) it's topped with chopped Chips Ahoy cookies. Chips Ahoy? You ask. Why, yes! I almost didn't use them, but Fuzz had a mini bag leftover from Halloween so I put them on the pie and was surprised at good they tasted on pie If I made this pie again, I'd go out and buy a bag of Chips Ahoy for it because the texture of the dry cookies on the chocolate cream pie was just surprisingly delightful. You learn something new every day, eh?
As for the filling itself, it was good but my favorite chocolate cream pie is this one which I will probably top with cookies next time. UPDATE: My favorite chocolate pie is now this one.
For now, I'm linking directly to the Costco recipe so that you can see the original in the book. The only changes I made were to halve it because it makes two pies and to use an Oreo crust consisting of 2 cups Oreo crumbs, 2 tablespoons butter and a tablespoon of milk baked at 350F for 6 minutes.
This recipe is here. If that doesn't work, try cutting and pasting http://www.costcoconnection.com/connection/2008cookbook/?pg=201#pg201. It should take you directly to the recipe.