These yogurt brownies evolved from my attempt to incorporate coconut oil and coconut flavored yogurt into a whole grain brownie recipe.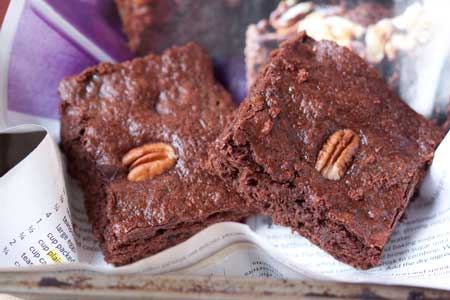 I started by making it as written on Food Network and simply substituting coconut oil for the fat and coconut yogurt for the plain yogurt. The brownies were dry, cakey and crumbly, but they had such an intrigueing flavor from the virgin coconut oil and coconut yogurt that I just had to get this recipe right. So back to the old drawing board.
First, I had to confirm my suspicion that the crazy variance in reviews of the original recipe was because of the amount of flour. Some people gave the recipe 1 star for being dry and cakey, while others gave it 5 and said they were perfect for a light recipe. Given that I'd fallen into the dry group, I decided to test again with 2 ounces (weight) of flour rather than 2.25 ounces (had I made the whole batch, I would have used 4 vs. 4.5, but I was working in halves). Since pastry flour weights tend to vary by brand, I figured that might be an issue and I guess it was since the second batch was much better.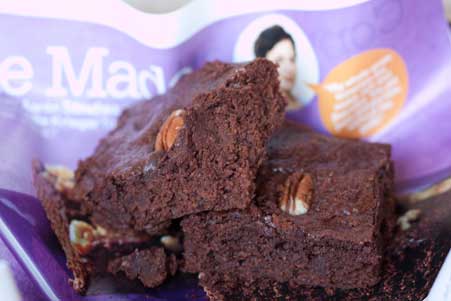 And maybe overbaking was an issue. The original instructions were to bake for 20 to 25 minutes. I was making half batches and baking for 20 minutes. The best bake time turned out to be 18 minutes, at which point the brownies appeared set even though the pick did NOT come out clean until the brownies had fully cooled and set.
Moving on. I got rid of an egg yolk thinking less egg might make the brownies less cakey. I'm not sure that was what did it, but the brownies were great without the extra yolk, and since that cuts out a little fat, I'm keeping it out.
Now back to that first, dry batch. For that first batch, I used 3 oz of Perugina 70% chocolate. What waste of good chocolate! Argh! I vowed not to use any more good chocolate until I got the recipe right, so I started using Guittard 63% extra dark chips for my next couple of test. Thanks to the other changes and the fact those are some good chocolate chips, the chips worked just fine.
And finally, don't overbeat. I've ruined good brownie recipes by being a little heavy-handed with the whisk. In this case, the less beating the better.
So here's the new version of the recipe. The brownies aren't exactly dietetic, but they have whole grain flour, slightly less fat per oz than other recipes, and taste great. Plus, the texture is really interesting. They're not fudge-like and bendable, but rather half cakey/half fudgy and very soft.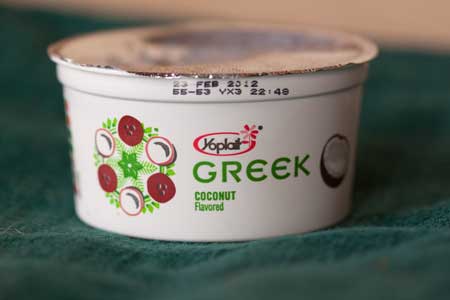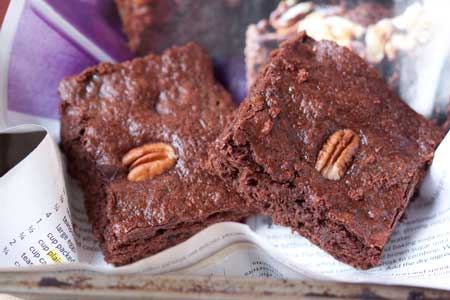 Coconut Yogurt Brownies
Chocolate Brownies with Coconut Oil
Ingredients 
1/2

cup

3 ounces extra dark (63%) chocolate chips plus ¼ cup

3

generous tablespoons melted virgin coconut oil

melt and then measure

2

tablespoons

unsweetened natural cocoa powder

1

large egg

1

large egg white

1/8

teaspoon

salt

1/2

cup

tightly packed light brown sugar

1/4

cup

coconut flavored yogurt

Yoplait Greek

1

teaspoon

vanilla

1/2

cup

whole wheat pastry flour

2 oz or 56 grams**

1/4

teaspoon

baking soda

Some chopped pecans for sprinkling over the top
Instructions 
Preheat oven to 350 degrees F. Line an 8 inch square metal pan with foil and spray foil with cooking spray.

In a small, microwave-safe bowl, combine 1/2 cup of the chocolate chips and the melted coconut oil. Microwave at 50% power, stirring every 30 seconds, until chocolate is melted and smooth. Stir in the cocoa powder and Set aside to cool slightly.

In a medium size mixing bowl, gently whisk together the egg, egg white, salt, brown sugar, coconut yogurt and vanilla – do not overbeat, just whisk enough to blend. Whisk in the melted chocolate/coconut oil mixture.

Mix the pastry flour (make sure it weighs 2 ounces) with the baking soda in a separate cup, then add to the batter and stir just until mixed. Stir in the remaining 1/4 cup chocolate chips.

Pour into the pan and sprinkle with pecans. Bake on center rack for 18 minutes or until brownies appear set but not too dry – it's important not to overbake. A pick inserted should come out with a little brownie on it (though probably not wet batter!). Let cool for about 30 minutes on a rack, then chill for about 2 hours. Lift from pan and cut into squares. Return to room temperature before serving.
Notes
**If you have a scale, weigh the pastry flour to make sure it's 4 ounces. Some brands (such as Hodgson Mill) seem to weigh a little more (4.5 oz per cup), while other brands weigh only 4 oz per cup. You only want 4 oz.
** Virgin coconut oil gives these a little more flavor than regular ((LouAna) coconut oil. Also, I measure it after melting for consistency.