Fuzz and I are back from our cruise aboard the Liberty of the Seas. I have a lot to say about it, but haven't decided how to phrase it or where to put my thoughts – here, or on Cruise Critic. If you have any questions or are thinking of booking something and want a personal review, email me! I love to talk travel. Until then, I'll just say that the Cupcake Cupboard was one of the highlights of the ship and definitely the inspiration for these cupcakes. They're filled with peanut butter and topped with an easy scratch icing and ganache.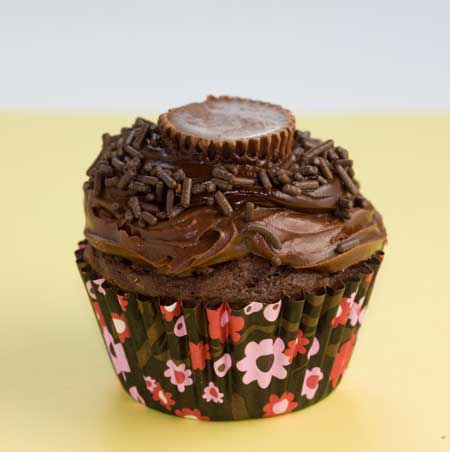 When I got home, there was a pile of mail and among it my monthly Texas Co-op Power Magazine. I always turn straight to the recipe section, where every month they publish winners of contests. The theme for this month was winning cupcakes, and the winner was a chocolate cupcake stuffed with peanut butter.
This recipe is adapted from Texas Co-op's winner. I had to make a few small changes. For instance, the recipe said to fill each cupcake with 2 tablespoons of filling, but it's really more like 1 tablespoon. Minor detail, eh? Also, I a little leery of doctoring up cake mix with 5 large eggs, but the cupcake base was great and didn't taste eggy at all. I can see why these won. They were simple and sure to be a crowd-pleaser.
UPDATE:  I'm not sure how good the cake base will be now that cake mix has been downsized.  That is, the new amounts of cake mix might now work with the 5 eggs.  If you make this recipe, I suggest using the cupcake recipe as written on the box and using the filling, frosting and topping from below.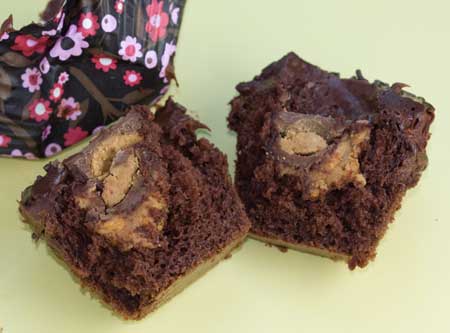 Recipe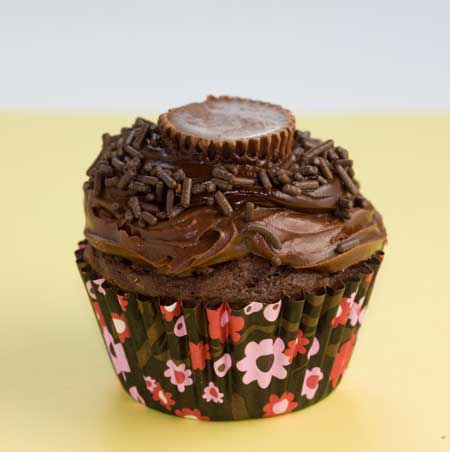 Chocolate Peanut Butter Cup Cupcakes
An award winning peanut butter filled chocolate cupcake by Dawn T.
Ingredients 
1

box devil's food cake mix

1

cup

water

or brewed coffee

5

large eggs

½

cup

vegetable oil
Filling
1

cup

peanut butter

½

cup

powdered sugar

3

tablespoons

half & half
Frosting
4

cups

powdered sugar

½

cup

or less half and half or part cream part milk

2

sticks butter

unsalted

teaspoon

salt

omit if using salted butter

1

tablespoon

vanilla

¾

cup

cocoa powder
Topping
2

cups

semisweet chocolate chips

1

tablespoons

of unsalted butter

¼

cup

heavy cream

24

miniature peanut butter cups and sprinkles
Instructions 
Preheat oven to 350 degrees F. Line 24 muffin cups with paper or foil liners.

Beat together cake mix, water, eggs and oil with an electric mixer. When smooth, divide batter evenly between cupcake pans. Bake on center rack 20 minutes, then remove to rack to cool completely.

Mix together peanut butter, ½ cup powdered sugar and 3 tablespoons half and half. Using a knife, cut a hole in the cupcake and fill it with about a tablespoon of the peanut butter mixture.

For frosting, beat together the 2 sticks of butter, 4 cups powdered sugar, vanilla and cocoa powder. Add enough half and half to make a creamy consistency, beating all the while. Frost each cupcake generously or pipe on a big dollop. At this point, you might want to chill the frosting so it's nice and firm when the warm topping goes on.

For topping, melt the chips, butter and cream together in a microwave-safe bowl using 50% power and stirring every 30 seconds or melt in a double boiler. Spoon a little topping in the center of each cupcake to make a circle or drizzle it. Put sprinkles around the bit of topping. Top center of each cupcake with a peanut butter cup.