Oreo Stack Brownies are a copycat version of a bar cookie I saw at Starbucks.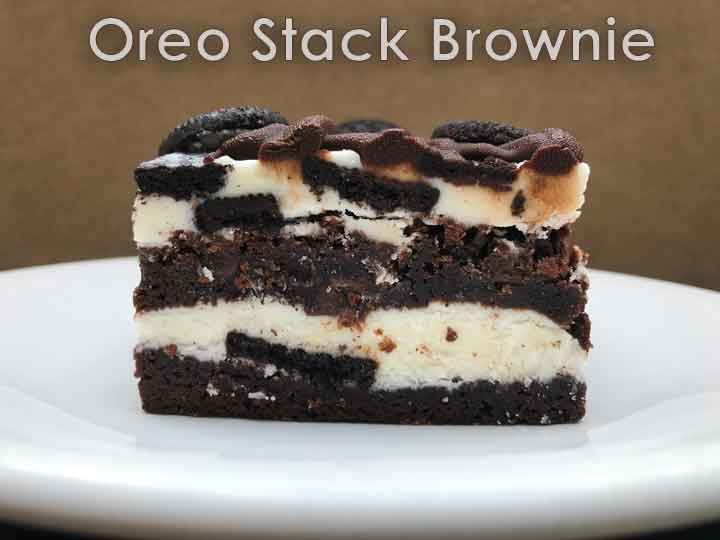 Having had a fun day hanging out with Fuzz, shopping for camp stuff and perusing the shelves at Barnes and Noble, we stopped into Starbucks for a smoothie. I didn't intend on buying a pastry and was able to resist the urge, but not without taking careful note of a brownie called the Oreo Stack and wondering how I could recreate it at home. Thanks to the barista who helpfully answered all my questions about the flavor and texture and showed a genuine enthusiasm for the baked goods (sometimes baristas lack that, you know?), I was able to make a pretty good clone. Now I need to buy a real one and compare.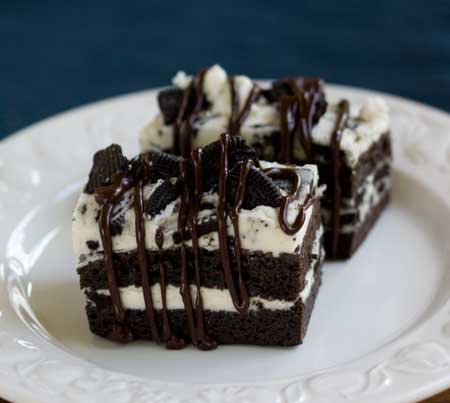 Here's a picture of "the real deal". Sorry it's not the greatest, but I was trying to be casual with the photo taking.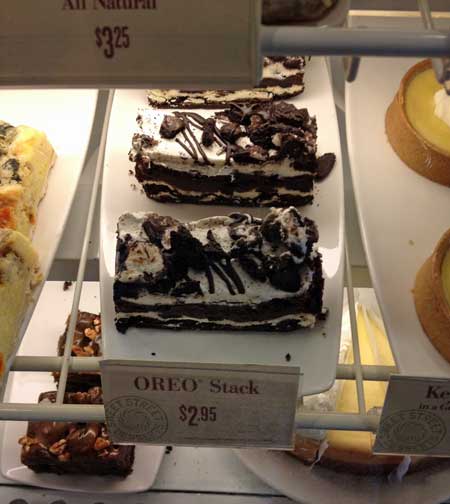 The Recipe
Since this was my first crack at the Oreo Stack, I made the brownies in an 8 inch pan thinking I'd double it the next time if it worked. For the brownie, I used a recipe that's typically frosted -- one that's not too rich, nor too dry. The filling is basically a creamy vanilla icing with Double Stuff mixed in, and the drizzle is just a quick microwave ganache. The bars were kind of a mess as I put them together, but once frozen and trimmed, they looked great. If you try the recipe, let me know. I may do another batch using a favorite 9x13 inch brownie or just doubling this one. There are probably a number of good brownie recipes that would work well here, but this one was simple and reliable.
Oreo Stack Storage
These are best stored in the freezer (for long-term) or in the refrigerator (for short-term). Let them sit at room temperature for about 20 minutes before serving. If you want to make a version that needs to sit out for long periods of time, consider using a combination of shortening and butter in place of just butter in the filling.
Recipe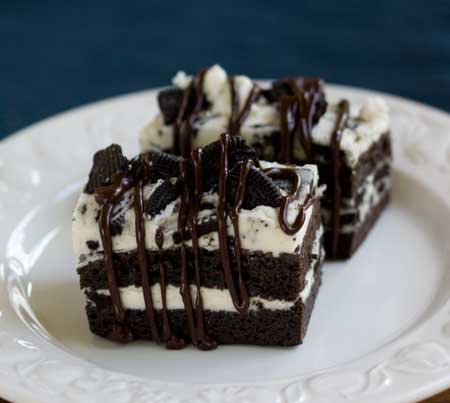 Oreo Stack Brownies
Homemade version of some Oreo Stack Brownies I saw at Starbucks.
Ingredients 
8

tablespoons

unsalted butter

cut into chunks

1

cup

granulated sugar

⅓

cup

unsweetened Dutch processed cocoa powder

¼

teaspoon

salt

¾

teaspoon

vanilla extract

2

cold large eggs

½

cup

2.3 ounces all-purpose flour (stir and fluff before measuring)

¼

teaspoon

baking powder
Filling/Topping
12

tablespoons

unsalted butter

softened

3

cups

sifted confectioners' sugar****

1

teaspoon

vanilla

¼

very scant teaspoon salt

6

tablespoons

whipping cream

10

Double Stuff Oreos

use more or less as desired
Ganache
½

cup

extra dark or semisweet chocolate chips

¼

cup

whipping cream
Instructions 
Preheat oven to 350 degrees F. Line an 8 inch square metal pan with nonstick foil

Melt the butter in a large (3 quart) nonstick saucepan. Stir in the sugar and the cocoa powder. Reduce heat to low and stir gently for about 30 seconds to warm the sugar. Turn off the heat and let the sugar mixture sit for 5 minutes. Stir in the salt and vanilla.

Add the cold eggs, whisking or stirring just until mixed and being careful not to overbeat them, then stir in the baking powder and flour. Pour into the pan and bake for 25 minutes or until brownies appear set. Let cool completely in the pan. When cool, transfer to the refrigerator.

Make the filling/frosting. Beat the butter until creamy. Gradually add confectioners' sugar, scraping sides and beating until smooth. Beat in vanilla and salt. Slowly beat in the whipping cream beating and scraping until you have a smooth vanilla frosting. On a cutting board, chop 7 of the Double Stuff and stir them into the frosting, "stuff" and all.

Lift the cold brownie from the pan and peel away the foil. With a large knife, slice the brownie in half to make two 4x8 inch rectangles -- it's easier to work with this way. Working one rectangle at a time, cut each rectangle through the center to make two layers (as you'd do for a cake). Sandwich about half cup of icing into the center of each rectangle, pressing down to remove any air bubbles. Spread tops of each rectangle with more icing. Wrap gently in plastic wrap and freeze until solid. If you're going to keep them frozen for longer than an hour, re-wrap tightly once frozen and place in a storage bag.

Remove frozen brownies stacks from the freezer and trim the edges with a chef's knife so that you have two neat rectangles.

In a microwave safe bowl or large Pyrex measuring cup, combine chocolate chips and cream. Microwave at 50% power for 30 seconds. Stir until chocolate is melted and mixture is smooth, then transfer to a heavy duty zipper bag. Cut a tiny hole in the corner of the bag and squeeze lines of ganache over the cold bars. Break up remaining Double Stuff and press them into the top for garnish. Return to the refrigerator to set the ganache. Store in the refrigerator.

Remove from the refrigerator about ½ hour before serving. The bars can sit out, but they'll be slightly softer.
Notes
***Make sure to sift the powdered sugar BEFORE measuring. And taste as you go, because you may want a less sweet icing.