Over the years I'd heard stories of Berger Cookies, thick sugar cookies with a chocolate topping famous in Baltimore. Created in 1835 by German immigrants George and Henry Berger, Berger Cookies are now sold by DeBaufre Bakeries and can be purchased on-line or at various retailers. Given the hot weather and the fact the cookies have a cakey bottom and thick layer of chocolate on top, I figured I'd try a clone version before putting in my order.
First on the list was King Arthur Flour's Berger Cookie, which is the one everyone else seems to be using. They have two versions, and I went with version 2.
Overall, the cookies are good. The base is to be expected – just a cakey vanilla cookie similar to that of a Black & White, while the fudge is rich and sweet. I used extra dark chips rather than semisweet to curb the sweetness a bit, and I was careful to weigh and sift the confectioner's sugar since it's easy to use too much or too little.
I liked the cookies but want to keep playing with the fudge topping. For now, I recommend King Arthur's version. The cookies are beautiful and delicious.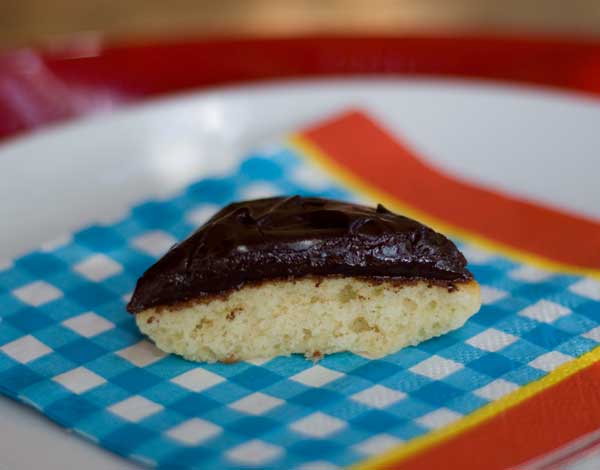 And when the temperature drops below 90, I'm going to order a box of the real thing!