No Fail Five Minute Fudge from Carnation is one of my favorite fudge recipes. It is the go-to recipe when I have marshmallows and perhaps half a can of evaporated milk to use up.  Unfortunately, I have managed to ruin this "no fail" recipe a time or two -- usually because I've tried to halve it and make it in a loaf pan.  With this recipe, any changes in equipment, pan size, ingredients, etc. can change the outcome of the recipe. In this case it's best to err on the side of under-cooking rather than over, unless you like grainy fudge.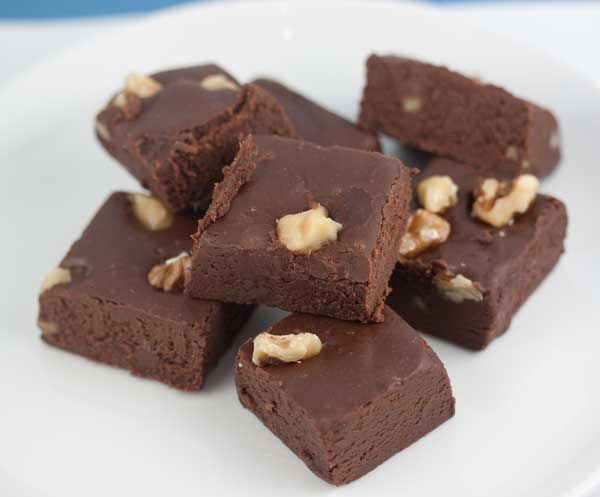 Five Minute Fudge Chocolate Chips
For great results, the key is to use darker chocolate chips.  Guittard Semisweet Chips and Ghirardelli Bittersweet chips work really well, as do Nestle's Dark Chocolate Chips, which are less sweet than their regular semisweet.  I've included a few more tips with the recipe and hope that those of you who have failed no-fail recipes will be successful with this one.
Recipe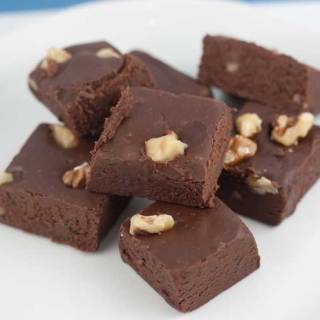 No Fail Five Minute Fudge
Five Minute Fudge This is how I make Five Minute Fudge. If for some reason it comes out too dry, make it again and knock a minute or two off the boil time. If it's two soft (even so it will still be good), add a minute.
Ingredients 
1

teaspoon

vanilla extract

1 ½

cups

9 ounces good quality semi-sweet chocolate chips**

2

cups

miniature marshmallows

½

cup

toasted and chopped walnuts or pecans

optional

1 ⅔

cup

granulated sugar

⅔

cup

evaporated milk

2

tablespoons

unsalted butter

½

teaspoon

salt
Instructions 
Line an 8 inch metal pan with foil and grease with some butter.

Put the vanilla, chocolate chips, marshmallows and nuts in a large mixing bowl and set aside.

In a heavy 3 quart saucepan, combine the sugar, evaporated milk, butter and salt; bring to a rolling boil over medium heat, stirring continuously. Starting when the mixture hits a boil, set the timer for 4 minutes and reduce heat to the lowest temperature at which the mixture will maintain the boil, then boil gently until timer rings.

Remove from heat and gradually add the boiled mixture to chocolate chip mixture. I do this in thirds rather than all at once -- ⅓ and stir, add ⅓ and stir and ⅓ and stir until smooth.

Pour into prepared pan. Let sit at room temperature for about an hour, then chill until 4 hours or overnight. Lift from pan and cut into 1-inch squares. Store in refrigerator or freezer in a sealed container.
Notes
**Good quality chips are less likely to seize when you add the hot mixture. I like using Guittard.
After making this recipe as written, I took another shot at making half batch, loaf pan size versions and found that with the half batch, you only need to boil the sugar mixture for 1 minute.