Butterscotch Chip Cookie Bark was inspired by a thin and crispy chocolate cookie sent to us by my friend, Nancy.  I liked it so much I attempted making it at home, but the end result was thicker, so I called it Brownie Bark.  When it was gone, I started in on an oatmeal peanut flavored bark and named it Monster Bark. And after we ate all the Monster Bark, I created this!  Butterscotch Chip Cookie Bark is made with wheat germ, butterscotch and/or chocolate chips, and pretzels.  It might be my favorite of the three.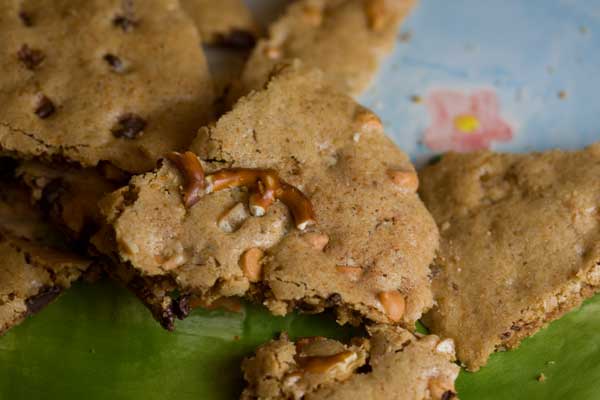 Sometimes It's Good to Forget
I used an oatmeal, butterscotch and wheat germ cookie as a starter dough, but forgot the oats and ended up with a delicious finished product.  Maybe a little too delicious.  It's hard to stop eating, and because it's "bark" rather than uniformly portioned cookies, the only way you can judge a serving size is to put it on a scale.  In other words, it's exactly the opposite of the healthier portion controlled recipe I posted yesterday.  Oops.    At least it has wheat germ, and wheat germ is full the "happy" B Vitamins which may come in handy on dark, rainy, winter days.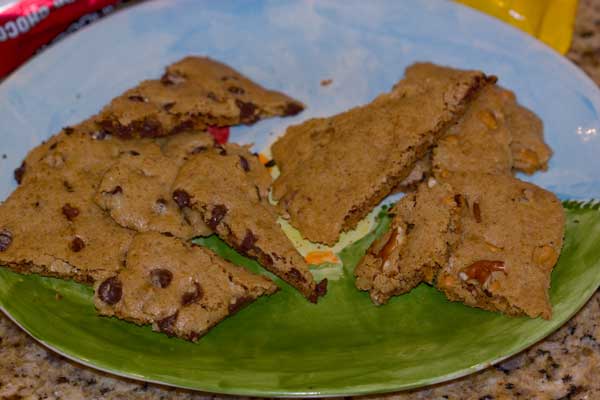 More Fun Flavored Cookie Barks
Recipe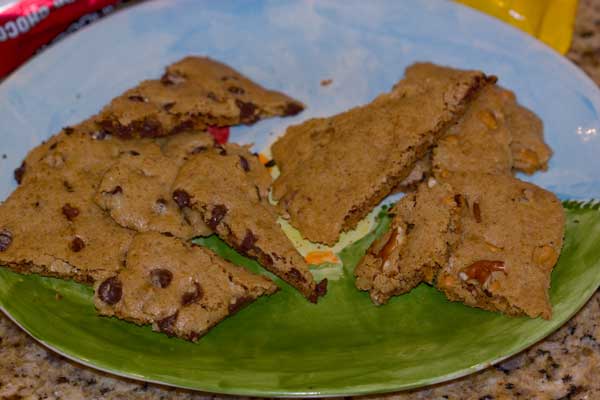 Butterscotch Chip Cookie Bark
Thin cookie bark with butterscotch morsels or chocolate morsels, pecans and wheat germ.
Ingredients 
1

stick

4 ounces unsalted butter, room temperature

½

cup

granulated sugar

½

cup

light brown sugar

packed

1

teaspoon

vanilla extract

1

large egg

½

teaspoon

salt

½

teaspoon

baking soda

¾

cup

3.4 ounces all-purpose flour, if you don't weigh it stir and aerate

¼

cup

toasted wheat germ

½

cup

toasted and finely chopped pecans or walnuts

½

cup

butterscotch morsels and ½ cup extra dark chocolate chips or one cup of one of type of chips

Handful of mini pretzels

optional
Instructions 
Preheat oven to 250 degrees F. Line two large (13x18) heavy duty rimmed baking sheets with nonstick foil. Parchment should be fine, too.

With an electric mixer beat the butter until creamy. Add both sugars and continue beating until creamy. Beat in the vanilla. Add the egg and beat until mixture is lighter in color and fluffier (about 2 minutes). Beat in the salt and baking soda. By hand, stir in the flour. When flour is incorporated, stir in the wheat germ and pecans. At this point, you might want to divide the batter in half and add chocolate chips to one half and butterscotch chips to the other.

Divide the dough into four sections. Starting with one baking sheet, press two sections of dough, side by side, as thinly as you can on the baking sheet. The point of doing it in two sections rather than one big one is to get more edge pieces. Repeat, pressing the other two dough sections side by side on the second sheet. If using the pretzels, break them into small pieces and press into dough.

If you have time, bake one sheet at a time on middle rack. Otherwise, bake sheets on lower and middle rack, alternating halfway, for 45 minutes. Remove from oven and using a pizza cutter, cut into uneven triangles and such. Return to the oven and bake for another 15 minutes. Let cool at room temperature for about 10 minutes, then carefully transfer to to a wire rack and let cool completely. Bark should crisp as it cools.
Notes
If you don't have a scale, be sure to stir your flour well before measuring.
Also, I've only tested on the lower middle rack rather than the lowest rack in the oven. Baking on the lower rack *may* cause burnt bottoms, so unless you're willing to experiment, it might be best to make the bark one tray at a time. Or maybe I'm just being paranoid and the lower rack is fine.