Updated: I just got a bad review (from a trusted source) for Cupcake Recipe #2, so I've taken it down. I guess nobody likes flat topped cupcakes. Boo Hoo. So now it's between this one and the Martha Stewart Yellow Buttermilk Cupcakes from a few days ago.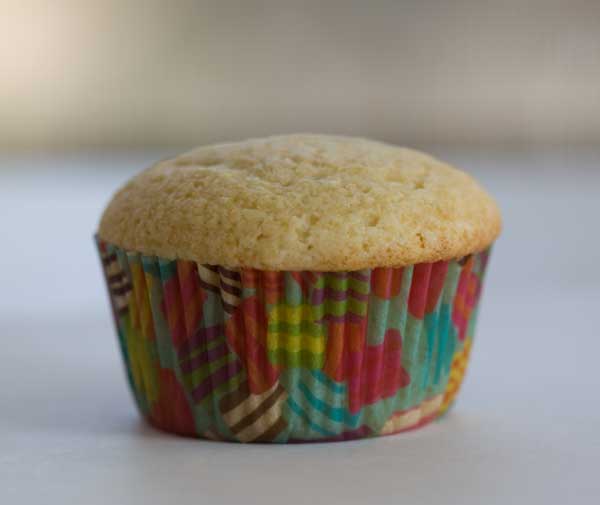 For this cupcake I started with a basic vanilla recipe from my little Royal Caribbean Cupcake Cupboard cookbook, but instead of using all-purpose flour I used a slightly higher volume (same weight) of White Lily (though cake would be fine) and increased the amount of vanilla.
To get rounded tops, I added the eggs very slowly, and started the cupcakes in a hot 400 degree oven. I guess the little tricks worked because I did get nicely rounded tops. They're not as velvety as Martha Stewart's Yellow Buttermilk Cupcakes, but they have less buttermilk and egg flavor, which might be a plus for people who want more vanilla flavor and less egg (kids/Fuzz!).  That's all very subjective, of course.     Cupcakes are subjective, in general.   These last three recipes all contain buttermilk and are fairly simple and don't contain extra egg yolks, but some of my other favorite yellow cupcake recipes are worth trying, too.
Anyway, I have to stop making cupcakes and move on to something else.  There's a potato cake you need to know about…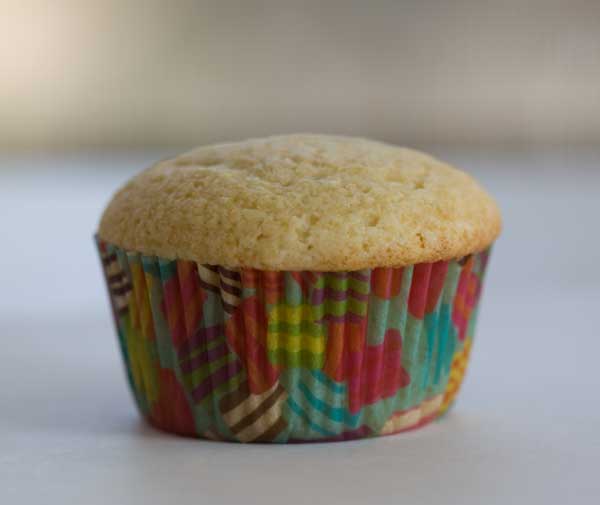 Vanilla Cupcakes
An easy scratch vanilla cupcake recipe
Ingredients 
2 1/2

cups

315 grams all-purpose flour or 2 ¾ cup plus a tablespoon (315 grams) cake flour

2

teaspoons

baking powder

1/2

teaspoon

baking soda

1/2

teaspoon

salt

3

large eggs at room temperature

8

tablespoons

115 grams unsalted butter or shortening or a mix of both

1

cup

196 grams granulated sugar

1/2

cup

room temperature whole milk or buttermilk

1

tablespoon

vanilla extract

1/2

cup

vegetable oil
Instructions 
Preheat oven to 400 degrees F. You will bake the cupcakes at a lower temperature, but the oven needs to get off to a hot start.

Line 20 to 24 cupcake cups with paper liners.

Thoroughly mix the flour, baking powder, baking soda and salt in a bowl and set aside.

Crack the eggs into a separate bowl and beat lightly with a fork.

In the bowl of a stand mixer with the paddle attached, beat the butter until it is creamy. Add the sugar and beat for about 4 minutes.

With the mixer on low or medium, gradually add the beaten eggs, about a tablespoon at a time.

Mix together the milk, vanilla and oil.

Using lowest speed of mixer OR by hand using a heavy duty scraper, add the flour mixture and milk mixture alternately, beginning and ending with flour and stirring until smooth.

Divide batter among cupcake cups so that it cups are about ¾ full. Put the pans in the 400 degree oven and immediately reduce heat to 350. Bake for 20 minute or until tops spring back when lightly touched. Let cool completely.
Notes
Cupcake yield might vary depending on how much you put in the cups and the size cups you're using, but you should get at least 20 cupcakes.