The first thing I think of when someone mentions St. Louis is The Gateway Arch, but the second would surely be Gooey Butter Cake.   A regional favorite with multiple stories surrounding its origin,  Gooey Butter Cake is a thin, dense, rich coffee cake invented by German bakers in South St. Louis.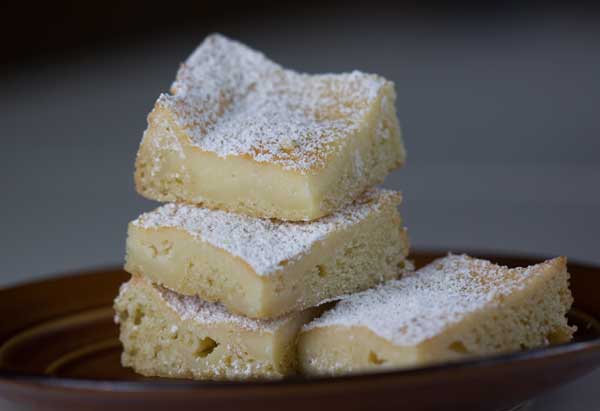 The original version has a thick, cakey crust with a butter topping, while the variation has a cake mix crust topped with cream cheese, butter and loads of confectioners' sugar.  Not  being from St. Louis, I haven't been able to determine which version is more popular. Since the German bakers of the 1930s and '40s were not using cake mix, I'm pretty sure the version without cream cheese is closer to the real thing.

This recipe was given to me by Beverly Jones who developed recipes for some very notable Boston based cookbook authors. One cookbook she worked on, and which happens to have this recipe in it, was Rosie's Bakery Chocolate-Packed Jam-Filled Butter-Rich No-Holds-Barred Cookie Book
. Beverly shared an adapted version of the Gooey Butter Cake Cookie Bars with me, noting that her recipe tester from St. Louis said these were the best she'd ever tasted.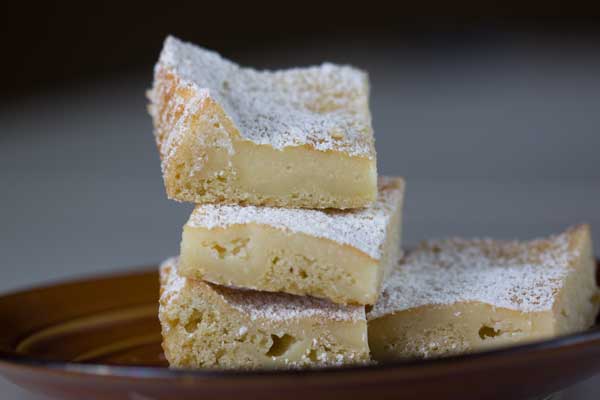 Gooey Butter Cake Bars Texture & Flavor
Not having a frame of reference for Gooey Butter Cake, I can only tell you that these are different than anything I've tried. After being thoroughly chilled, they have a dense bottom layer and a smooth, thick, sticky topping. Their flavor is very buttery with a hint of vanilla.  I made mine with store brand butter, but I think they'd be even with European style. I'll definitely be making these again. And I'll probably make a half batch of Magic Cookie Bars too, to use up the condensed milk!
Recipe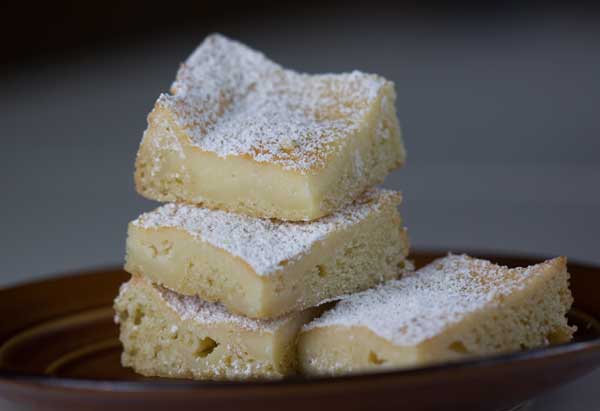 Gooey Butter Cake Bar Cookies
Bar cookie version of the popular St. Louis cake
Ingredients 
1

cup

all-purpose flour

(130 grams)

1/2

teaspoon

salt

1/4

teaspoon

baking soda

1

stick

unsalted butter, softened

(114 grams)

1/2

cup

granulated sugar

(100 grams)

1

teaspoon

vanilla extract

1

large egg
Filling
1 1/2

sticks

unsalted butter, softened

(170 grams)

1

pinch

salt

1/2

teaspoon

vanilla extract

6

tablespoons

sweetened condensed milk

1/3

cup

light corn syrup

1

large

egg

1/3

cup

all-purpose flour

(45 grams)
Instructions 
Preheat oven to 350 degrees F.Line a 9 inch square metal baking pan with foil and spray foil with cooking spray or rub with butter and line with parchment paper.

Sift flour, salt and baking soda together into a small bowl. Set aside.

In a large mixing bowl, beat the butter, sugar and vanilla together with an electric mixer. Scrape the bowl with a rubber spatula. Stir in the egg and beat until smooth.

Add the flour mixture and stir until well blended.

With flour on your fingers, press the dough into the bottom of the pan and set aside while you prepare the filling.

Beat the butter, salt and vanilla with the mixer until light and fluffy. Scrape the bowl with a rubber spatula.

Using lowest speed of mixer, beat in condensed milk. Beat for about 15 seconds. Scrape bowl and beat in the corn syrup. Add the egg and beat for 1 1/2 minutes on medium-high speed until the mixture is light and fluffy again. Scrape the bowl. With the mixer on medium-low speed, add the flour and beat until mixed, 30 seconds (I just stirred it in).

Pour the filling evenly over the base. Bake on the center rack of the oven until the edges appear set but the center is still jiggly, 25 to 27 minutes. Let cool to room temperature; then refrigerate until set, about 4 hours. Cut into 2 1/4-by-1 1/2-inch bars with a sharp thin knife, dipping it in hot water and wiping it clean before each new cut.
Notes
For thicker bars, you can bake these in an 8 inch square pan. If using an 8 inch square pan, reduce the heat to 325 and bake for a slightly longer time.