I've made a lot of pound cakes, and while this one isn't the densest and heaviest, Perfect Pound Cake from The Cake Bible is one of my favorites. It's tight crumbed, slices neatly, and is light textured even even though it has a high ratio of butter to flour and sugar. Some people describe this pound cake as similar to the one by Sara Lee, and while I don't quite agree with that, this is a perfect pound cake because it's reliable, not-too-sweet and keeps well at room temperature or in the freezer.
Perfect Pound Cake in an 8x4 Inch Loaf Pan
This cake is designed for an 8x4 inch pan.  Before I went out and bought that size, I tried to make it in an 8 ½ by 4 ½ inch pan and got a stubby (but still tasty!) cake.  These days I use an true 8x4 inch pan or divide it up between mini loaf pans.
If you are wondering what the brown dots are in the mini loaf cakes, they are cake balls.  I put frozen chocolate cake balls in the batter and let the cakes bake around them.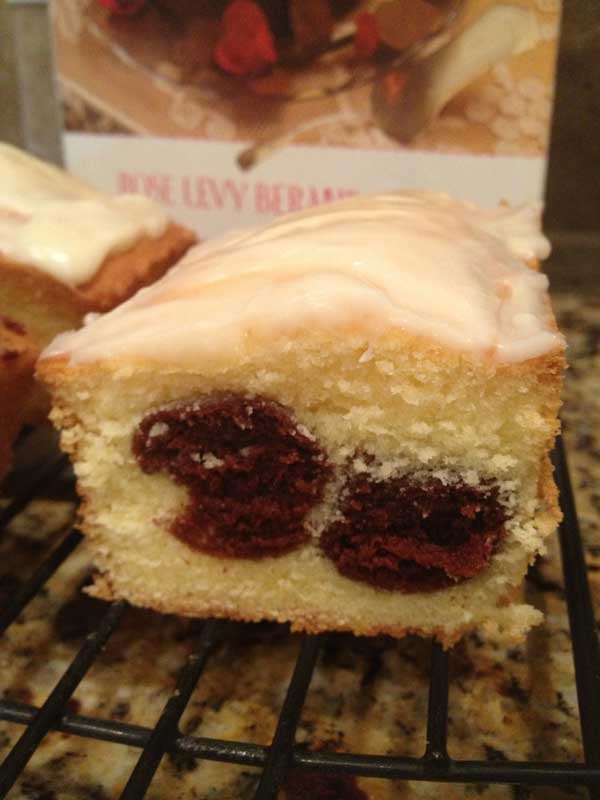 Variations on The Cake Bible Recipe
But back to the recipe. This is an adapted version of Rose Levy Beranbaum's Perfect Pound Cake from The Cake Bible. If you want her exact version and don't have the book, just do a quick Google search and it will come up.
Variations I've tried in the past include swapping out half the butter for shortening (makes the cake a little softer textured with a nicer dome), swapping out half the granulated sugar for an equal weight of confectioners' sugar (makes the cake chewier and more like Starbucks' pound cake) and making a lemon version using both of the changes I just mentioned plus adding a packed tablespoon of lemon zest and soaking in a lemon glaze and adding a bit of yellow food coloring.
Here's the recipe with one last note -- there's no creaming in this recipe.  I believe this one's an example of the "two-stage" method where you combine all the dry ingredients, coat them with fat and a bit of the egg, then add the remaining egg and liquid slowly and at the end.
Recipe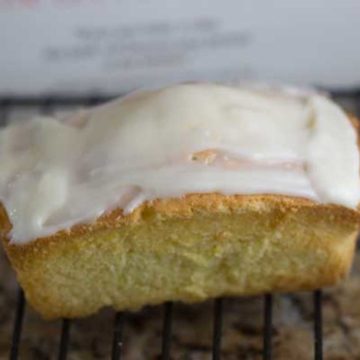 Perfect Pound Cake with Vanilla, Butter & Nut Extract
This is a great cake, but only if you follow the directions precisely. Weigh your ingredients, mix as instructed and use the right size pan.
Ingredients 
3

tablespoons

milk

3

large

eggs

room temperature

1 ½

teaspoons

of McCormick Vanilla

Butter & Nut Extract

½

teaspoon

of regular vanilla extract

1 ½

cups

sifted cake flour

5.25 oz – don't substitute and definitely weigh it

¾

cup

granulated sugar

5.25 oz

¾

teaspoon

baking powder

¼

teaspoon

salt

13

tablespoons

unsalted butter

softened
Icing
1

tablespoon

butter

melted

1

cup

sifted powdered sugar

4-6

teaspoons

of cream or milk

¼

teaspoon

of really good vanilla extract
Instructions 
Preheat oven to 350°F. Grease an 8 by 4 inch loaf pan and line the bottom with a strip of parchment paper. If you don't have an 8x4 inch loaf pan you can substitute three 3 x 5 inch loaf pans. With the small loaf pans, preheat oven to 325 degrees F.

In a mixing bowl or large measuring cup, combine the milk, eggs and extract.

Sift the dry ingredients into a large bowl and stir well. Add the butter and half the egg mixture and stir to moisten. Mix on low speed with a handheld mixer, then increase speed to medium and beat for one minute, scraping sides of the bowl.

Gradually add the remaining egg mixture in 2 or 3 batches, beating for 20 seconds after each addition to incorporate the ingredients and strengthen the structure. Scrape down the sides.

Scrape the batter into the prepared pan (or pans) and smooth the surface with a spatula. The batter should be about ½ inch from the top.

Bake 55 to 65 minutes for an 8x4 inch cake, or 45 to 50 minutes at 325 for 3x5 inch cakes. If the cake seems to be browning too quickly, lay a sheet of foil loosely over the top. I've never had to do this.

Let the cake (or cakes) cool in the pan on a rack for 10 minutes and invert it onto a greased wire rack. Reinvert so that the top part is upright. Let cool completely, then pour icing over the top.

To make the icing, combined melted butter and powdered sugar in a large bowl and stir well. Add the cream about a teaspoon at a time or until batter is thin enough to pour. Stir in some vanilla. Make sure the cake is completely cool before adding icing.