I'm pretty excited about today's recipe because it's sure to become a mainstay at our house.  I hope you like it, too!  The recipe is for Cream Cheese Braids. I found it while looking for a homemade version Entenmann's Cheese Danish Twists.
Quite a few copycats popped up, and I was ready to pull out my stand mixer and dough hook; but at the last minute I found this recipe. It's a yeast bread that doesn't require kneading, so you can skip the dough hook (or elbow grease, if that's  what you use to knead) entirely.
Cream Cheese Braids Dough Chill Time
There is a catch, of course. After you mix the ingredients you have to put the bowl in the refrigerator and chill it for 8 hours. This reminds me of the technique used in the famous New York Times No-Knead Bread by Jim Lahey. However, in this case the sitting period is 8 hours and not 24. Also, the consistency of the dough is completely different in that this one is loaded with sour cream. In the article, food scientist Harold McGee describes how a long, slow rise time brings gluten molecules into an alignment that helps produce the same kind of strong elastic network you get from kneading. The process might be similar with this dough. It's a very easy dough to work with, though you do need to keep it cold and roll it out on a floured surface.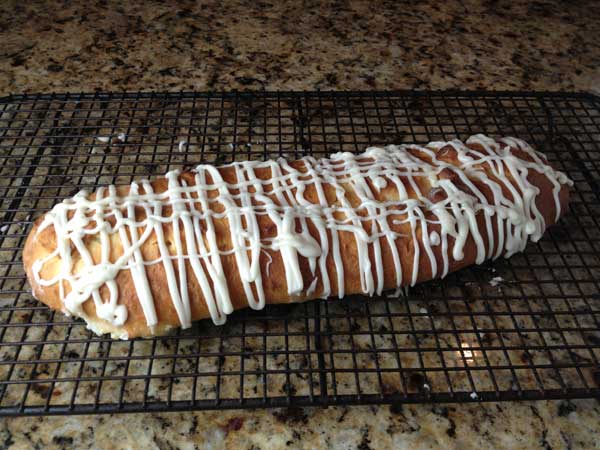 Makes Two Loaves
The original recipe is from Southern Living and makes four loaves, but I halved it to make two. I also changed the icing.  The loaves aren't really braided, but I guess they called them braids because theoretically when you cut six "x"s across the top of the dough it should bake into something that resembles a braid. Mine didn't, but it still baked into a  nice loaf. You can really taste the sour cream in the dough, and the cream cheese filling is excellent. The next time I make it I'm going to put a thin line of good blueberry or raspberry preserves down the center.

More Recipes
Recipe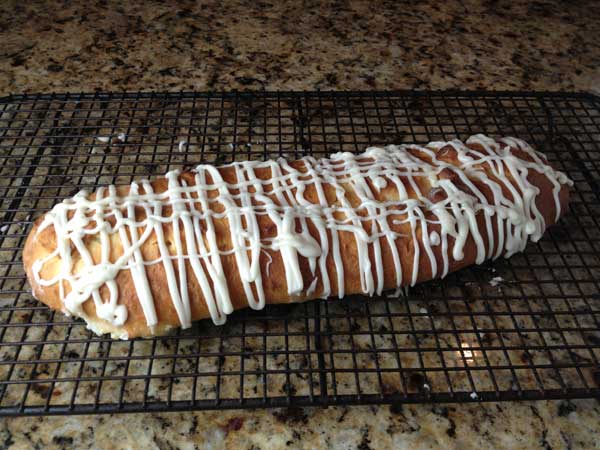 Cream Cheese Filled Coffee Cake
Cream Cheese Filled Coffee Cake or "Cream Cheese Braids" are Danish style coffee cakes filled with a sweet cream cheese mixture. This recipe does not require kneading, but rather an 8 hour stint in the refrigerator.
Ingredients 
Dough
½

cup

sour cream

4

tablespoons

unsalted butter

½

teaspoon

kosher salt

¼

cup

granulated sugar

1

packet active dry yeast

¼

cup

warm water

about 110 degrees

1

large egg

2

cups

bread flour

9 or all-purpose
Filling
8

oz

cream cheese

softened

6

tablespoons

sugar

2

tablespoons

lightly beaten egg**

1

teaspoon

vanilla extract

½

teaspoon

lemon juice
Icing
1

cup

powdered sugar

1

tablespoon

melted butter

2

tablespoons

whole milk

1

teaspoon

vanilla extract
Instructions 
Combine the sour cream, butter, salt and sugar in a small saucepan and heat until butter is melted. Let cool to about 105 degrees F.

Combine the yeast and water in a small bowl and let sit until it starts to foam.

Put the flour in a mixing bowl. Stir in the cooled sour cream mixture and the yeast to make a soft dough. Cover with plastic wrap and chill dough for at least 8 hours.

Punch down the dough (it probably will not appear to have risen much) and divide it into two parts.

Roll each part into a 12- x 8-inch rectangle, and spread each rectangle lengthwise with half the cream cheese filling, leaving a 1-inch border around edges. Carefully roll up, starting at a long side; press seam, and fold ends under to seal. Place, seam side down, onto a parchment lined or greased baking sheet. Cut 6 equally spaced "X"s across top of each loaf; cover (I recommend loosely if at all) and let rise in a warm place (85°), free from drafts, about 1 hour or until doubled in bulk.

Bake at 375° for about 20 minutes or until browned. Let cool, then drizzle with icing and serve. If you want the icing to hold its shape and look pretty, I recommend serving at room temperature. I was worried I'd have to warm the bread and deal with melted icing, but the bread actually tastes great at room temperature. If you want to serve it warm, you might consider putting the icing on at the last minute.

Icing: Mix all icing ingredients together until smooth. Put the icing in a freezer bag or pastry bag. When loaves are cool, snip off end of icing bag and drizzle it across the loaves. Let set.
Notes
Sorry about the 2 tablespoons of beaten egg. I know a lot of people hate mixing an egg and only using half of it, but it really makes a difference here because the small amount of egg (as opposed to the whole egg) keeps the filling from being too stiff. So 2 tablespoons is the perfect amount. If you end up doubling the recipe you can use the whole egg :).
Another note, I used bread flour and loved the results. The original recipe called for all-purpose.