My sister-in-law, Beth, and her family stayed with us over the holidays. A good time was had by all, and it was sad to see them go.  However, they did leave a parting gift — some over-ripe bananas and a six pack of regular Coca Cola. I rarely have both of those ingredients in the house at the same time, so I took advantage of the situation and tried a recipe for banana bread made with cola.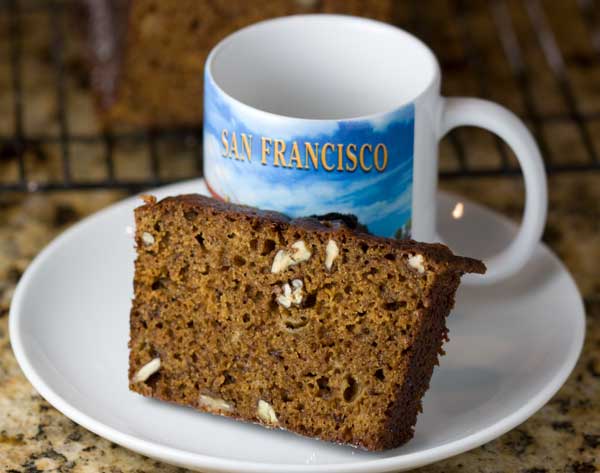 There are a few different versions of the recipe, but the one I used was slow baked at 300 degrees (like Carol's Low Temperature Banana Bread), and called for baking soda, which helps the banana bread develop a nice dark color. Of course the dark brown sugar and Coca Cola helped in that department, and the end result was a dense, not-too-banana-y, loaf with a unique flavor. I tasted the cinnamon, the Coca Cola,vanilla, banana and nuts. Fuzz, who is not a real banana fan, really liked this.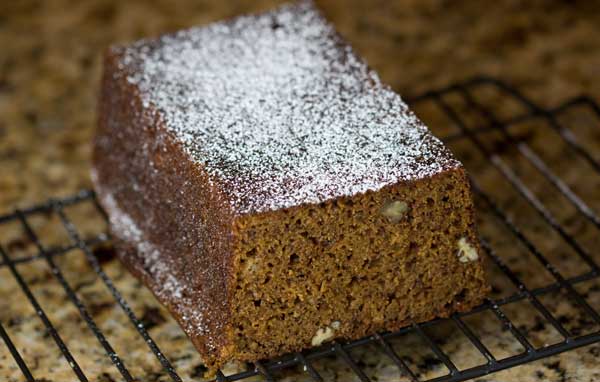 This loaf does not bake up into a dome. It bakes up into a f lat-topped rectangle, so my advice is to serve it upside down like this. Sorry the lighting on this photo is still wonky.  My lighting situation should improve this week when my new light (replacing the one HAL broke) arrives.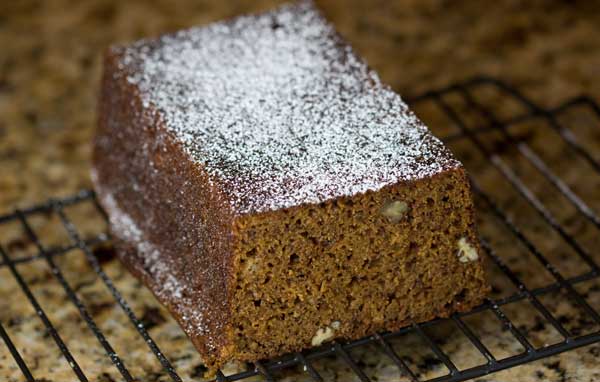 Beth's Cola Banana Bread
Cola makes the bread dark and adds sweetness.
Ingredients 
1 1/2

cups

plus 2 tablespoons

7.5 oz all-purpose flour

1

teaspoon

baking soda

3/4

teaspoon

baking powder

1/4

teaspoon

salt

1/2

teaspoon

cinnamon

1/4

cup

vegetable oil

1 1/4

cups

8.75 oz dark brown sugar

2

large eggs

1

cup

mashed or pureed bananas

1/2

cup

Coca Cola

1

teaspoon

vanilla

1/2

cup

toasted and chopped pecans

if desired
Instructions 
Preheat oven to 300 degrees F.

Grease and flour an 8 1/2 by 4 1/2 inch or a 9x5 inch loaf pan. Line with a strip of parchment paper.

In a small bowl, thoroughly stir together the flour, baking soda, baking powder, salt and cinnamon.

In a mixing bowl, stir together the oil, brown sugar, vanilla, eggs and bananas.

Add half the flour mixture and stir until incorporated, then add the Coca Cola and remaining flour mixture and stir until mixed. Stir in the pecans.

Pour into pan. Bake for about 75 minutes (1 hour and 15 minutes).