Making homemade croissants is still on my bucket list, but at least I can say I've come close.  Sort of.  These miniature chocolate croissants are a nice little substitute for the real thing, but much easier.  Plus you probably have all the ingredients, as the dough is very basic. There's no sugar in the dough itself,  but combined with the chocolate and some sugar sprinkled on top, the cookies are just sweet enough.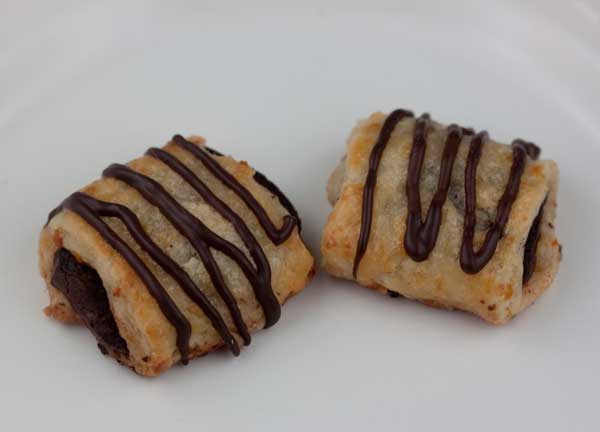 Cottage Cheese Dough
The idea for this cookie was inspired by one I saw in the Minneapolis Star Tribune, so if you want to make a fool-proof cookie you can consider that one. I felt like doing things my way, so I used cottage cheese pastry (something I learned from Molly Katzen) and filled the croissants with squares of Ghirardelli semi-sweet chocolate instead of Hershey's Milk.
Mini Chocolate Croissant Cookies Tips
A key point in working with this dough is that it needs to be cold.  It's not the easiest dough to work with, but it's not the hardest either. If you live alone and just want to whip up a small batch, you can actually halve the recipe pretty easily and just make 12.
Recipe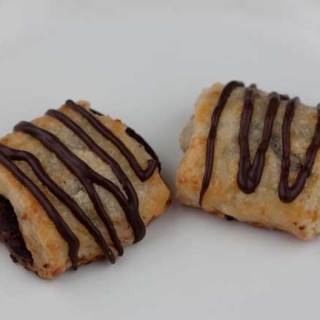 Mini Croissant Cookies
Mini Chocolate Croissant Cookies made with broken up squares of semisweet or dark chocolate. Fill them with whatever you want! I think raspberry preserves would be really good, too.
Ingredients 
8

tablespoons

unsalted butter, room temperatrure

(114 grams)

½

cup

small curd cottage cheese, not low fat

(120 grams)

¼

teaspoon

salt

1

cup

all-purpose flour

(127 grams)

2

bars

Ghirardelli semis-weet or dark chocolate

1

large

egg

slightly beaten

2

teaspoons

sugar

or as needed
Instructions 
With an electric mixer, beat the butter, cottage cheese and salt until well-blended. Add the flour and stir with a heavy duty silicone scraper (or spoon) to form a dough. Shape the dough into two 1 inch thick bricks, wrap tightly in plastic and chill for at least an hour.

Preheat oven to 375 degrees F. Line a baking sheet with nonstick foil or parchment paper.

Remove 1 brick of the dough from the refrigerator. On a floured surface, roll it out, trim and shape to form a rectangle that's about 6x10 inches. Trim to make 12 strips that are about 3 inches tall and a little over 1 ½ inches wide -- these are approximate measures. You can make the strips larger or smaller based on what size candy you're using.

Break off a square of the Ghirardelli chocolate and snap it in half and then in half again to make four little squares. Working one dough strip at a time, set a square of chocolate in the center and fold ends over.

Put seam side down on the parchment lined baking sheet. Repeat until all strips are gone. Brush cookies very lightly with beaten egg and sprinkle with sugar. Bake for 20 minutes or until golden. Meanwhile, remove your second brick of dough from the refrigerator and continue the process.

In a small custard cup, melt the remaining chocolate in the microwave at 50% power, stirring often. Alternatively, you may melt it directly in a freezer bag or a disposable decorating bag. Drizzle the melted chocolate over the cookies and allow it to set at room temperature or chill until set.