I usually make yeast breads in a stand mixer, but I recently discovered that the kneading attachment on my food processor does a super quick job of getting dough to the "smooth and elastic" phase. These food processor cinnamon rolls were my latest experiment.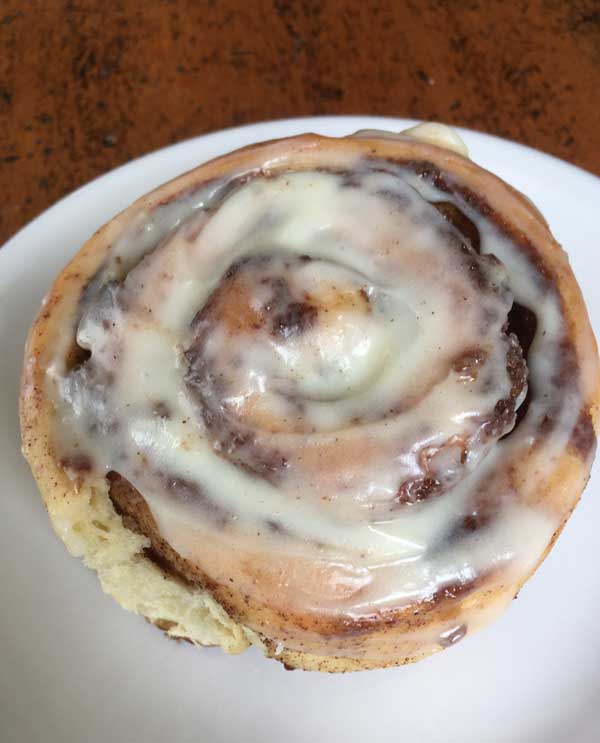 Food Processor Cinnamon Rolls
I took one of our oldest, favorite, cinnamon roll recipes, halved it, and revamped it for the processor. The rolls baked up light, fluffy and perfect! The icing is a little different from others. It's made with cream cheese rather than butter and includes a bit of corn syrup and heavy cream so it doesn't harden as it sits out. You can ice these with whatever type icing you like, but this one was actually very good. It has the consistency of the kind of icing that comes with packaged cinnamon rolls.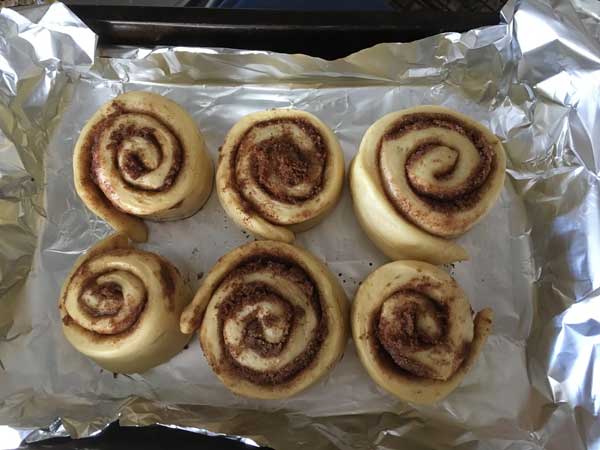 But back to the dough. The egg measurements are a little strange since I had to halve an egg, but the extra yolk in the dough (plus everything else) makes it a really nice dough to work with. I coated the dough with a little oil during the first rise, so when I punched it down it was just slick enough that I could skip the floured surface and just press it into a rectangle on my silicone mat.
A Secret Ingredient for Cinnamon Rolls!
One final note.  It's not easy to find, but if you can score some McCormick Butter & Nut Extract (they now call it Cake Batter Flavor), use a bit of that and a bit of vanilla instead of just vanilla in the dough.  That particular extract has a strong flavor and color so I use it very, very, sparingly, but it adds "a little something" to sweet yeast doughs and some cakes.  I haven't seen it in Chicago and could never find it in Texas, but you can buy it on Amazon or find it in grocery stores in parts Pennsylvania, Florida and North Carolina.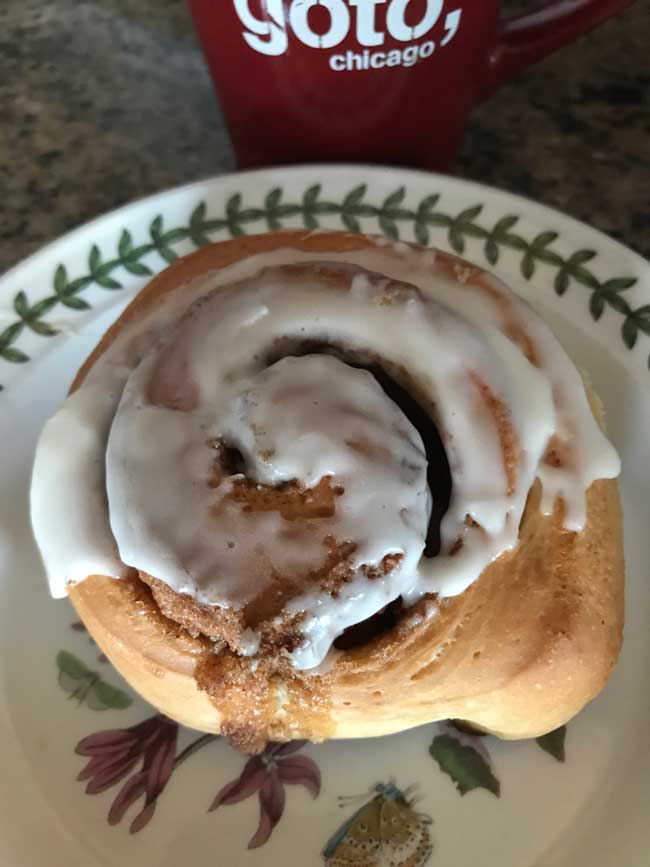 Update:  I added an alternative icing in case you don't have cream cheese.  Also, you don't have to make these in the food processor.  When I came up with the recipe I just happened to have it out. A stand mixer with a dough hook is just fine.
Recipe
Food Processor Cinnamon Rolls
Cinnamon rolls made quickly in the food processor. This recipe will give you 6 very large, beautiful rolls.
Ingredients 
Dough
¼

cup

milk

skim, reduced fat or whole all work

¼

cup

water

4

tablespoons

butter

I used unsalted

½

teaspoon

vanilla or vanilla butter & nut extract

if you can find it!

1 ¾ to 2

cups

unbleached all-purpose flour

1 ¼

teaspoons

of instant quick rising yeast

about half a packet

2 ½

tablespoons

sugar

¾

teaspoon

salt

2

tablespoons

lightly beaten egg

1

egg yolk
Filling
½

cup

packed light brown sugar

½

tablespoon

cinnamon

2

teaspoons

melted butter
Icing (See notes for a second version without cream cheese)
4

ounces

cream cheese

softened

1

tablespoon

corn syrup

½

cup

confectioners' sugar

½

teaspoon

vanilla extract

1

tablespoon

heavy cream
Instructions 
Put the butter in a saucepan and allow it to melt over medium heat. Once it's almost fully melted, add the milk and water. Bring mixture to a simmer, then remove from heat and let cool to 125 degrees F. Add the vanilla.

Meanwhile, combine 1 cup of the flour, yeast, sugar, egg and salt in a bowl. Add the warm milk mixture, then add remaining flour ¼ cup at a time, stirring to make a soft, slightly sticky dough.

Put the ball of dough into a food processor fitted with a kneading hook and let the processor knead the dough until smooth and elastic. Note: The processor works pretty quickly. My dough is done in less than 3 minutes. Check dough, scraping it a bit, every 40 seconds or so to make sure it's not too warm from friction of processor.

Scrape the dough into a well-oiled bowl and roll it around so it's coated with a thin layer of oil. Cover and let rise until doubled in bulk (about 45 minutes with the quick rising yeast).

After the dough has doubled, press it down and turn it out onto a lightly floured work surface. I've found that if the dough is coated with oil, I don't need to use flour, I just press the dough right down onto a clean surface (I use a big silicone mat). Shape the dough into a rectangle that is 12x8 inches.Mix together the filling ingredients and sprinkle the filling evenly over the dough. Roll the dough, beginning with the 8 inch side, into a tight spiral.

Line a 9x13 inch metal pan with nonstick foil. Cut the spiral into 6 equal pieces and set in the pan cut side by, spaced about an inch apart. Cover with plastic wrap and place in a warm draft free spot until doubled in bulk (another 45 minutes to an hour with the quick rising yeast).

Preheat oven to 350 degrees and adjust oven rack to the middle position.

Bake the rolls for 25 to 30 minutes or until golden brown.

To make the icing, beat the cream cheese until smooth, then beat in corn syrup, vanilla and sugar. Add cream until icing is smooth and creamy. Spread icing over rolls while still warm.
Notes
I make these a lot, but don't always have cream cheese around. The alternative icing I use is 1 cup (¼ pound) powdered sugar mixed with 2 tablespoons softened butter, 1-2 tablespoons of milk or as needed and about ¼ teaspoon of vanilla. Beat it all together and spoon over warm rolls.