I like the idea of slightly healthier packaged cookies and keep saying I'll buy a box of the Fiber One Chocolate Chip, but then I  feel guilty thinking I should just try making them myself.  So I did!  The recipe is called Honey and Bran Chocolate Chip Cookies, and they're pretty good!  Plus when I put the ingredients into my nutrition software, the stats came out similar to the Fiber One's.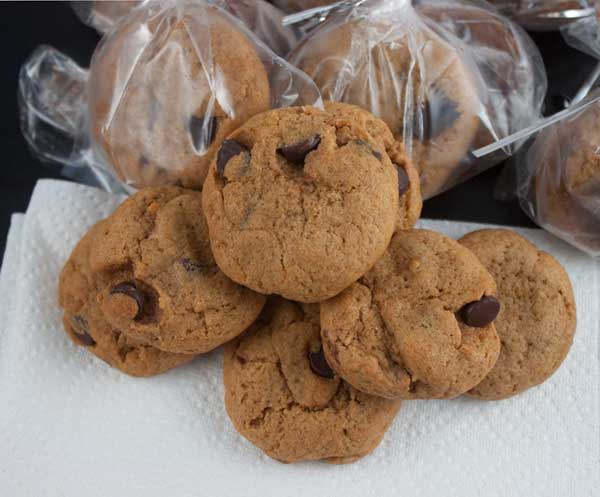 Each .9 cookie supposedly has 90 calories and 3 grams of fat.  The packaged Fiber One cookies have more fiber than these, but I don't keep chicory root extract around the house, therefore the only fiber in my cookies is what's in the 1/2 cup of Fiber One.  I'll have to figure out how to boost the fiber, but for now they are a good stir-and-bake honey and bran cookie.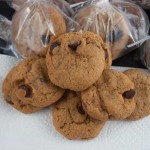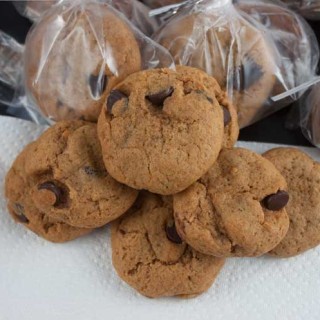 Print Recipe
Honey and Bran Chocolate Chip Cookies
Homemade soft chocolate chip cookies made with crushed Fiber One cereal and honey. They are dark brown and have a pretty decent honey flavor. They're also lower in fat than regular chocolate chip cookies.
Ingredients
2

tablespoons

unsalted butter

melted

2

tablespoons

water

1/2

cup

1 ounce bran cereal, ground in coffee grinder or processor

2

tablespoons

packed brown sugar

2

tablespoons

granulated sugar

1

teaspoons

vanilla extract

1 ½

tablespoons

honey

1

large egg white

1

⁄4 teaspoon baking soda

1

⁄4 scant teaspoon salt

1/2

cup

all-purpose flour

2.25 ounces -- fluff and aerate or weigh

1/4

cup

1 1/2 ounces semi-sweet chocolate chips
Instructions
In a mixing bowl, combine melted butter, water, ground cereal, both sugars, vanilla, honey, egg white and salt and stir until smooth. Add the flour and stir to form a soft dough. Stir in the chocolate chips.

Divide dough into 12 even pieces on a foil lined plate and chill for about 30 minutes.

When dough is slightly firmer, gently smooth the mounds into balls.

Arrange balls 2 inches apart on a parchment lined baking sheet and press tops down slightly. Bake at 400 degrees F. for 6 to 7 minutes. Let cool completely.

I think these taste better after they are completely cooled and the chocolate chips have re-set.
Notes
Note: If you use salted butter, omit 1/8 teaspoon of salt. You can also use melted margarine or spread -- the kind with 70 calories per tablespoon. If you use margarine or spread, reduce the salt by a pinch, use 3 tablespoons of spread instead of 2 and use only 1 tablespoon of water.