I've made a lot of chocolate cream pies, and I really like the ones made with evaporated milk. Fillings made with evaporated always seem to have a very smooth and slick texture. The filling in this pie is no exception. It's an all-cocoa (meaning no melted chocolate) filling, so it's a little bit lighter.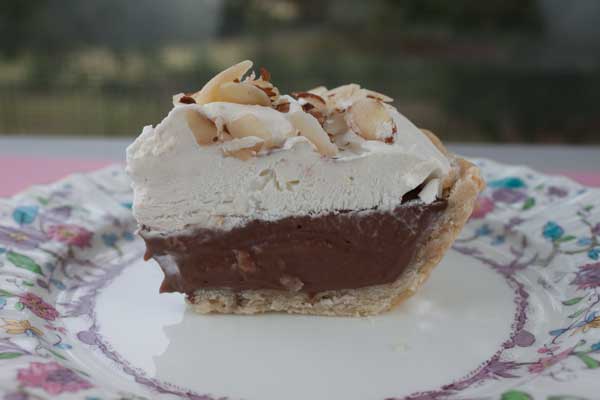 All Cocoa Powder
The recipe calls for 1/2 cup cocoa powder and no chopped chocolate, which means it's best to use a cocoa powder you really love since that's where the flavor comes from. I've used both Dutch process and natural and kind of prefer the flavor of natural over Dutch in pie filling. But that's completely subjective. Another thing about being all-cocoa is the pie sets up softer. The fact that there are no eggs contributes to this as well. If you want a stiffer pie, look for one with chopped chocolate, flour or cornstarch and eggs. This filling does work for pie, but it would also be good as parfait filling since it's less stiff. Remember the little chocolate parfaits Kentucky Fried Chicken used to sell (maybe they still do?). This filling would be perfect for making those.
Evaporated Milk Chocolate Cream Pie Size
This recipe below is for a 9 inch pie, which is the standard size. Since we never really need a full size pie, I've been known to halve the recipe and make it in a 6.5 or 7 inch pie dish. That might sound like a strange size, but Amazon has a ton of cute 6.5 and 7 inch pie dishes which are just right for making small family pies. Or you can just stick with the recipe as it's written and freeze any leftovers.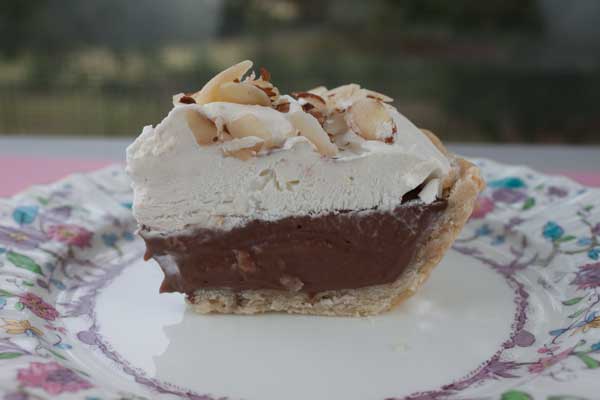 Evaporated Milk Chocolate Cream Pie
This recipe is adapted from Pet Milk. The filling is smooth and creamy and has a very full chocolate flavor thanks to the half cup of cocoa powder.
Ingredients 
1

9 inch

pie crust, deep dish

baked

1 1/4

cups

granulated sugar

(250 grams)

1/2

cup

unsweetened cocoa powder, best quality

(60 grams)

1/3

cup

cornstarch

(40 grams)

1/4

teaspoon

salt

2

cans

evaporated milk, Pet

(12 oz each/3 cups total)

4

tablespoons

room temperature butter, cut into chunks

(56 grams)

1

teaspoon

vanilla extract
Instructions 
Mix the sugar, cocoa powder, cornstarch and salt in a medium saucepan off heat.

Gradually whisk in evaporated milk until blended.

Set the pan over medium heat and stir constantly until mixture comes to a boil. After mixture starts to boil, set timer for 1 minute and continue stirring until timer goes off.

Remove from heat. Add butter and vanilla, stirring until butter is melted. Pour into prepared crust. Cover with plastic wrap or buttered parchment to prevent skin from forming. Let the pie cool at room temperature for about an hour, then transfer to the refrigerator.

Chill 4 hours or until ready to eat.

Uncover pie. Spread whipped topping on top of pie.