Over the past few years I've made a lot of chocolate cream pies, and one thing I've discovered is that I really like the ones made with evaporated milk. It gives the filling a slick, smooth texture, plus it doesn't taste overly rich. Not that there's anything wrong with cream pies made with heavy cream and chocolate, but inexpensive pies like Earl's Chocolate Pie and this evaporated milk chocolate cream pie, are a little bit less heavy, but still full of chocolate flavor.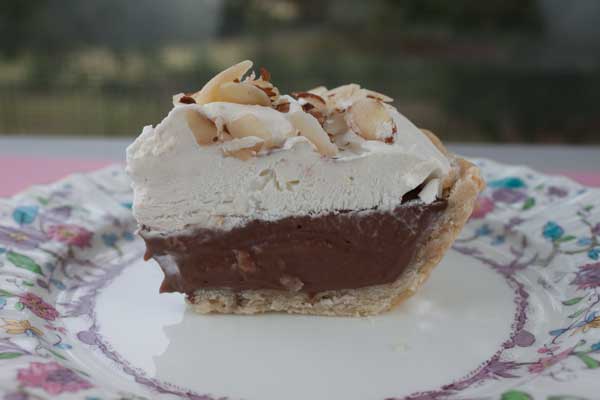 For this pie, I halved the recipe and made the pie in my very much loved  7 inch glass pie dish which I bought off Amazon a while ago. I've since seen that size pie dish on eBay, so if you have a small family or just like baking pies over and over and don't want a lot of leftovers, I recommend buying yourself a 7 inch dish.
Or make the recipe in full! It freezes well and is relatively inexpensive. And if you keep evaporated milk on hand, there's a good chance you'll have all the ingredients in the pantry.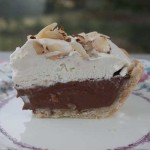 Print Recipe
Evaporated Milk Chocolate Cream Pie
This recipe is adapted from Pet Milk. The filling is smooth and creamy and has a very full chocolate flavor thanks to the half cup of cocoa powder.
Ingredients
1 9

inch

pie crust

baked

1 1/4

scant cups granulated sugar

1/2

cup

unsweetened cocoa powder

use your best!

1/3

cup

cornstarch

1/4

teaspoon

salt

2

cans

cans evaporated milk, Pet

(12 oz)

4

tablespoons

room temperature butter

cut up

1

teaspoon

vanilla extract
Instructions
Mix the sugar, cocoa powder, cornstarch and salt in a medium saucepan off heat.

Gradually whisk in evaporated milk until blended.

Set the pan over medium heat and stir constantly until mixture comes to a boil. After mixture starts to boil, set timer for 1 minute and continue stirring until timer goes off.

Remove from heat. Add butter and vanilla, stirring until butter is melted. Pour into prepared crust. Cover with plastic wrap or buttered parchment to prevent skin from forming. Let the pie cool at room temperature (completely if you have time, but I cheated and put it in the refrigerator while still slightly warm).

Chill 4 hours or until ready to eat.

Uncover pie. Spread whipped topping on top of pie.
Notes
I made a 7 inch pie using basic pastry crust and 1/2 of the above filling recipe.