If you're trying to cut down on dairy and like the flavor of tofu – or at least don't mind a hint of it – you have to try this pudding made with tofu. It's chocolate mint flavored and tastes like a Girl Scout Thin Mint in pudding form. I'm not even a huge fan of mint, but this recipe exceeded my expectations and I'm looking forward to making it again for the family.
Silken Tofu
Or at least for Todd. Fuzz thought the tofu flavor was too strong, which was interesting because when a co-worker of mine made the pudding, I could hardly taste the tofu. When I made it at home, the tofu flavor was more pronounced. The brand of tofu might have caused that, so look for a brand with a more neutral flavor and make sure it's the "silken" type. But overall, this pudding was really good and I'd make it again.
Recipe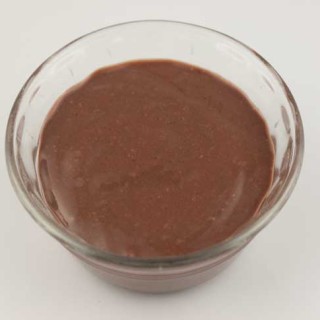 Pudding Made With Tofu
Chocolate Mint Pudding Made With Tofu
Ingredients 
6

ounces

of silken tofu

¼

cup

sugar plus more to taste if desired

¼

cup

good quality cocoa powder

1

tablespoon

melted coconut oil or non-dairy margarine

⅛

teaspoon

or more to taste of peppermint extract

⅛

teaspoon

vanilla extract

1

tablespoon

non-dairy milk if needed
Instructions 
In a food processor or blender, combine all the ingredients except for the milk and process until smooth. For a thinner pudding, add the milk. If the pudding isn't sweet enough for you, add more sugar.
Notes
Adapted from a recipe submitted to Texas Co-op Power by Nancy P.
Here's my old photo of pudding made with tofu. This first batch was lighter than the second batch because I used a lighter colored cocoa powder.