Bubble Bread, Monkey Bread, Pull Apart Bread — whatever you call it, this buttery, light loaf is a lot of fun at parties or just regular weeknight dinner. The last time I made bubble bread for guests it disappeared seconds. That version used frozen bread dough. For yesterday's version, I pulled out the stand mixer and made a scratch whole wheat bubble bread that was just as good.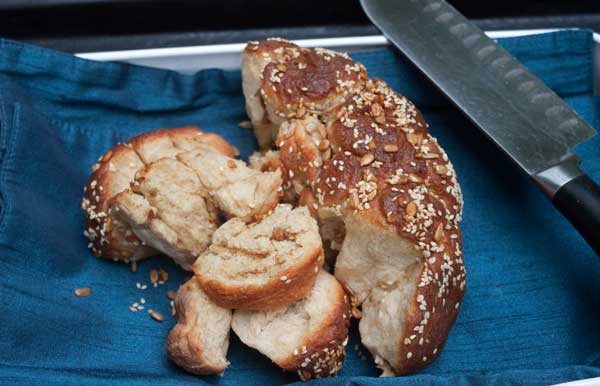 The recipe is based on one from a little Pillsbury booklet called 100 New Bundt Ideas published in 1977. Some of the book's recipes really fit the stereotype of 70s food (congealed rice in a Bundt pan with pineapple, cranberries — you get the idea), but other recipes are brilliant, including cheesecake made in a Bundt pan and one I made a while back called Cinnamon Crown Cake. This recipe was a tad more mainstream, but still delightful and not too difficult to make with the assistance of a stand mixer.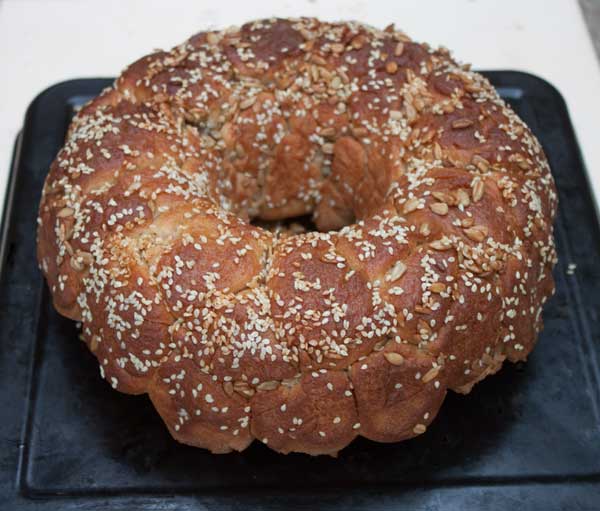 My changes to the recipe were to add sunflower seeds and cut the butter down a bit. The original recipe called for a total of 8 tablespoons — 2 for the dough and 6 for brushing. I used 4 tablespoons for brushing and the bread was perfectly buttery.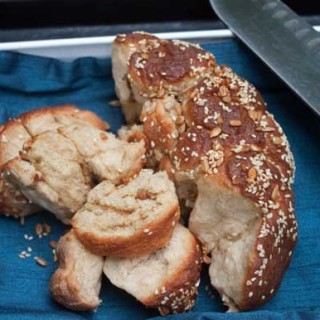 Seeded Whole Wheat Bubble Bread
Seeded Whole Wheat Bubble Bread is made with a yeast dough and baked in a Bundt pan.
Ingredients 
1 ¼

cups

milk

2

tablespoons

butter plus more for greasing pan

1 ¾ to 2 ¼

cups

all-purpose flour

2

tablespoons

sugar

1 ½

teaspoons

salt

1

package active dry yeast

1

large egg

1 ½

cups

whole wheat flour

2

tablespoons

sesame seed

2

tablespoons

sunflower seeds

more if desired

4

tablespoons

butter

melted
Instructions 
In a saucepan or in a 2 cup microwave-safe measuring cup, combine the milk and 2 tablespoons of butter. Heat until very warm (120 to 130 degrees). Put the milk mixture into the bowl of a stand mixer and stir in 1 cup of the flour, the salt, the yeast and the egg. Stir until well blended, then add the whole wheat flour.

Attach dough hook to the mixer and knead. Continue adding remaining all-purpose flour as needed until dough no longer sticks to the side of the bowl. Knead until mixture is smooth and elastic. Transfer dough to a greased bowl, cover and let stand in a warm place for about an hour or until doubled in size.

Grease a Bundt pan generously with butter and sprinkle with about 1 tablespoon of the sesame seeds and about 1 tablespoon of sunflower seeds Set aside.

Punch down the dough. Break dough into 40 walnut size chunks and arrange the chunks (as you break them) in the pan. After you've put about 20 chunks of dough in the pan, drizzle with 2 tablespoons of butter and sprinkle with ½ tablespoon each of seeds.. Add remaining dough pieces, then drizzle with remaining butter and sprinkle with remaining sesame seeds. Cover and let rise for an hour.

Preheat the oven to 375 degrees. Bake loaf for 30 to 40 minutes or until it sounds hollow when tapped. Invert onto a serving plate and let cool for about 10 minutes. Break apart while still warm