I wasn't sure whether to call this Chocolate Babka or Chocolate Swirl Bread, but since I have a gazillion other babka recipes, I'm leaning toward Chocolate Swirl Bread just to distinguish it. It's actually a little easier than babka and really good even though it has slightly less butter.
Chocolate Swirl Bread Dough
Here's a picture of the dough, which I love because it's so easy to work with. It starts out so soft you'll think you need more flour. As it's kneaded, it becomes smooth and elastic. Thus far I've only made this with a stand mixer and wouldn't attempt it by hand.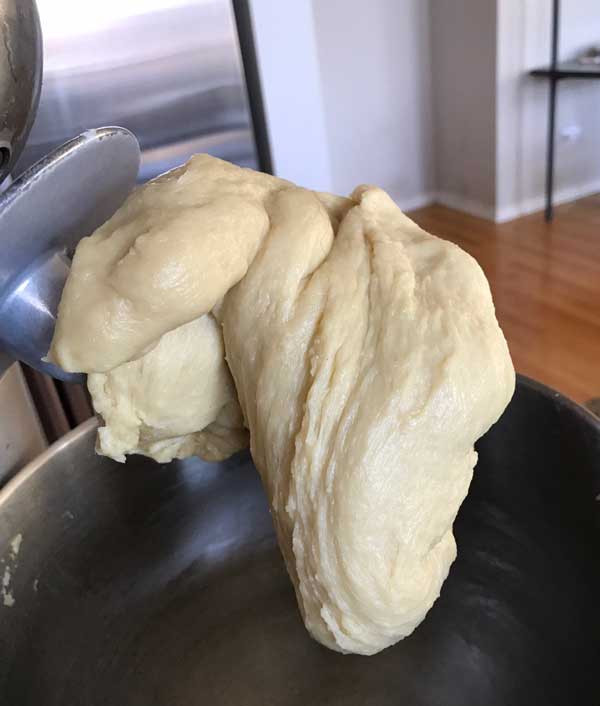 For the filling I usually use 6 oz of Ghirardelli Bittersweet Chips melted with 3 tablespoons of butter and 2 tablespoons of sugar. However, for this recipe I just used 6 oz of Dove chocolate melted with a tablespoon of butter. Both variations work well, the latter having an advantage in that you can try it with different types of chopped chocolate. A Lindt Dark Orange might be fun.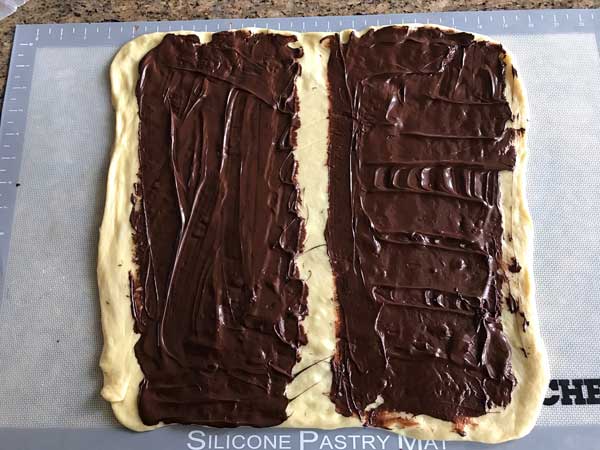 The shaping process is pretty straightforward. The chocolate covered rectangle gets rolled into a log and cut in half. Those two halves are then twisted together and pressed into a loaf pan. If you have silicone rolling mat, it's simple. Mine is from somewhere else, but King Arthur also sells them.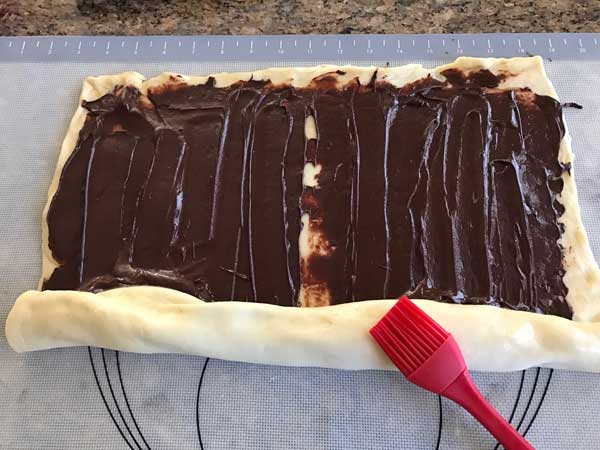 I like to brush the risen dough with lightly beaten egg white. You can brush it with melted butter, whole egg or sugar water, but since there's a spare white in this case it makes sense.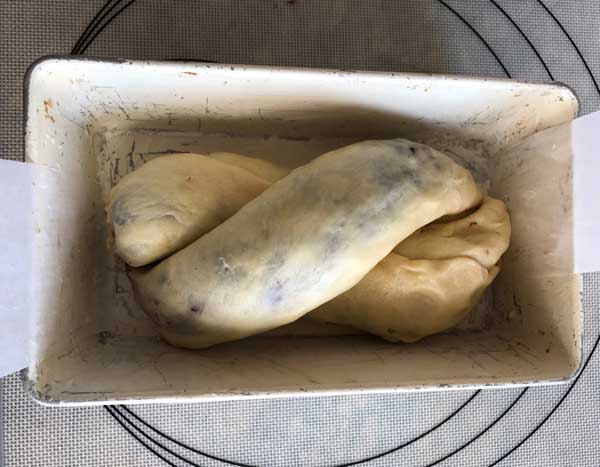 Here it is sprinkled with some cinnamon sugar.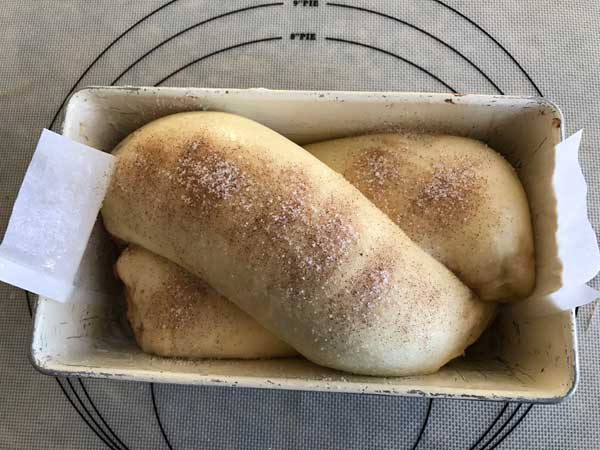 And here it is baked.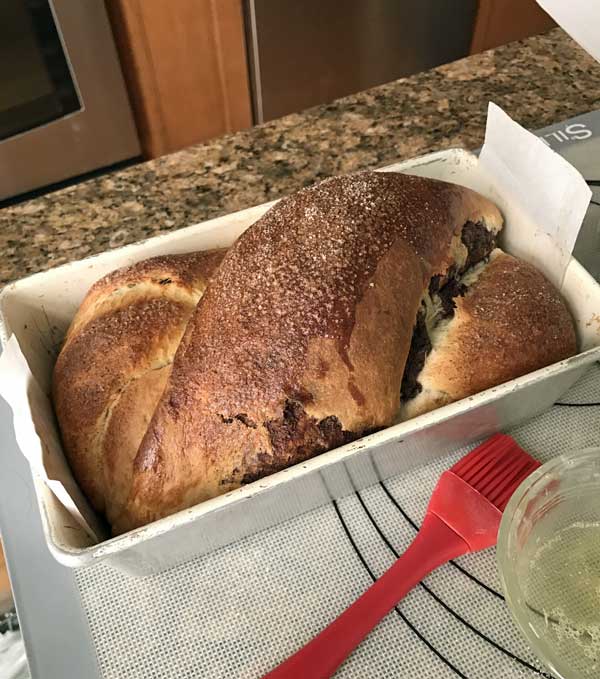 Air Bubble Above the Swirl
The only issue with this shaping method is there's almost always a big air bubble. My family likes the air bubble, but I might try a few more tricks to get rid of it anyway. There's always the usual babka method of splitting the log and exposing the filling which helps prevent air bubbles and gives the bread a neat striped look. I'll add some notes if I get an air bubble free bread, but I'm pretty happy with this version for now.
Update:  I think the answer to the Chocolate Swirl Bread air bubble problem is to just skip the first rise and let the loaf rise in the oven.  That's the way they do it in Montreal, apparently!  Alternatively, you can always make the rectangle shorter (12 inches high instead of 14, perhaps?) for a thicker, heavier, dough that won't be as likely to separate and rise.  Unfortunately, you won't get as many nice swirls.
Update 2:  Letting the dough rise once will give you smaller air bubbles (photo below).  You can shape the dough immediately and let it rise in the pan or let it rise in the bowl, then shape and bake immediately.  The loaf is slightly heavier, though.  I prefer the texture of the double-risen loaf -- big air bubble and all!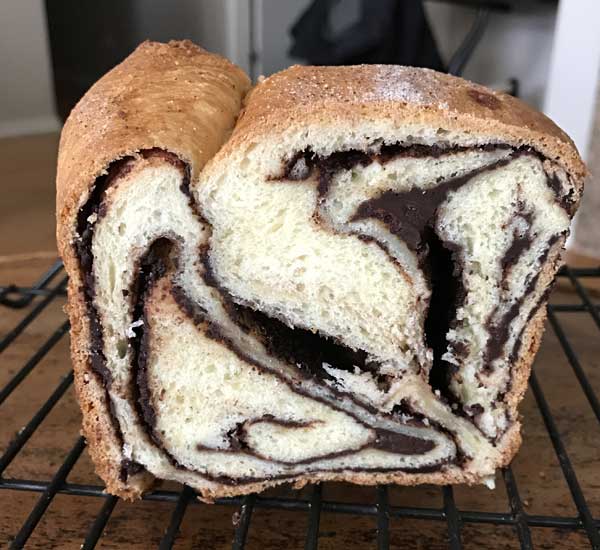 Recipe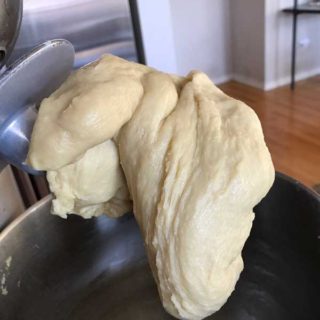 Chocolate Swirl Bread
An easy Chocolate Babka recipe that makes 1 loaf.
Ingredients 
5

tablespoons

unsalted butter

cut into small chunks**

½

cup

whole milk

½

teaspoon

vanilla extract

2

cups

all-purpose flour, plus more if needed

(280 grams)

1 ⅛

teaspoons

fast rising yeast

¼

cup

granulated sugar

⅜

teaspoon

kosher salt

1

large egg

1

large egg yolk

2

teaspoons

of olive oil or vegetable oil
Filling
6

oz

Dove or Lindt dark chocolate

1

tablespoon

unsalted or salted butter

Egg Wash: Reserved Egg White

Cinnamon Sugar

as needed (1 tablespoon sugar plus ½ teaspoon cinnamon)
Instructions 
In a 2 cup glass microwave-safe measure, melt the butter. Add the milk and heat again until the mixture is very hot. Let cool to between 125 and 130 degrees. While it is cooling, stir in the vanilla.

Meanwhile, mix the flour, yeast, sugar and salt together in the bowl of a stand mixer. Add the warm milk mixture and stir well by hand or with the paddle, then add the egg and yolk and stir until well mixed. The batter should feel pretty sticky at this point.

Put the bowl on the mixer stand and attach the dough hook. Let the machine knead for about 1 ½ minutes, then scrape down side of bowl. Continue kneading and scraping every 1 ½ minutes until the dough becomes smooth and elastic and clears the side of the bowl (it will still stick to the bottom). Total time should be 6 to 8 minutes.

Transfer the dough to a large bowl in which you have placed the 2 teaspoons of oil. Roll the dough around in the oil. Cover with plastic wrap and let rise in a warm place for about 45 minutes.

Grease a 9x5 inch loaf pan, line vertically with a strip of parchment paper, then grease again and dust sides with flour.

Filling: Melt chocolate and butter together in the microwave on high, stirring every 30 seconds. Set aside.

Press and roll dough into a 16x14 inch rectangle. I do this on a big silicone mat, but a large melamine cutting board or very clean surface should work.

Dough should be slick and easy to press, therefore you shouldn't need flour at this point.

Spread the chocolate mixture across the rectangle, leaving about ¼ inch on the right and a half inch wide line down the middle where you will be cutting.

Starting at the long (16 inch) side, roll upwards, as tightly as you can, into a jelly roll.

Cut the roll in half so that you have two rolls. Set them side-by-side, then form an "x". Twist the tops an bottoms and do your best to pinch the edges, but don't worry too much about chocolate leakage, as the dough will rise around it. Carefully scoop up the loaf and fit it into your loaf pan.

Allow unbaked loaf to rise for about 45 minutes.

At some point while it is rising, preheat oven to 350 degrees F.

Brush egg white lightly over the risen loaf. Sprinkle with cinnamon sugar.

Bake the for about 45 minutes. Transfer pan to a wire rack and let cool in pan 15 minutes, then loosen sides with a knife. Allow it to cool for several hours (I keep it in the pan) before cutting.

If you want, freeze the loaf overnight and slice while frozen.
Notes
For a richer, more pastry-like dough you can use 7 tablespoons of butter. This may give you a bigger air bubble though. I've noticed I also get a bigger air bubble with bread flour.
As for filling, the other filling I like is 1 cup (6 oz) Ghirardelli chips melted with 3 tablespoons of butter. To that, add 2 tablespoons of super fine sugar.