Before I put away the leaf lard, here's one more cookie recipe where lard seems to make a difference in the texture. Not that you have to use leaf lard. I still got crisp sugar cookies with 100% European style butter as well as the original version with half butter and half shortening.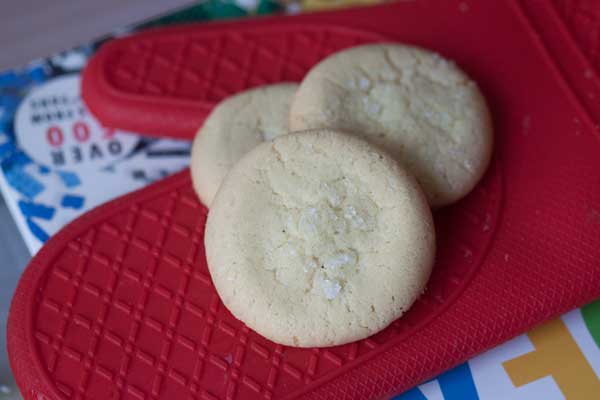 All the cookies were good, but the leaf lard cookies were the lightest, crackliest crisp sugar cookies I've ever made. The challenge was getting them into the oven without throwing out the dough because it smelled meaty and I wasn't convinced the lard flavor would disappear after baking. Thankfully, it did. I think the combination of combination of fats, amount of beating, the missing egg whites and the consistently good quality and protein count of King Arthur flour is what made these so good.
The cookies made with 100% European style butter were also light and crisp, but they didn't spread into perfect circles as the butter/lard cookies and they were a little less crisp in the centers. The best and most practical combo is probably butter and shortening.
Morrel Snowcap Lard
Thanks to Marilyn's comment, I made a quick batch of these using a combination of Morrell Snow Cap lard and regular Wegman's brand (not European style) salted butter. The cookies were crispy and delicious.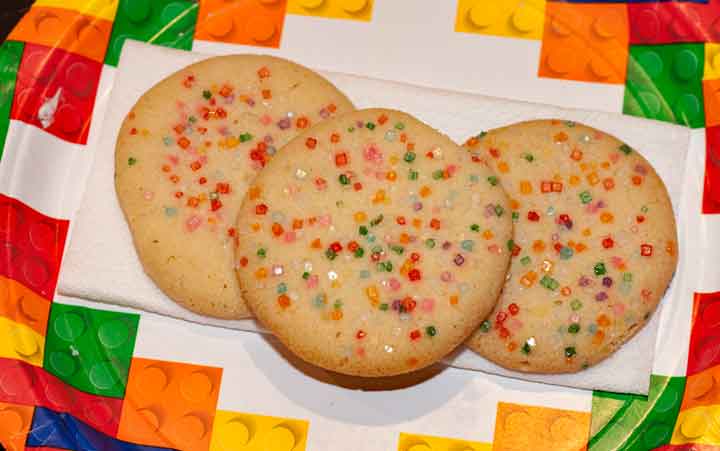 I also took Marilyn's advice and pressed the dough down a bit to make dough disks rather than balls. The nice thing about the Snow Cap lard is that unlike the lard I bought from the pie shop, it didn't have a meaty smell.
Recipe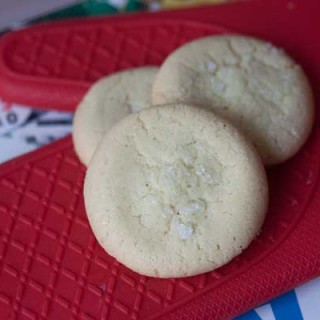 Light Crisp Sugar Cookies
These airy light and crisp sugar cookies can be made with just butter, a combination of butter and shortening or a combination of butter and lard. When made with 100% butter, they don't spread quite as evenly and the centers are a tad bit denser, but they are still great.
Ingredients 
⅓

cup

cold salted European style butter

cool room temperature (75 grams)

⅓

cup

vegetable shortening

65 grams or good quality leaf lard (75 grams)

1 ⅓

cups

granulated sugar

260 grams

2

large egg yolks

¼

teaspoon

salt

it doesn't seem like a lot, but the cream of tartar adds some saltiness

1

teaspoon

good vanilla

1 ⅓

cups

all-purpose flour

170 grams, weigh or spoon and scoop

¾

scant teaspoon baking soda

¾

scant teaspoon cream of tartar

Coarse or sparkly sugar

optional
Instructions 
Preheat the oven to 300 degrees F. Have ready two foil lined or ungreased baking sheet.

Cut the cold butter into thin slices and put it in a large mixing bowl with the shortening or lard. Beat cold butter with an electric mixer until light and creamy. Add the sugar and beat for about 3 minutes, scraping the sides of the bowl often. Add the egg yolks and continue beating for another 2 minutes, scraping the sides of the bowl. Beat in the salt and vanilla and beat for another minute.

Mix the flour, baking soda and cream of tartar together in a separate bowl, then gradually stir into the whipped egg mixture until a soft dough forms. Shape the dough into 30 or 32 one inch balls. Chill the dough balls or bake immediately.

Dip tops of dough balls in sugar and place on a foil lined baking sheet spacing about 2 ½ inches apart. Bake at 300 for about 20 minutes or until the cookies appear set and just slightly brown around the edges. Sprinkle a little more sugar on top as soon as they come out of the oven.

Let cool on baking sheet for a minute or two, then transfer to a wire rack and let cool and crisp.