Today's cookies are made with Product 19, a vitamin cereal with flakes of corn, oats, wheat and rice. The flakes are a bit sturdier and denser than other cereals, and the flavor is malt-y and slightly sour. And then there's the box, which is big and red and has a giant 19 on it.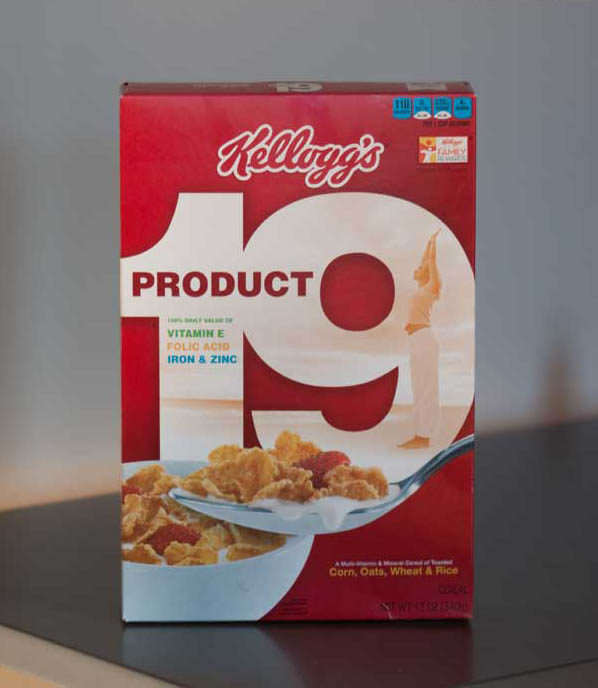 Between the box design and the name, I always perceived Product 19 as being sort of a futuristic cereal — the futuristic cereal from the past! Better living through chemistry…a sign of things to come? I don't know. But sadly, Product 19 became harder to find to the point where I thought it had been discontinued. That is, until I found it one day on Amazon. So Product 19 is still around and it's the key ingredient in these cookies.
The recipe is based on one found by Jona at The Tarnished Spoon. The cookies have a texture similar to Pecan Sandies, but are peanut butter flavored and not too sweet. Naturally, you're supposed to use Product 19, but I suppose Total would work just fine.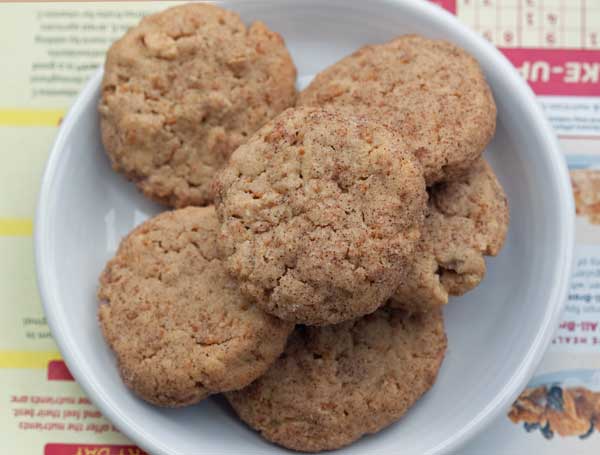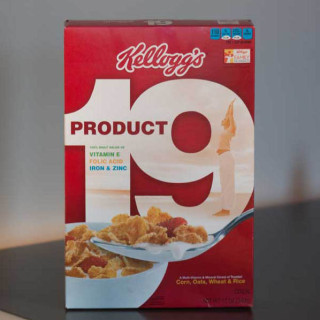 Product 19 Peanut Butter Cookies
Product 19 Peanut Butter Cookies are sandy textured peanut butter cookies with a unique taste and texture from crushed flake cereal. If you can't find Product 19, use Total cereal instead.
Ingredients 
1 1/2

cups

Product 19 or Total

1

cup

all-purpose flour

1

teaspoon

baking soda

1/2

teaspoon

salt

1

stick

4 ounces unsalted butter, room temperature

6

tablespoons

of granulated sugar

6

tablespoons

brown sugar

1/2

cup

peanut butter

1

large egg

1/2

tsp.

of vanilla

1/4

cup

finely chopped peanuts

Cinnamon sugar or regular sugar for rolling
Instructions 
Preheat oven at 350°F.

In large zipper bag, crush the cereal to very fine crumbs. Set aside.

Mix together the flour, salt and baking soda and set aside.

In a mixing bowl, beat the butter, granulated sugar and brown sugar until light and fluffy. Add the peanut butter and beat until well blended, then add the egg and vanilla and beat until fluffy, scraping sides of bowl occasionally.

Add flour mixture and stir until blended, then stir in the crushed cereal and peanuts.

Using a tablespoon, scoop up mounds of dough and put them on plates lined with foil or parchment. Chill slightly while you preheat the oven.

Preheat the oven to 350 degrees F. Line two baking sheets with parchment paper.

Shape the slightly chilled dough into neat balls. Dip in sugar (if desired), and arrange on baking sheets spacing 2 inches apart. Press down slightly.

Bake for 10-13 minutes or until lightly browned. Let cool on baking sheet for 2 minutes, then transfer to a rack to cool and let cool completely. These are not meant to be eaten warm -- the texture improves when cool.