Today's recipe is from Tracey Zabar's new book, Chocolate Chip Sweets: Celebrated Chefs Share Favorite Recipes
. It's a spicy pumpkin bread full of fall flavors and, of course, chocolate chips!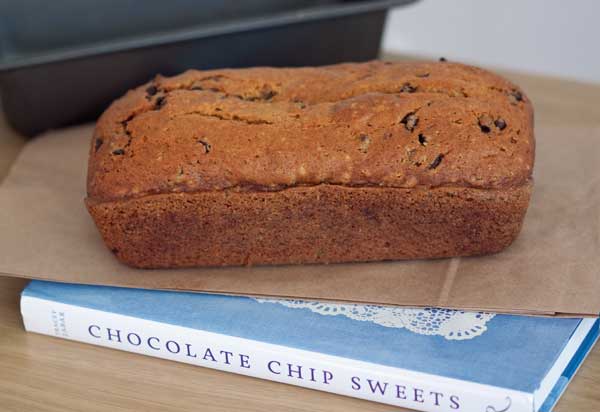 Tracy Zabar Books
But before I get back to the bread, let me say a little more about the new book. I've been a fan of Tracey Zabar since reading her first book, One Sweet Cookie: Celebrated Chefs Share Favorite Recipes
. Tracey's passion for baking comes through in her writing, and being a home baker herself, she has a knack for choosing recipes that are approachable but still interesting. Thanks to the wisdom and creativity of her celebrity chef friends, recipes that may sound "basic" have unique twists that make them better. For instance, Tracey's friend Chef Sean Considine makes chocolate chip cookies with a dash of honey and crème fraîche! But again -- this is more than just a book with chocolate chip cookies. Altogether there are 85 recipes for cakes, pies, desserts, drinks, breakfast treats and breads. A sampling of titles includes
--Date and Chocolate Rugelach, Miro Uskokovic
--Marshmallow Chocolate Chip Cookie Dough Ice Cream, Florian Bellanger
--Chocolate Chip Pudding, Jonathan Waxman
--Chocolate Chip Breakfast Berry Cakes, from Tracey Zabar
--Sicilian Pistachio Torta, Michael White
--Butterscotch Chocolate Chip Eclairs, Jennifer
And then there's this pumpkin bread.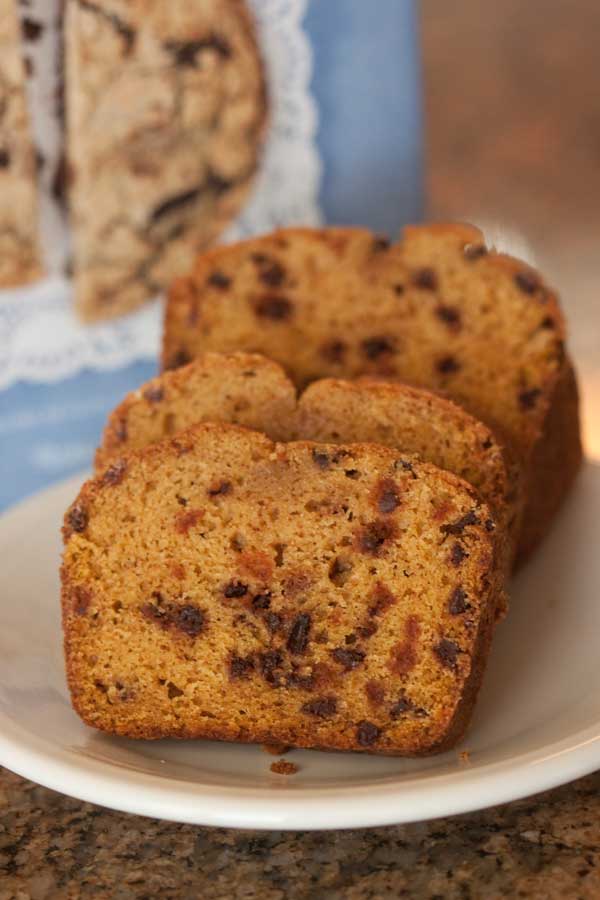 It's a favorite from Amanda Cook of Tenth Avenue Cookshop who has probably tried more than a few pumpkin recipes and knows what people like. This recipe certainly did not let me down. It's more along the lines of a loaf cake than a bread and can double as breakfast or dessert.  Here's the recipe courtesy of Rizzoli and Tracey Zabar.
Recipe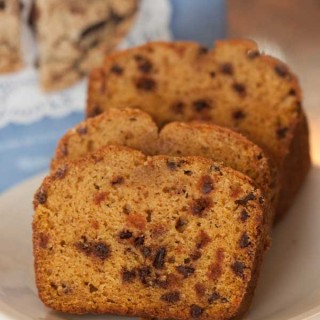 Pumpkin Chocolate Chip Bread
When pastry chef Cook was around eight years old, her mother gave her a pumpkin chocolate chip muffin. She loved the delightful combination of the spicy cake and the dark chocolate chips that "just sang together in harmony." Here is her adaption of this favorite recipe. You can use loaf pans or any shape disposable paper molds. Less baking time may be required for paper molds. • makes 3 loaves
Ingredients 
Nonstick cooking spray

3 ¼

cups

all-purpose flour

2

teaspoons

baking soda

1

teaspoon

baking powder

1 ½

teaspoons

ground cinnamon

1

teaspoon

ground nutmeg

1

teaspoon

ground ginger

½

teaspoon

ground cloves

3

cups

granulated sugar

1

cup

canola or vegetable oil

4

large eggs

1 ½

cups

pumpkin puree

9

ounces

1 ½ cups bittersweet or semisweet chocolate chips
Instructions 
Preheat the oven to 350°F. Lightly spray three 8-inch loaf pans with nonstick cooking spray, and set aside.

Into a medium bowl, sift together the flour, baking soda, baking powder, cinnamon, nutmeg, ginger, and cloves, and set aside.

In the bowl of a stand mixer fitted with the paddle attachment, beat the sugar, oil, and eggs together until the mixture is pale yellow and ribbons form. Add the pumpkin and blend well. Add the dry ingredients, and mix just until combined. With a silicone spatula, fold in the chocolate chips.

Divide the batter evenly among the prepared pans. Bake for 35 to 45 minutes, until the center of each cake tests clean with a toothpick. Remove the loaves from the oven, and let cool in the pans.
Notes
This recipe is an excerpt from Chocolate Chip Sweets by Tracey Zabar and is courtesy of Rizzoli New York.