I have several pecan pie recipes, but when someone specifically requests a smooth pecan pie (in reference to the filling, of course), this is the one I use. Originally from Cook's Illustrated, this pie has a smooth textured filling with a very robust flavor thanks to lots of butter, brown sugar and vanilla.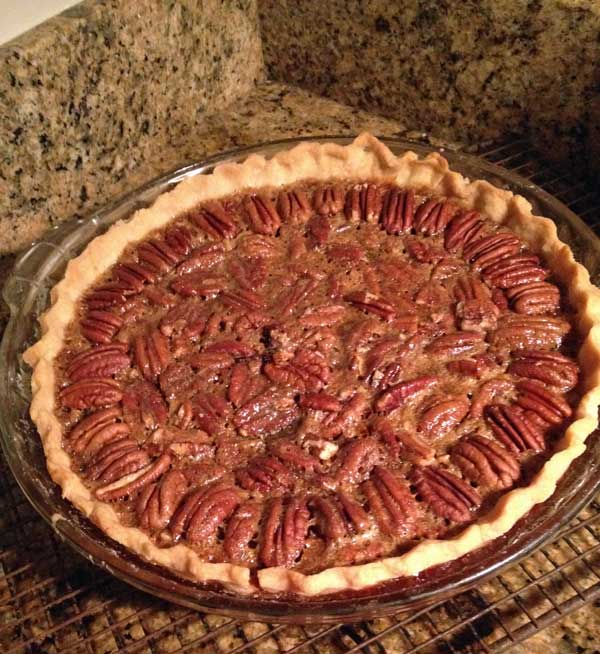 Like most pecan pie recipes it's pretty simple, but it does require an extra step.  Instead of just mixing the ingredients in a bowl, you mix them in a bowl set over hot water or in the top of a double boiler until the mixture hits 130 degrees. The baking method is also unique in that you bake the pie at 275 for an hour or so.  And because the baking temperature is so low, you start with a baked crust instead of just dough.  Trust me.  It needs to be baked because 275 is not enough to bake the pie dough even for an hour.  If you don't know how to bake a pie crust or what the difference is between docking and using pie weights, here's a handy tutorial from "the Kitchn".
What I love about this pie is that it's almost impossible to overbake it, hence the smooth texture.  It is possible to underbake it, though.  Pecan pie is done when the internal temperature is 200 degrees F., so if you have a meat thermometer you can use visual clues (no more jiggling) and a quick poke in the center.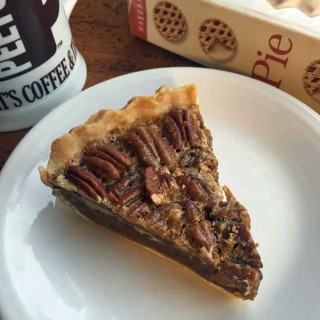 Pecan Pie
Smooth pecan pie rich in butter, brown sugar and vanilla flavor. .
Ingredients 
1 9

inch

baked pie crust

6

tablespoons

unsalted butter

cut into 1-inch pieces

1

cup

packed dark brown sugar

1/2

teaspoon

salt

3

large eggs

3/4

cup

light corn syrup

1

tablespoon

vanilla extract

2

cups

whole pecans

8 ounces, toasted
Instructions 
Preheat the oven to 275 F.

Melt the butter in the top of a double boiler or in a heat-proof bowl set over barely simmering water.

Remove top of double boiler (or bowl) from over the water and stir in sugar and salt. Add eggs and stir until blended, then stir in the corn syrup and vanilla.

Return top of double boiler (or bowl) to its spot above the simmering water and stir until mixture reaches 130ºF degrees.

Remove from heat and stir in the toasted pecans.

Pour mixture into the pie shell and bake at 275 for 60 minutes (mine usually takes 65 or 70) , until center appears set and a thermometer inserted in the center registers 200 degrees F.

Let cool on a pie rack to room temperature. If you have time, chill the pie overnight to help set it, then return to room temperature before serving.
Notes
The baked crust shouldn't have any small holes in it or the filling will seep under it, so don't dock the crust before baking. The best method is to weigh it down with parchment and pie weights and bake at 400 for 20 minutes, then uncovered at 375 for about 10. I've tried docking the pie crust, brushing the holes with egg white and then baking for 5 minutes to set the whites and cover the holes, but somehow filling still manages to seep through. To toast the pecans, lay them on a rimmed baking sheet and bake for about 6 minutes or until they start to release their oils and become aromatic. I sometimes toss them with a half tablespoon of butter right after pulling from the oven.