According to our French exchange student, French Nutella is superior to American Nutella. He wasn't bragging, just stating his opinion. And since I love hearing people's opinion on food I couldn't wait to get my hands on some Nutella from France. Thankfully, my favorite daughter came through and brought home a few jars when she returned from her part of the exchange. After tasting it and not being able to decide if it really was better, I used it as filling for Chocolate Hazelnut Babka.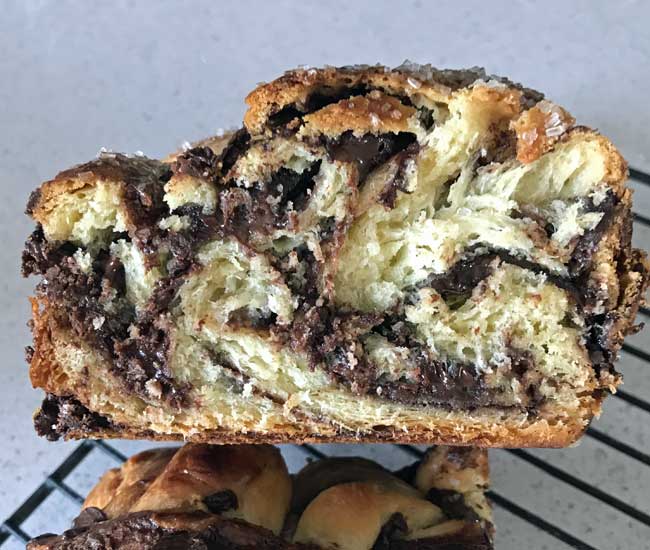 This is a variation on my other recipe, but instead of making one giant loaf or three minis it makes one modest sized 8 ½ by 4 ½ inch loaf. The recipe is fairly simple if you have a stand mixer and dough hook, and the dough is soft and not too sticky so it's easy to work with.
Hazelnut Babka Rolling and Shaping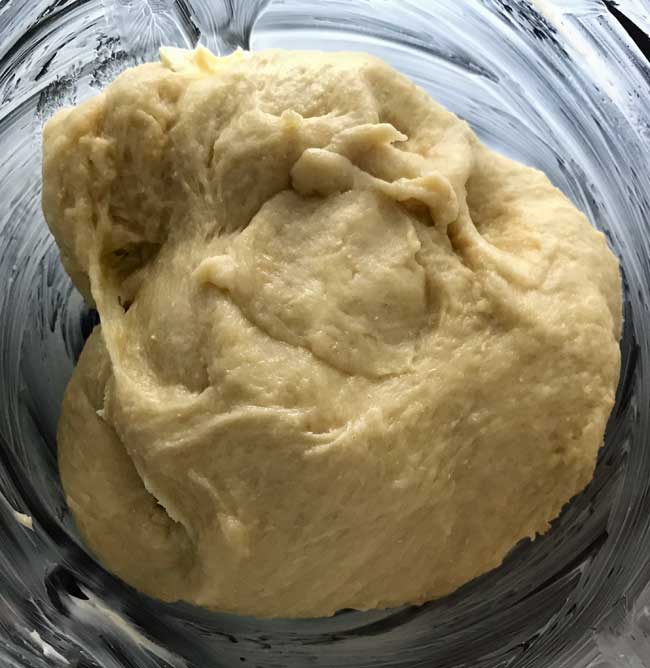 The dough rises once, then you pat it or roll it into a rectangle and cover it with Nutella and chopped chocolate.  I was short on chocolate so I threw in some chocolate chips.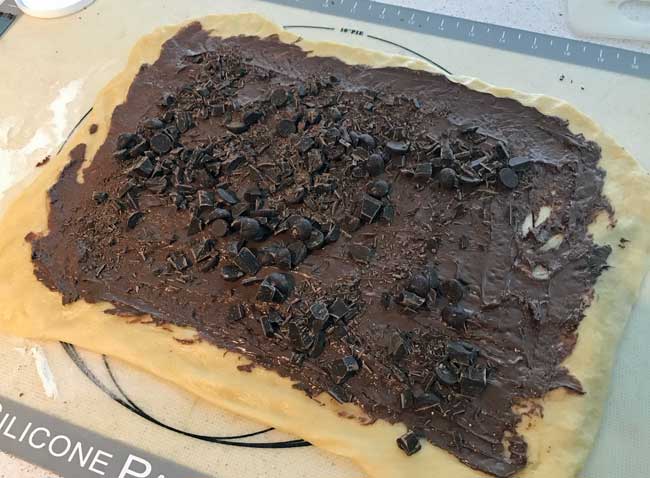 The big rectangle then gets rolled into a cylinder which you then cut crosswise.  Each small cylinder is then cut lengthwise and twisted.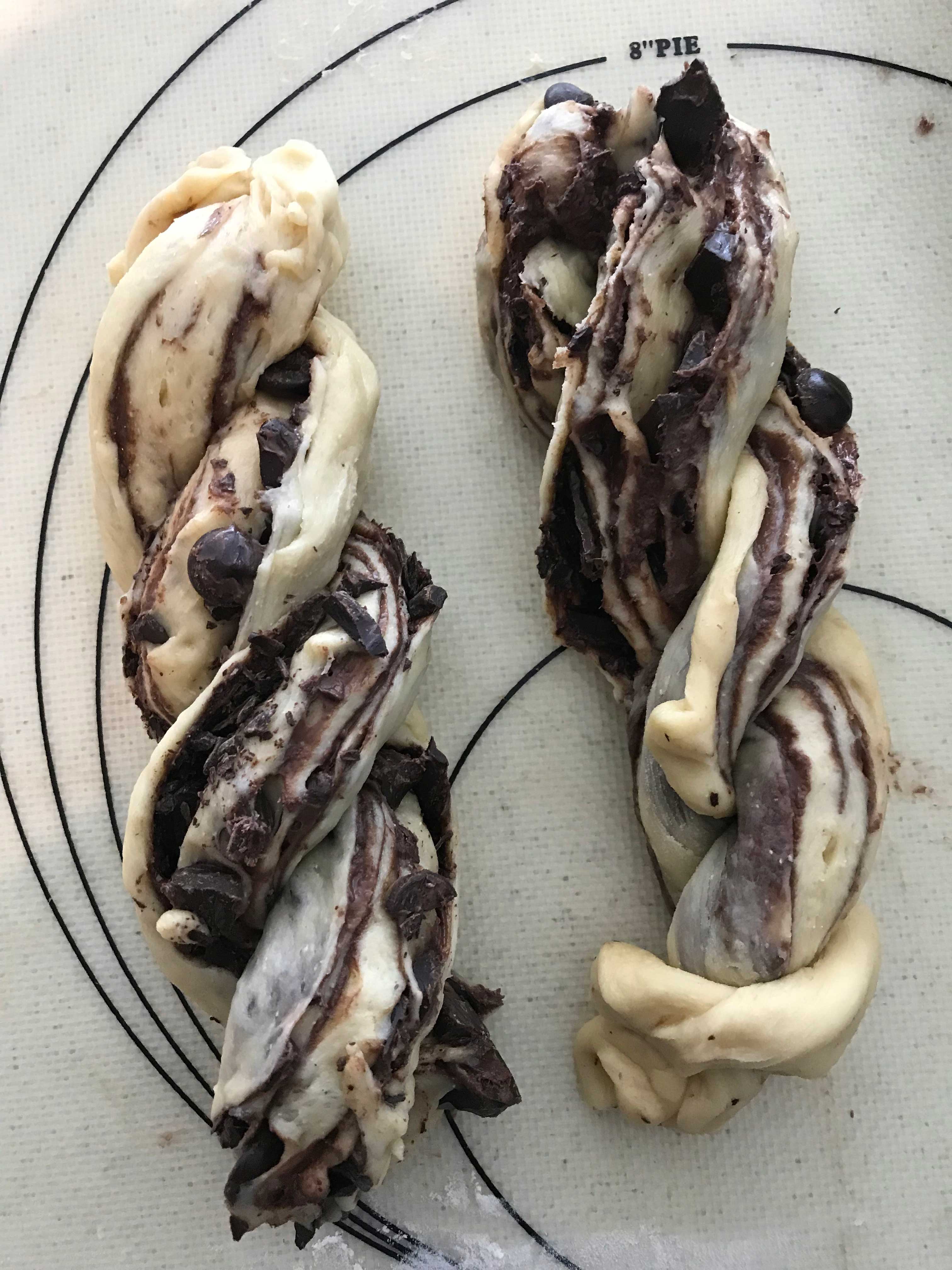 Then the twists go into the pan.  I like to put one twist in with the exposed chocolate side up, then another on top of it with the exposed chocolate side down.  As you can see I wasn't very careful with this and made it lopsided.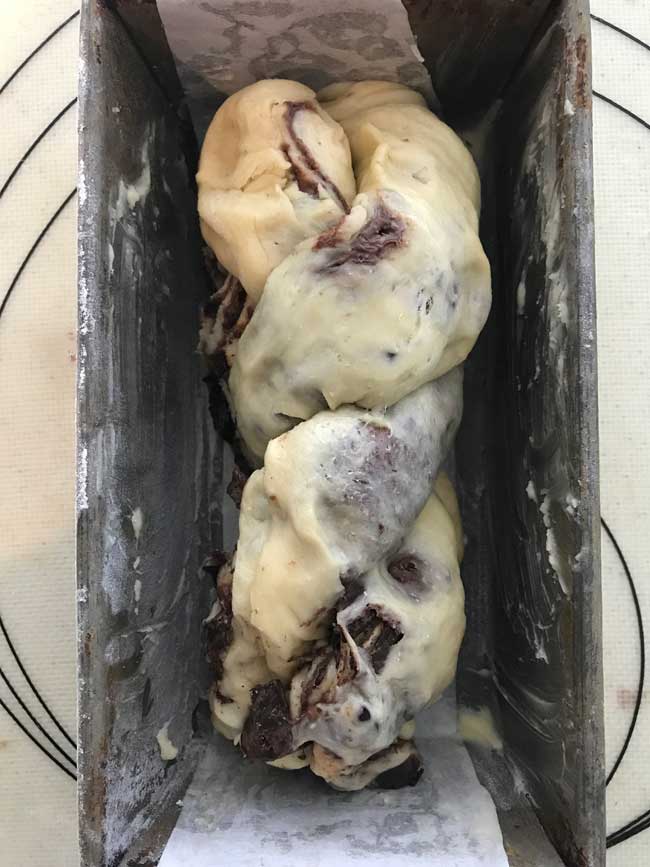 But it still looked beautiful!  I've made this three times already and am looking forward to making it again.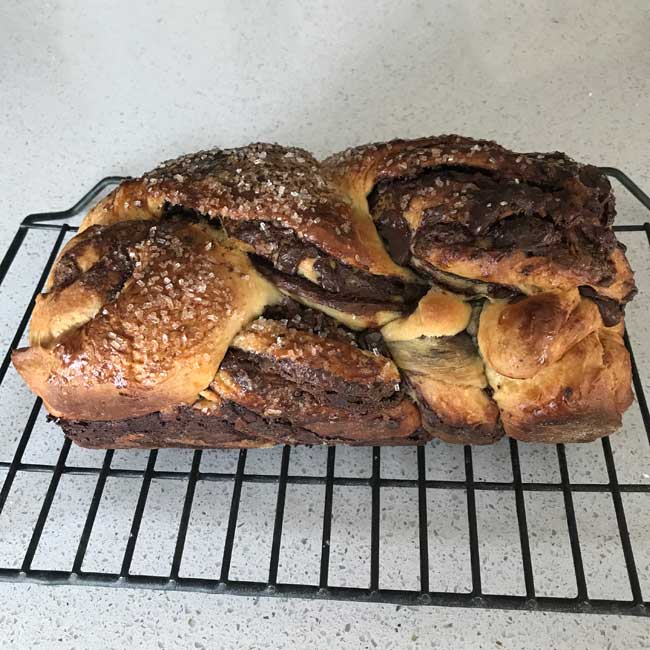 Here's the recipe.  If you try it, I'd love to hear your thoughts.
Recipe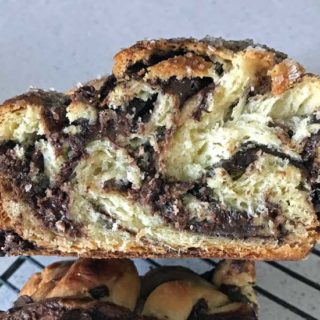 Chocolate Hazelnut Babka
This makes a fairly small loaf of Hazelnut Chocolate Babka. I apologize in advance for making you use ½ of an egg yolk, but the good news is the remaining egg can be used for the egg wash. Coarse sugar is optional but it really adds a nice crunch to the crust.
Ingredients 
2

large

eggs

brought to room temperature

1 ¾

cup

plus 2 T bread flour plus more for dusting

(240 grams)

¼

cup

sugar

(48 grams)

1 ¼

teaspoons

instant yeast (half packet)

⅜

teaspoon

salt

3

oz

very warm milk

about 125 degrees

1

teaspoon

vanilla extract

5

tablespoons

unsalted butter, softened (almost melted)

softened – almost melted

About ½ cup of chocolate hazelnut spread

I don't measure

4

oz

chopped dark chocolate plus more to taste

(114 grams)

Coarse sugar for sprinkling
Instructions 
Set one room temperature egg aside, then crack the second into a small bowl and set aside.

Combine flour, sugar, yeast and salt in the bowl of a stand mixer.

Add the warm milk and stir by hand or with the paddle attachment.

Crack in the 1 reserved egg, then scoop about half the yolk from the egg you cracked into bowl and add to the dough. Reserve the remaining cracked egg for your egg wash.

Add vanilla and softened butter to mixing bowl and stir to make a soft dough.

Attach the dough hook and allow the machine to knead the dough for 5 to 8 minutes or until smooth and shiny. The dough should be soft but not sticky and will clear the sides of the bowl, but stick to the bottom as it is being kneaded.

Scrape the kneaded dough into a buttered bowl, then cover and let rise for about an hour.

While dough is rising, grease and flour an 8 ½ by 4 ½ inch loaf pan. If desired, line lengthwise with a strip of parchment before flouring.

Punch down risen dough and place on a lightly floured pastry mat. Pat or roll into a 15x11 inch rectangle. The dough is so buttery you should be able to just pat it or roll it without using much flour at all. It should not be at all sticky. If it is, you'll need to use more flour on the mat.

Spread the hazelnut spread over the rectangle leaving about a ¾ inch border on the long sides. Sprinkle chocolate all over the hazelnut spread. Starting from a long side, use a cake lifter or thin spatula to lift edge of dough and roll carefully into a cylinder.

Cut the cylinder in half cross-wise so that you have two short tubes.

Cut one of the tubes lengthwise in half and lie the halves on their backs with chocolate exposed, pinch the top ends together and twist. Repeat with second tube of dough so that you have two twists.

Lay one twist in the pan with the exposed chocolate side up, then lay the second twist over it in the pan exposed side down.

Cover with a greased piece of plastic wrap and let rise for about 45 minutes.

Meanwhile, preheat the oven to 350.

Take your reserved egg and brush all over the babka, then sprinkle with coarse sugar if desired.

Bake for 45-55 minutes (shield with a piece of foil after about 40 minutes) until a skewer inserted in the middle comes out clean. Let the babka cool completely, then carefully remove from pan and slice.