These butterscotch scones were made using a very popular recipe from Southern Living.  They're the big, fat, butter-rich scones similar to what you might find at a coffee shop. Of course they're better because you can customize the flavors to suit your mood.  I had some butterscotch morsels in the pantry, so I used those.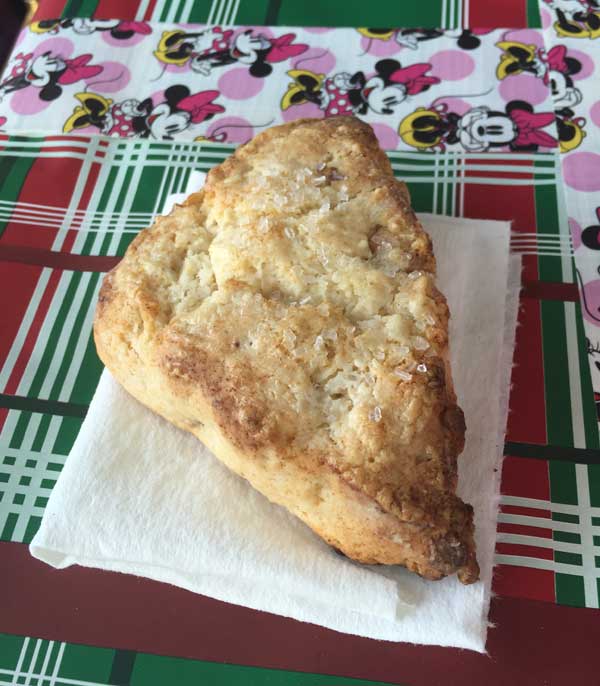 Butterscotch Morsels
Speaking of which, it seems Nestle butterscotch morsels  have changed. The butterscotch morsels were lighter in color and had a different smell and flavor than usual.  I thought maybe I had a defective batch so I chatted on-line with a Nestle associate and was told they had indeed made some changes and that based on consumer feedback, we should be seeing a new improved version soon.  I hope they hurry up with that because I already miss the old formula,
Since I wasn't completely happy with the butterscotch morsels I made a second batch of scones using chopped chocolate, dried fruit and nuts.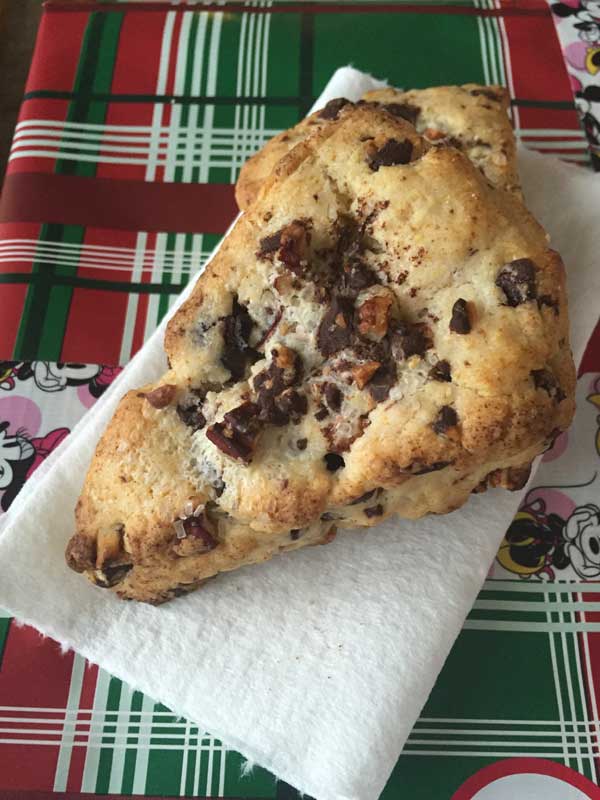 The original recipe calls for 2 cups of flour, and they must have meant 2 heavy cups -- more like 5 oz/140 grams per cup of flour than the usual 4.5 oz per cup.  Also, 450F is a pretty high temperature. To avoid burnt bottoms I stacked two baking sheets and watch the scones closely. If you trust your oven you can stick with 450. 425 might be safer for some. And finally, having not baked scones in a while, I was reminded that scones are better after they have full cooled. The insides seems more uniform and less mushy after sitting a spell. I recommend making them a few hours ahead.
Recipe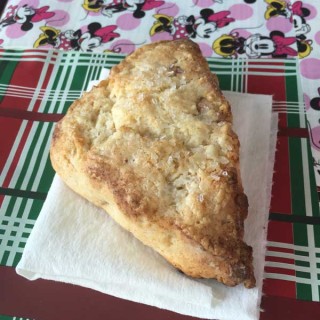 Butterscotch Scones
Coffee shop style rectangular scones flecked with butterscotch morsels.
Ingredients 
2

cups

all-purpose flour

280 grams/10 oz**

⅓

cup

granulated sugar

64 grams

1

tablespoon

baking powder

½

teaspoon

salt

½

cup

cold unsalted butter

cut into chunks (114 grams)

⅔

cup

butterscotch morsels or chopped chocolate

nuts and dried berries

¾

cup

whipping cream plus 2 tablespoons for brushing

½

teaspoon

vanilla extract
Instructions 
Preheat oven to 450 degrees F. Line a heavy duty baking sheet with parchment paper or a Silpat.

Mix the flour, sugar, baking powder and salt very thoroughly in a large mixing bowl.

Cut butter into flour mixture with a pastry cutter until crumbly and coarse.

Add ½ cup of cream along with the vanilla and stir to make a thick dough. Continue adding remaining cream very gradually just until dough is workable. Stir in the butterscotch morsels or whatever add-ins you like.

On a piece of parchment paper, shape the dough into a 7 inch round. Transfer to the freezer and freeze round for 10 minutes.

With a sharp knife, cut the round into 8 wedges.

Place wedges 2 inches apart on baking sheet. Brush tops of wedges with remaining cream and sprinkle with a little extra sugar if desired.

Bake at 450° for 13 to 15 minutes or until golden. Let sit for about a half hour or so before serving..
Notes
For the flour, it's best to use a scale because 280 grams is 2 "heavy" cups (5 oz) of flour. If you want to completely avoid burnt bottoms or have had issues in the past with that happening, stack your parchment lined baking sheet on top of another baking sheet. Also, watch the baking time carefully.