Using up an open can of coconut milk is kind of an ongoing issue at our house. We love cooking with coconut milk, but are always scaling down recipes and rarely use a full can. Coconut Milk Sandwich Bread is the perfect solution because it calls for exactly 1 cup of canned coconut milk.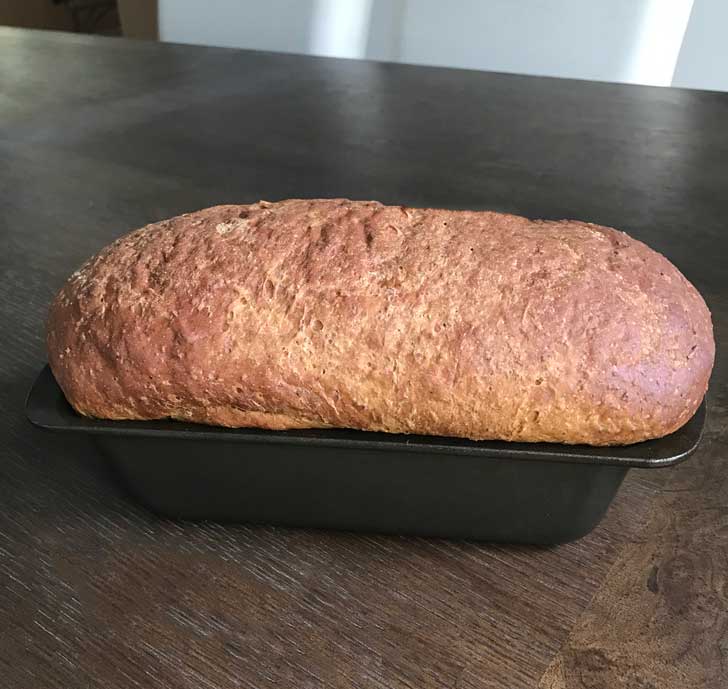 The original recipe is on the Red Star site. I love that it only calls for 2 cups of flour and 1 cup oats and makes an 8×4 inch size loaf. So the slices are on the smaller side, but still big enough for sandwiches because of how high the bread rises.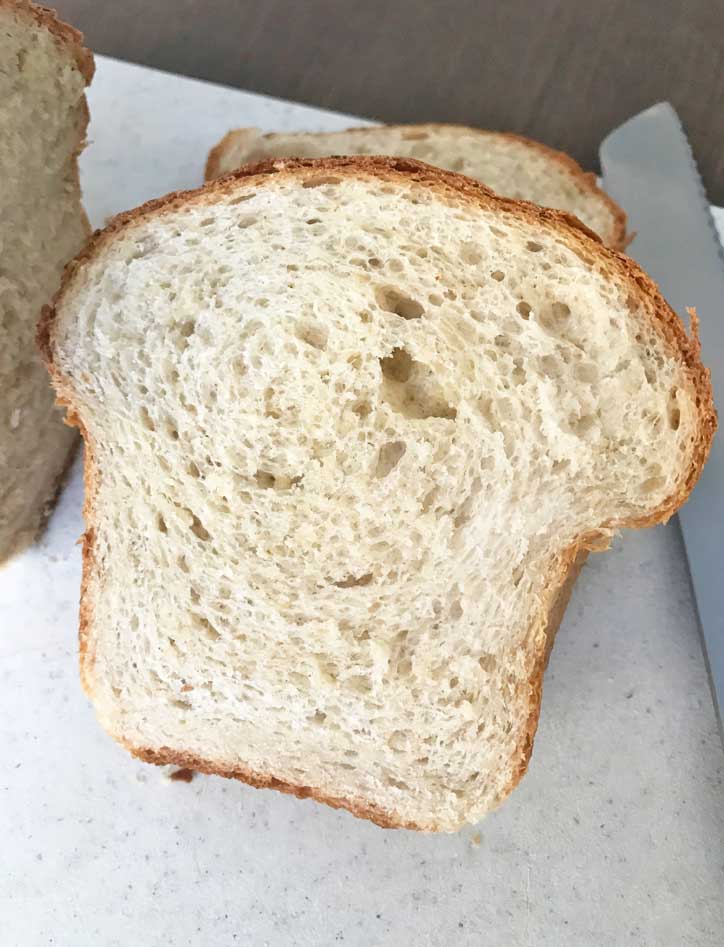 Coconut Milk Sandwich Bread Flavor
As for flavor, you can definitely taste the coconut milk. It's not strong, but the bread has a distinct coconut milk taste to it. It's slightly sweet, but not so sweet it wouldn't work with a BLT or roast beef sandwich. It would be really good with ham. But then again, I like sweet & salty so I'm biased. Oddly enough, the coconut combined with the brown sugar reminds me of wheat flavor. If someone didn't know the ingredients, they might mistake it for a light wheat bread.
Salt, Butter, and Flour Notes
Interestingly, the Red Star recipe only calls for a pinch of salt. The bread definitely needs more, so my version uses 1/2 teaspoon. I also used softened butter in place of the coconut oil. If you need to make vegan Coconut Milk Sandwich Bread, you can use a neutral oil, but the flavor of the butter was really good. And finally, I did use bread flour rather than all-purpose. I'm sticking with bread flour for now, but I do want to try incorporating some wheat flour just for fun. Expect some updates and variations to this recipe. This is a fun one!
One More Note — The Yeast
I've been testing with instant yeast. Normally I would mix the instant yeast with the dry ingredients and pour in very warm liquid, but I've been using a temperamental yeast I bought in bulk and dissolving it in water to be sure it works. If you are adding the yeast to the dry ingredients as is normal with instant yeast, the rise time may vary. One thing I've learned with yeast bread making is you need to use the rising time as a guide and let the dough do it's thing. This one should double.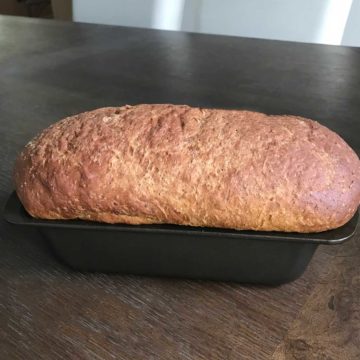 Coconut Milk Sandwich Bread
A fluffy but sturdy bread perfect for any kind of sandwich.
Equipment
Stand mixer with dough hook
Ingredients 
1

cup

coconut milk

full fat type from a can

1

cup

rolled oats

80 grams

1/4

cup

water

2

cups

bread flour

270 grams, plus a little more as needed

½

teaspoon

salt

2

tablespoons

light brown sugar

packed

2

teaspoons

instant yeast

3

tablespoons

very soft unsalted butter

42 grams

Softened butter for greasing pan
Instructions 
In a microwave-safe measuring cup or in a saucepan, heat the coconut milk just until warm (115 degrees f). Put it in the bowl of a stand mixer and add sugar and yeast. Stir to dissolve sugar, then pour in the melted butter, followed by the salt.

Add flour gradually, stirring to make a soft dough.

Set bowl and mixer stand and use the dough hook to knead until smooth and elastic or knead by hand on an oiled surface until smooth and elastic.

Scrape dough into a large greased bowl, cover with greased plastic wrap, and let rise in a warm place until doubled in size (1 hour).

Grease an 8×4 inch loaf pan with softened butter.

Punch down the dough and shape it into cylinder. Cut into 4 even section.

Take one of the sections and press down into a flat rectangle, then roll into a small cylinder. Place in loaf pan. Repeat with remaining sections so that you have 4 little cylinders lined up in your loaf pan.

Cover with with greased plastic wrap and let rise in a warm place until dough has domed about an inch over the pan. This should take about 30 minutes

When you feel like it's close to bake time, preheat oven to 375. You are going to bake it at 375 for the first 20 minutes, then reduce the heat to 350 for another 10 for about 30 minutes total.

Let the bread cool in the pan for about 10 to 15 minutes, then remove and let cool for several hours. The texture will improve as it cools.
Notes
If using active dry yeast, use 1 cup of boiling water to soften the oats, but heat the second 1/4 cup to around 110 to 115 degrees — somewhere right in between should be perfect.  If you are using instant yeast but don't trust it and want to proof it anyway, heat the 1/4 cup of water to about 115, then add your instant yeast and watch closely for action.  That means bubbles, foaming, etc.    If you're using Red Star Platinum you should be safe just mixing it in with the dry ingredient and making sure the oat mixture is hot enough to activate the dough.