As someone who spends way too much time in the peanut butter aisle perusing all the new varieties trying to decide which one will make my daily toast more exciting, I was very happy when asked to review Peter Pan Simply Ground.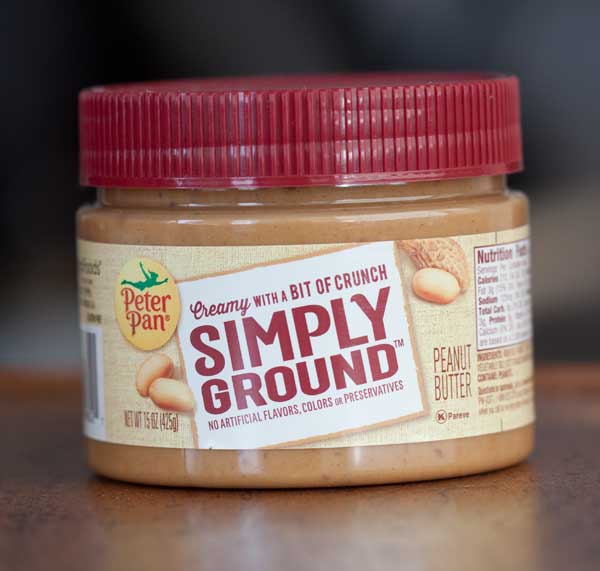 Thanks to its distinctive packaging, I'd already spotted Simply Ground. It comes in a short, wide mouth jar with a red top. However, given the name and the shape of the jar, I assumed it was peanut powder or just plain ground peanuts. But it's not. Peter Pan Simply Ground is a sweetened peanut butter made with very finely ground peanuts.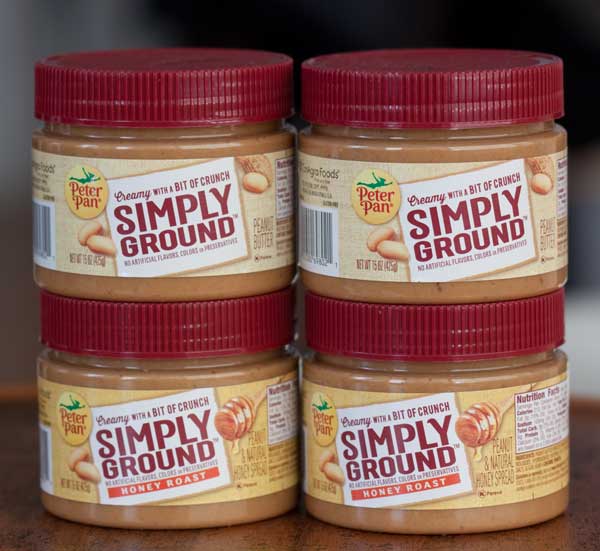 Texture
Compared to regular chunky peanut butter, it's a bit easier to spread and less likely to tear bread. In addition, Simply Ground is a no-stir peanut butter, so if you are among the segment of folks who don't like to stir the oil that separates from the ground peanuts, this one's for you. Described as "creamy with a bit of crunch", Simply Ground is all about texture. However, it has a great flavor and worked quite nicely in this peanut butter pound cake.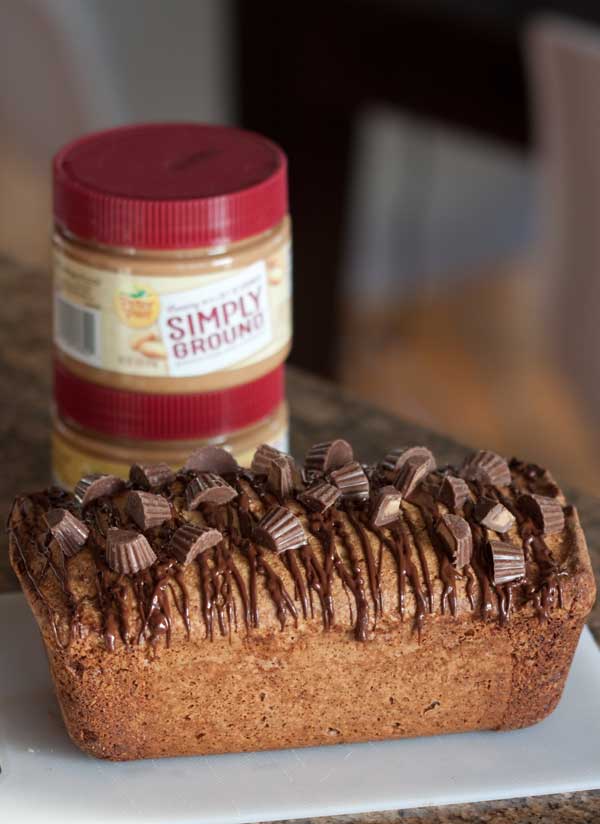 The original version from Peter Pan's recipe collection is for a large round peanut butter pound cake with peanut butter glaze, but I made a loaf shaped peanut butter chocolate chip pound cake using the Simply Ground.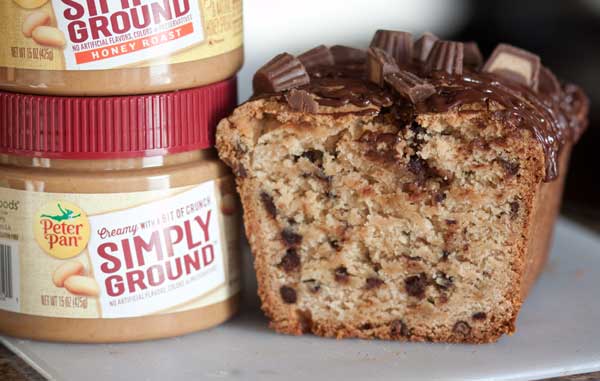 Sometimes peanut butter cakes can be dry, but this one wasn't. It was dense and heavy and had a nice shape. For the granulated sugar I used an unprocessed brand from Aldi called Zulka Morena, so my crumb is a little darker than the one in Peter Pan's picture, but in my opinion that was a plus.  Thanks to Peter Pan for the recipe and for the introduction to Simply Ground.
Recipe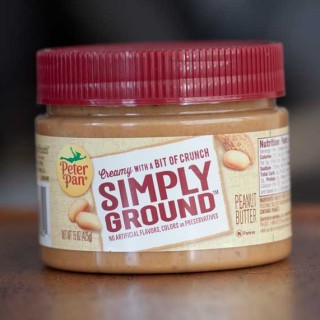 Peanut Butter Pound Cake
A rich peanut butter flavored pound cake dotted with mini chocolate chips and topped with melted chocolate and mini peanut butter cups. This peanut butter cake is baked in a loaf pan.
Ingredients 
1 ½

cups

stirred and aerated all-purpose flour

6.8 oz

½

teaspoon

baking powder

¼

teaspoon

salt

increase to ⅜ if using unsalted butter

½

cup

Peter Pan® Creamy Peanut Butter or Simply Ground

¼

cup

softened butter

1 ½

cups

granulated sugar

3

large eggs

room temperature

1

teaspoon

vanilla extract

⅔

cup

miniature chocolate chips
Topping
⅓

cup

miniature chocolate chips plus 1 teaspoons shortening or coconut oil

Mini peanut butter cups
Instructions 
Preheat oven to 325°F. Grease and flour an 8 ½ by 4 ½ inch loaf pan. Alternately, use a 9x5 inch loaf pan. I used an 8x4 inch pan and it was a bit too small.

Whisk together the flour, baking powder, and salt and set aside.

Beat peanut butter and butter with electric mixer at medium speed, about 2 minutes or until creamy. Gradually add sugar, beating 5 to 7 minutes. Add eggs, 1 at a time, beating just until yellow disappears. Gradually add flour mixture, stirring just until mixed. Stir in vanilla. Pour batter into prepared pan.

Bake 1 hour and 20 minutes to 1 hour and 25 minutes or until long wooden pick inserted in center comes out clean. Note: This really does take a while to bake, so just keep testing it until it is done and lay foil over it if it starts browning too fast.

Cool in pan on wire rack 10 to 15 minutes; remove from pan, and cool completely on wire rack.

For the topping, combine ⅓ cup of miniature chocolate chips (or 2 oz of your favorite semisweet chocolate) with a teaspoon of coconut oil or shortening. Melt in the microwave using 50% power and stirring every 30 to 40 seconds. Drizzle over cooled cake, then sprinkle cut mini peanut butter cups over the top.